Backdated Entry: ACE Event,Sungai Gabai
On the
6th October
(
Saturday
),
ACE Society
planned an ice-breaking session to
Sungai Gabai
…a social event for members to get to know each another…
ACE
stands for Action with Compassion and Empathy(please don't mind it's long-winded meaning),a charitable society which was established in my
University
. Yes-yes,somehow I joined as a member for this year…probably needed to do my part for charity,ever since the days of high school in
Interact Club
…
Anyways,we departed from
University
in the morning…in a convoy of cars,as though we are on an expedition…
Upon reaching our destination…we were greeted by a series of staircase leading all the way to the top of…eeerrr…somewhere =_="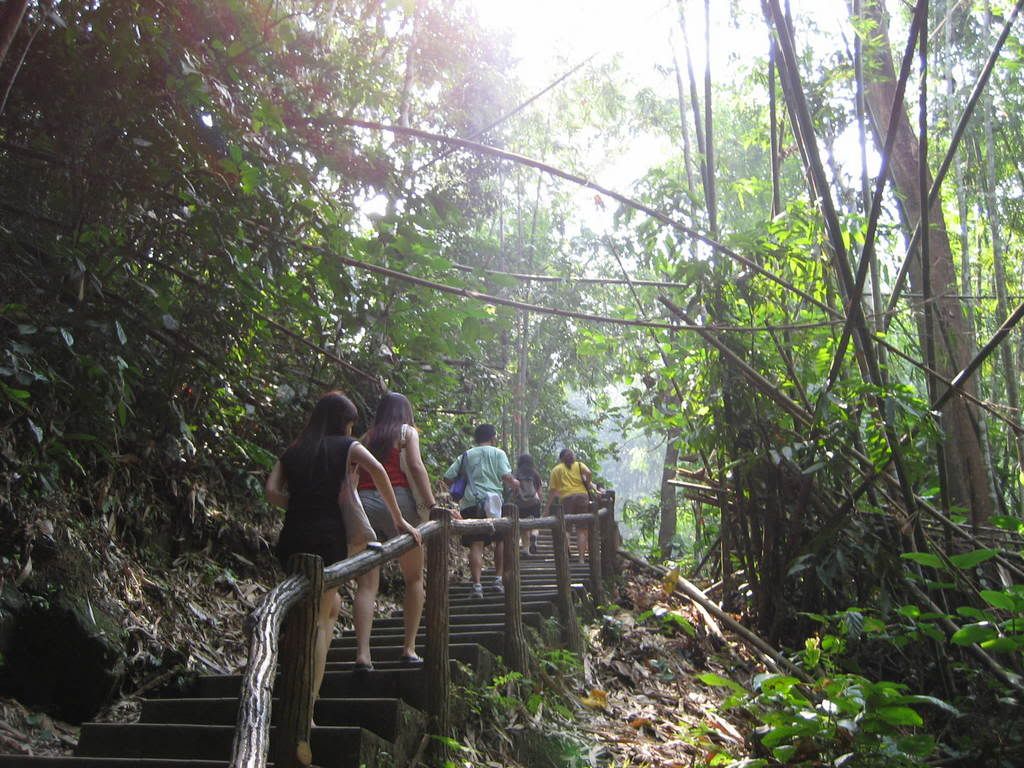 Nothing beats a morning hike,eh?
Halfway along the way…there is a small hut…
Think of it as a rest-stop on a highway…
Overlooking the rest-stop…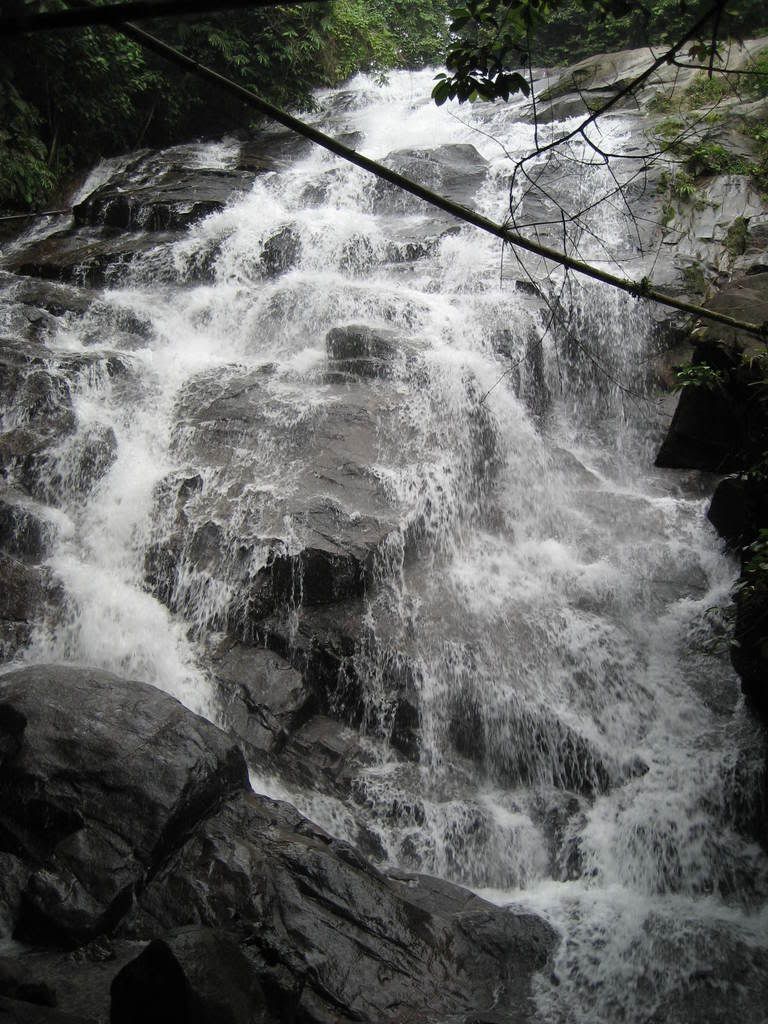 A magnificent waterfall…

Finally reached our intended stop…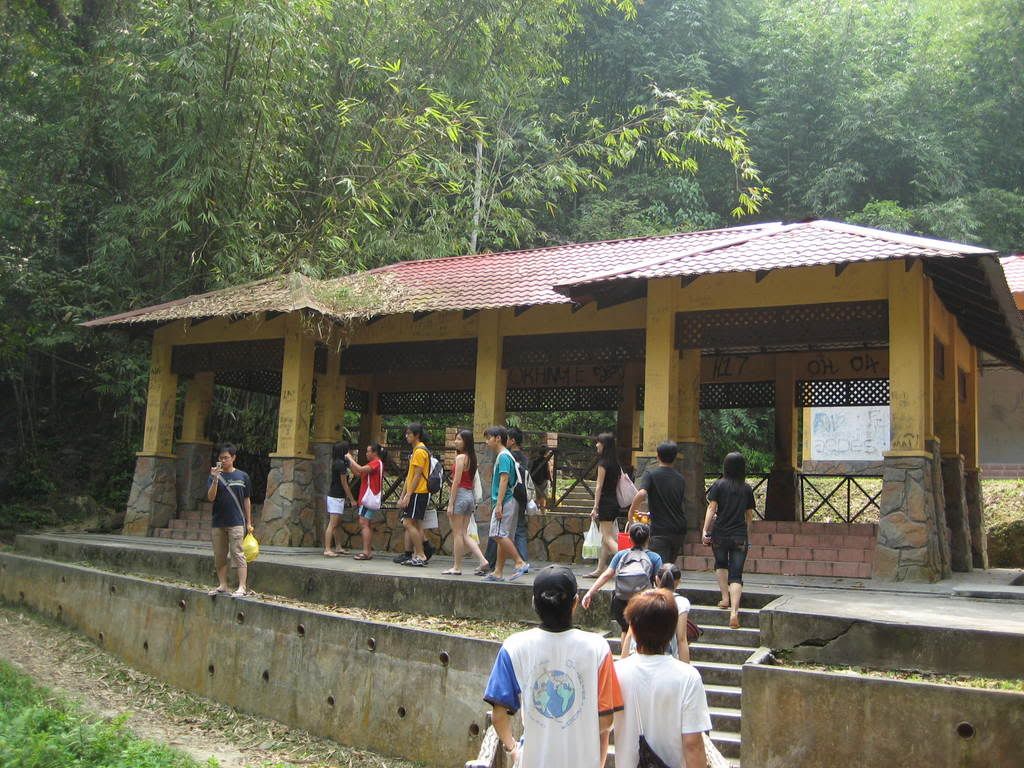 Didn't take that long to reach…did it?
After settling down,there were games to be played…nothing much for me to elaborate about,so…
*
Fast Forward
*
Then...free time to do whatever you want session…
Everyone didn't hesitate to take a dip into the water…drinking the water isn't advisable though =_="
Zi Hao
jumping above the water…
"Crouching Soon Seng,Jumping Zi Hao"?
(supposedly…Crouching Tiger,Hidden Dragon =_=" lame-lame me…)

Ber-posing in the water…
Group picture…
Another group picture…
=_="
Introducing…the
Water Slide of Doom
!!! =_="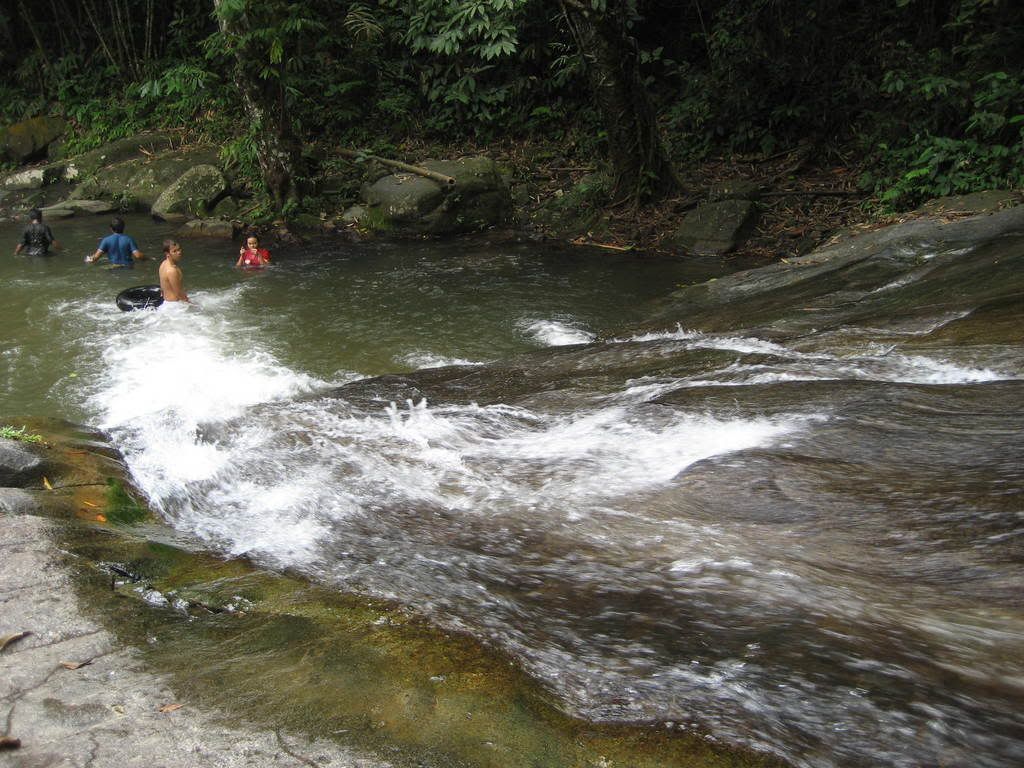 Think of it as a natural version of a water theme park…not that scary,but it'll be really-really be scary…if the other end is the huge waterfall in the previous picture…
(Water-sliding pictures,credit goes to
Romeo
…cuz I went to "membasahkan" myself in the water)
You can go solo…
Wheee!!! X1 For those who prefer to "1-Man/Woman-Show"
Or you can use some sort of transportation device…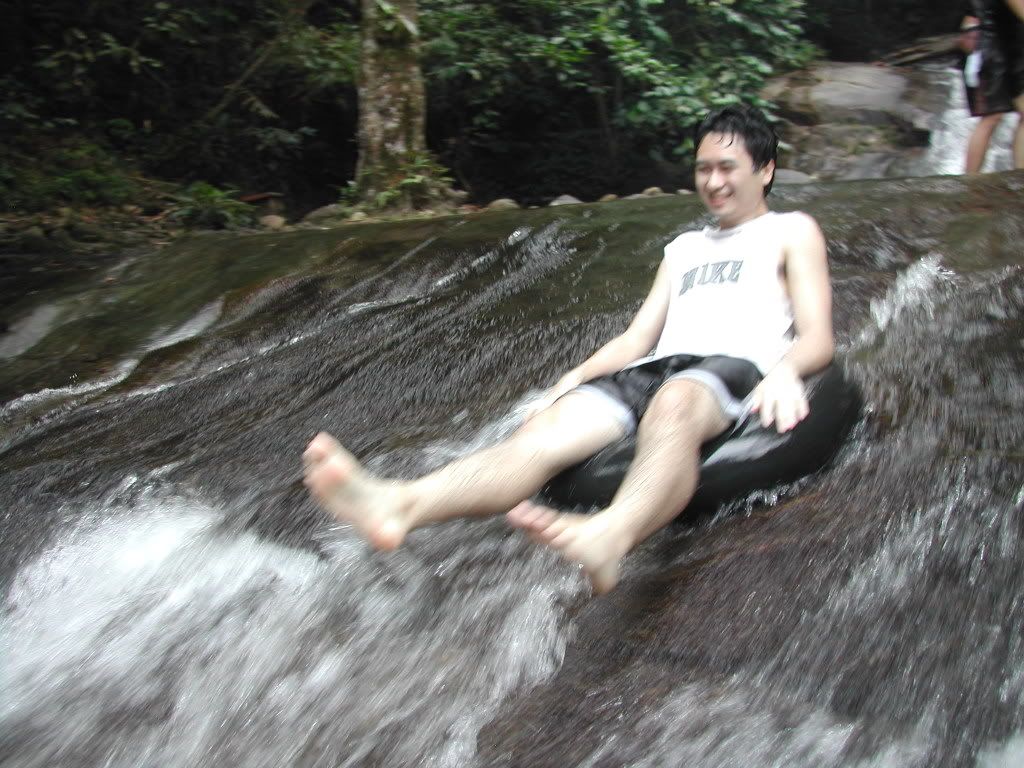 Wheee!!! X2 Slightly faster due to less friction between one's ass and the "slide"
Or ber-together-gether slide also can…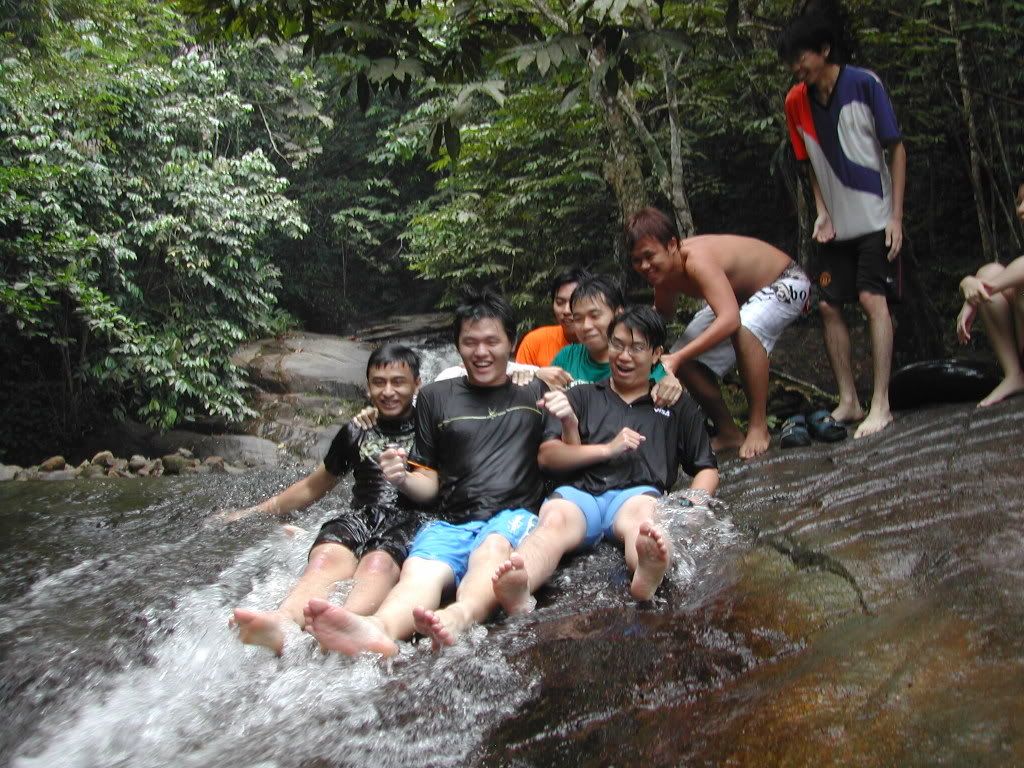 Wheee!!! X6 Triangular/Pyramid style'…which didn't really make it as a whole towards the end =_="
For the finale' of this event…big-big group picture of everyone…
All wet in "Gabai Water" and happy as well =)
(Credit goes to
Zi Hao
for this picture…cuz my camera ran out of battery =_=" )
For more reading content(and probably other new viewable pictures)…pay a quick visit to
Eddie
or
Soon Seng
punya blog…
Speaking of getting wet and water stuff…I've also recently finished watching an old Japanese drama(2005,not really that old ler),recommended by a few friends who said that this show would really make a tough guy cry like there's no tomorrow…(lols,exaggeration part was by me)…Basically it's a sad-sad-cry-cry drama…and of course,the curious side of me wanted to watch this show to know how sad it is…
It's called…
1 Litre of Tears
(for those who watched it would go,"Oh,that show!!!" at this point…)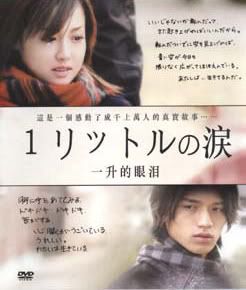 Based on a true event,it tells a tale of a 15 year old girl who is diagnosed with a rare disease,spinocerebellar ataxia…which effects one's movement and speech,due to continuous shrinking of the cerebellum…throughout the whole drama,she struggles to fight the disease that is slowly but surely taking its toll on her body…knowing that there isn't a cure for that disease,she still continues to live on,despite facing difficulties and hardships along the way…bringing hope to others as well…
Hmmm…my summary kinda sucks…so I guess you should watch it for yourself to find out how this touching story goes and ends(for a better synopsis,just use
Google
or
Wikipedia
,hehe…)…there's only 11 episodes anyway…I would recommend this show if you wanna wash your eyes without relying on
Eye-Mo
or
wasabi
or
Extra Spicy Taiwanese Sausage
(Wah…this one is a killer for your throat as well =_=" ),don't let it's corny title turn you off from watching it…makes you "Don't take things for granted"…
One of the songs(favourable to me) from the drama that kept on playing in my head,click
here
to listen…
(for those who watched it would go,"Oh,that song!!!" at this point…)


Last but not least…I have succumbed to FACEBOOK!!! NOOOO!!! =_="
Sort of like an analogy of a transition from ICQ to Windows Live Messenger…so in this case,from Friendster to Facebook? Anyways,I find both of em' quite similar(besides starting with the same alphabet,F =_=" )…except that Facebook has lotsa "Mou-liu" stuff(non-sensical) in it…to keep it's users hooked I guess? Haha…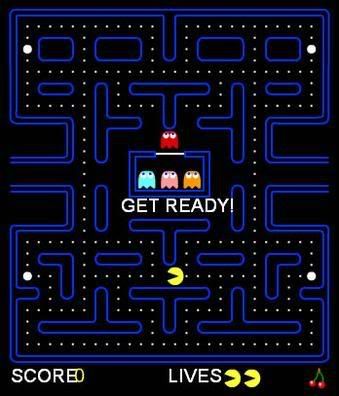 Currently I am hooked onto this…the dot-gobbler,
PAC-MAN
!!! Lols…beating friend's high scores…wonder when I can be able to reach the maximum amount of points,haha
Come-come…Jom Ber-
PAC-MAN
…lols =P
Assignments being piled up bit by bit…and here I am updating my blog =_="
Take care and GAMBATEH everyone!!! =D