Fireworks Competition at Putrajaya: Part 2,Boom-Boom in the Skies
Aha!!! A post which doesn't require "much" reading…just need to use your eyes to view pictures of the same object,over and over again,lols =_="
At
10pm
…thank goodness the rain had stopped…lights on the bridge(closer to
PICC
) were switched off…a signal,that the fireworks show is about to begin shortly…30 minutes of showmanship…
Armed with my digital camera and tripod(didn't knew I had one at home…found it as I was kaypo-ing in the store room,hehe =P )…for here,I showcase my amateur/noob-ness of fireworks photographing…first time leh,apa boleh buat…hehe =_="
So I'll just upload a few ones which turn out nice…others are almost the same or were blur or badly taken of course,hehe…
The beginning…
Co
l
ou
r
ful
!!! But picture poorly taken…timing should had been earlier,which is when it is just about to explode…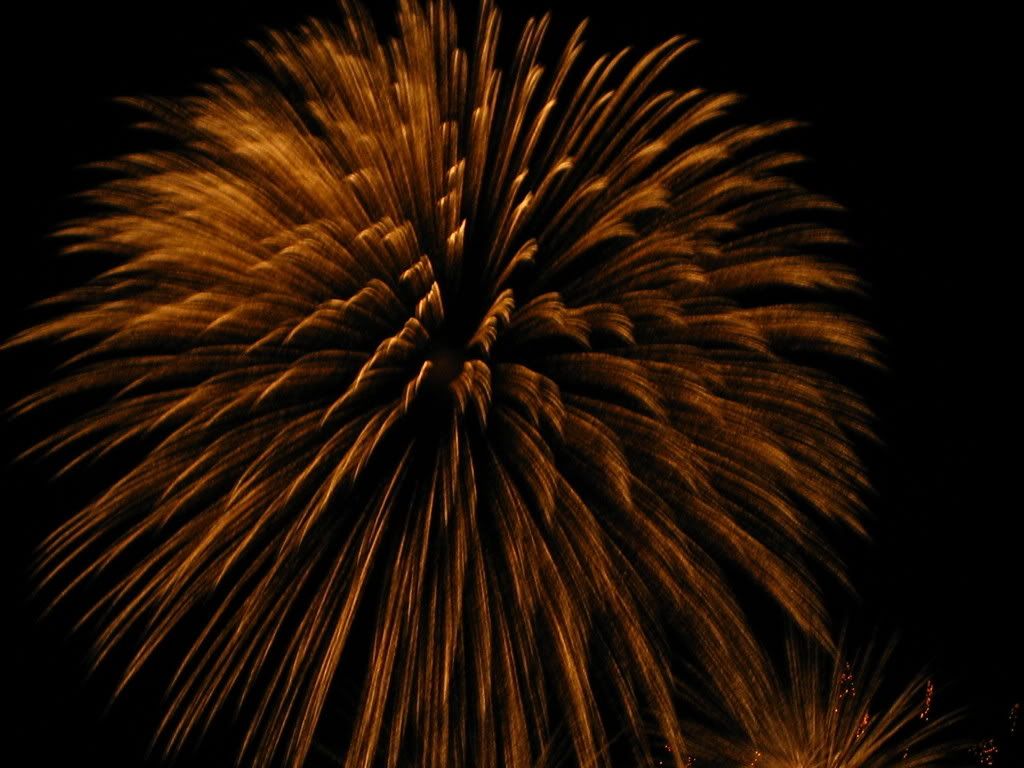 Zoomed-in too close…cuz I didn't expect that this firework would be that huge…
Fireworks for
Hari
Raya
?!!
This time it's for
Chinese New Year
?!! =_="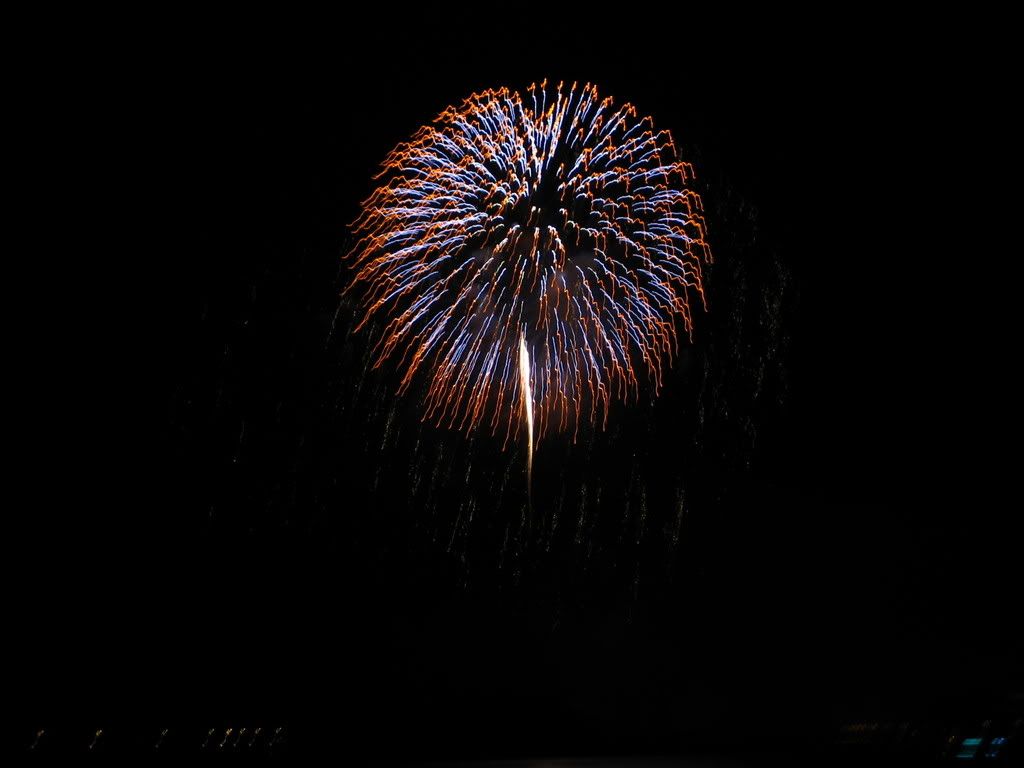 Here's a few vertical pictures…from
Yau Fee
's camera…I know you're bored looking at my horizontally-taken pictures with the darkened sky =_="
Which looked very nice,with the coloured-reflection on the lake…accompanied by the silhouette of the hill where the fireworks were being launched from…showing everything that is going on…in a single picture…if only a better camera is being used,hehe =P
Experience of a Noob-
Cheese
in Fireworks Photography:
The difficult part(for me),is the timing of the shutter being pressed when the fireworks are up in the air…at first I used 2 seconds timer(afraid that when I press the shutter normally as Single Shots,the camera might shake a bit and produce blurry pictures…no,I don't have a remote shutter),which means I gotta anticipate the fireworks explosion,2 seconds before it happens…which needed a bit of luck too,hehe =_="
After a few attempts of "2 seconds lag" shots…I've decided to revert back to Single Shots…carefully pressing the shutter for every shot…and clever
Yau Fee
did a few shots with Burst Shots(for every press of the shutter…3 pictures are taken consecutively),so just gotta have a rough timing to press the shutter and hope that one or more,out of the 3 taken pictures turns out nice…why didn't I think of that?!! =_="
And there are the "char-tou" moments…whenever I zoomed-in for a close-up shot,suddenly a super big firework exploded,out of the vicinity of my camera screen =_=" or when after every shot,my camera would need to show the "Busy" sign(like warming-up for the next shot…since the other fancy-fancy functions are switched on,for night+fireworks shot) and
BOOM
,goes another nice firework shot being wasted cuz my camera is "Busy"…it seems =_=" Unlike some
DSLR
users who are "shooting" the fireworks like a modernised machinegun(I could hear the fast shutter clicking sounds)…mine is like those super old rifles being used during
World War
era =_=" Lols…ok-ok,not that old ler…my camera is more for leisure picture-taking(not professional enough to use a
DSLR
…or not enough money to buy one yet? =_=" )…click
here
to view my one and only digital camera(unless my handphone,
SE k750i
is counted as well?)
Sorry for trying to sound so technical…guess I cant explain that well or in simpler terms?(Or maybe no one actually understood what I had been blabbering about =_=" ) Hehe…anyways,things like these are all about trial&error…experimentation…experience need to be build up…so,I've gotta try again and improve as well…knowing that I am just at the "foot of the hill" before I had even attempted to "climb/trek the hill",I must not give up easily…even the professional ones may falter(or perhaps not,since they are so pro already? =_=" ) Any tips or comments…please feel free to share…I am willing to learn ; )
I should be gazing and enjoying the fireworks in the air…not constantly looking at my camera screen just to know that the pictures turned out lousy after every shot,lols =_=" Next time don't wanna bring camera anymore…hahaha =P Fireworks must be
CO
LO
UR
FUL
and
BIG
in order to get people going "oohh-ahhh"!!!
Is this the end?!! Nope…still got Part 3
To be continued…Haha =P