Fireworks Competition at Putrajaya: Part 3,Jump Like Fireworks? =_="
Haha…finally the last part of the trilogy post of the fireworks competition at
Putrajaya
=P After the event was over…we stayed back for a little while,awaiting for the traffic to clear up as people rushed back home…meaning more photo-taking session,hehe…
Group picture…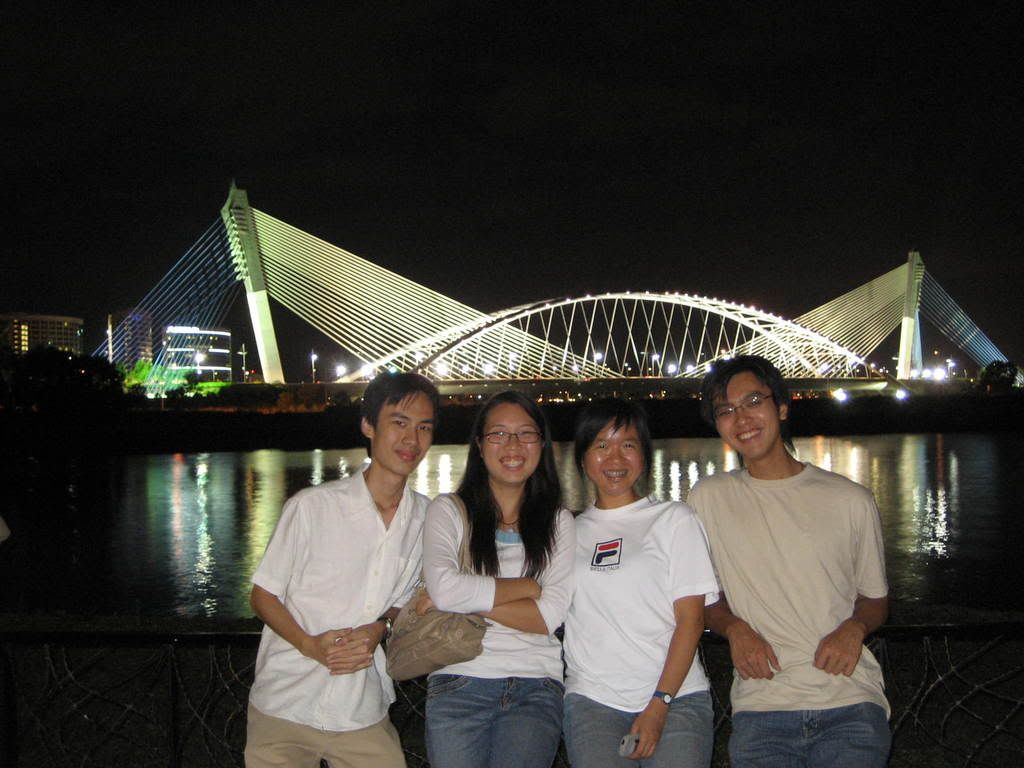 From Left to Right:
ME
,
Yean Yen
,
Pek Wee
and
Yau Fee
I've just only noticed that everyone was wearing
white
…lols
Suddenly…we felt like jumping/flying up in the air…like the fireworks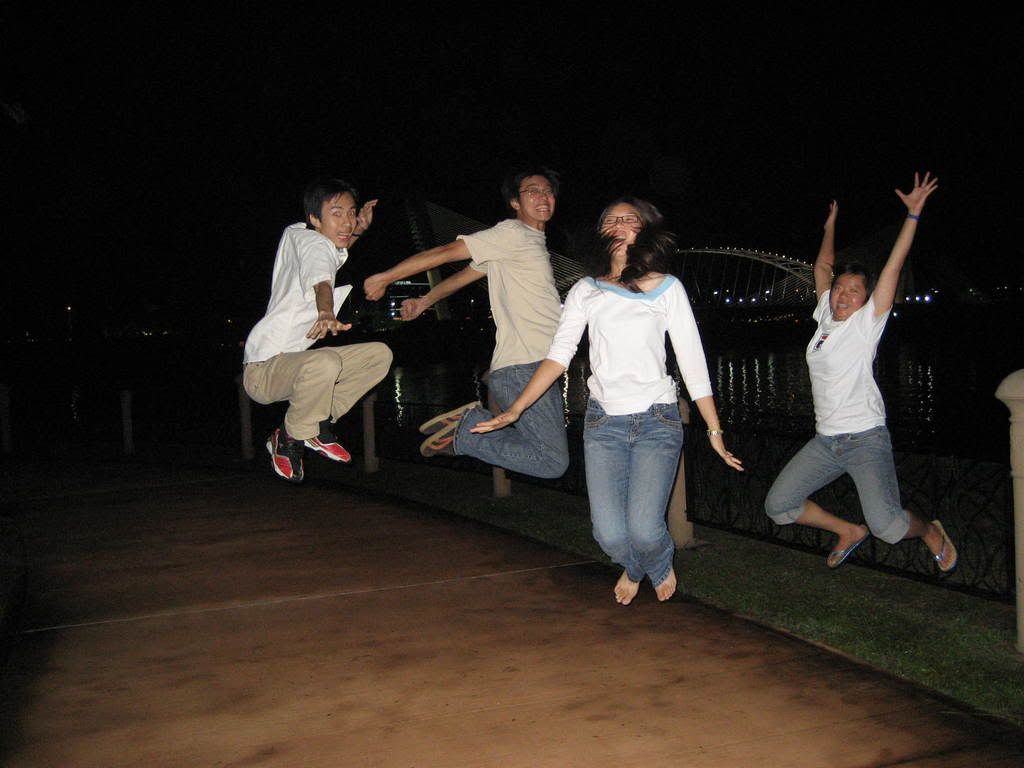 Oh…haha…I've also noticed that I don't have any jumping pictures in my blog…so this is the first ever jumping picture in this blog,hehe…unlike jumping blogger,
SmashpOp
who has numerous…
Ironically…we went there without any umbrella and…came back with 2 instead…sangat kasihan looking at the umbrellas which got left behind,so we "adopted" em' back…lols
Ber-posing with umbrella…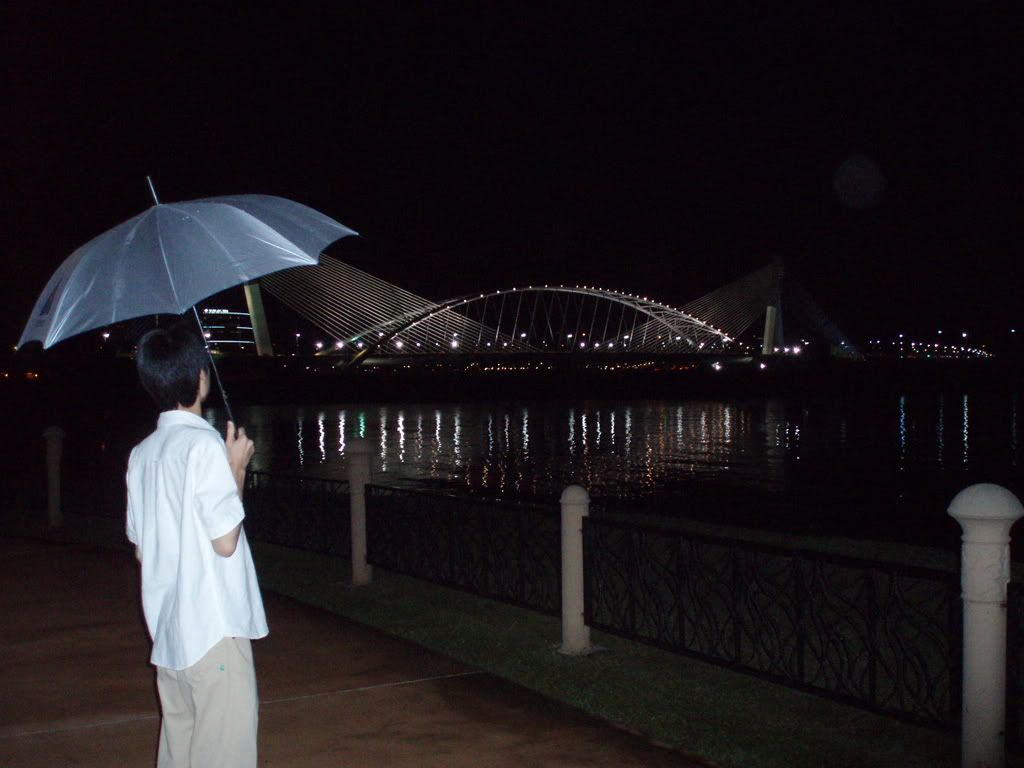 "
Still Waiting for You…
"
More ber-posing with umbrella…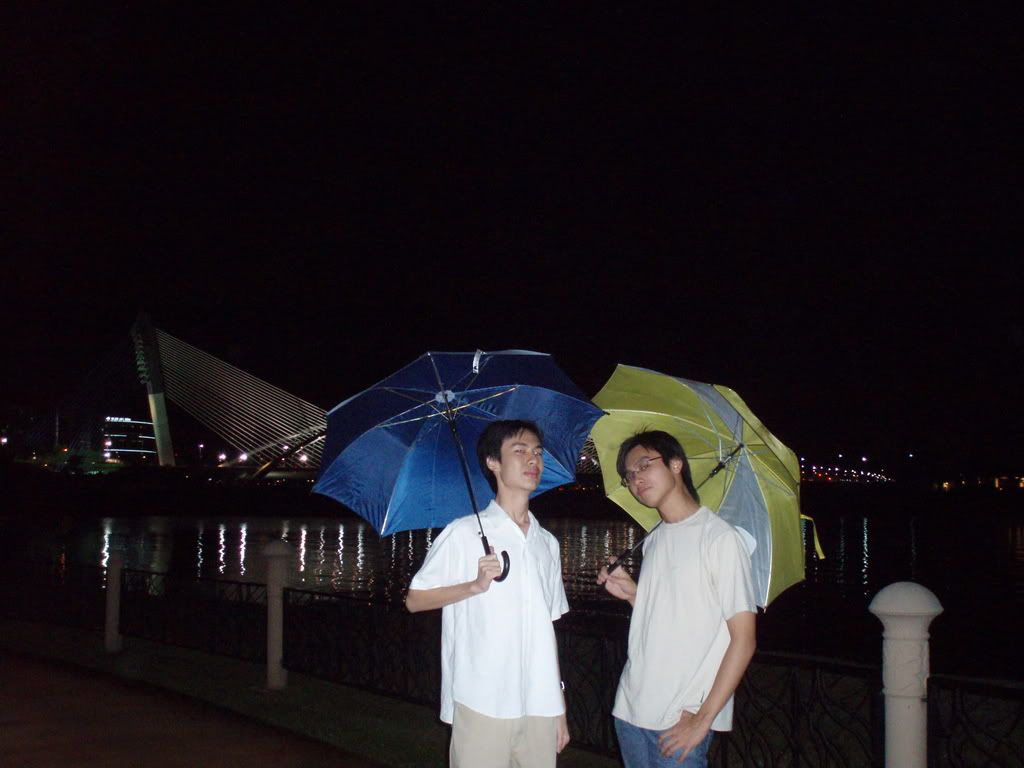 "
Both of Us Waiting for What/Who?
" =_="
Ber-jumping with umbrella…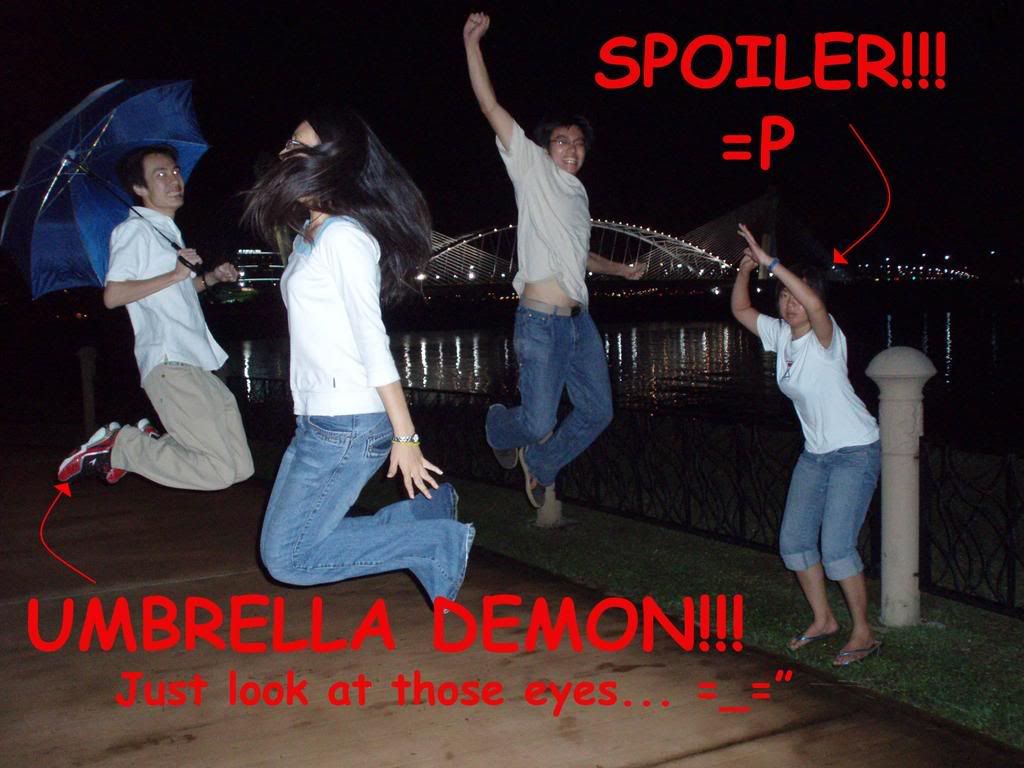 Scary leh? Lols =_="
With our two "adopted posers"…we went back to
Yean Yen
's place to stay the night and the following day,off to quiet ol'
Semenyih
…to clean-up
TTS5
rented house for the coming semester…Yup,I've moved to another rented house again…this is already the 3rd house…why leh? Cuz I listen to my Feng Shui master's advice to always move into a new house for every hole that appears on my shirt =_=" Lols…actually it's a house with a better offer…When the front door was open,OMG!!! I thought I had stepped into the headquarters of
DBKL
(figure of speech),rubbish everywhere …For now,I'll leave this for another future post,hehe…
The highlight of the day…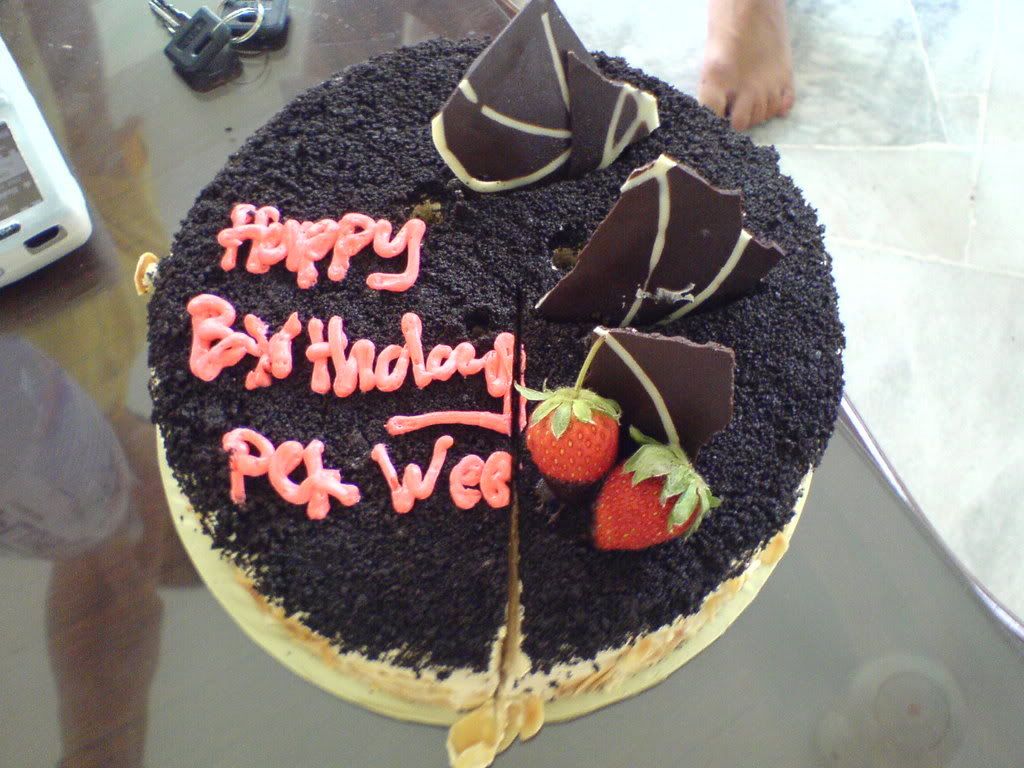 Someone's birthday of course…aikz cake kena potong already =P
Happy Birthday
to
Pek Wee
…by now it's belated lah of course(no thanks to this blogger who updates late wan…) =P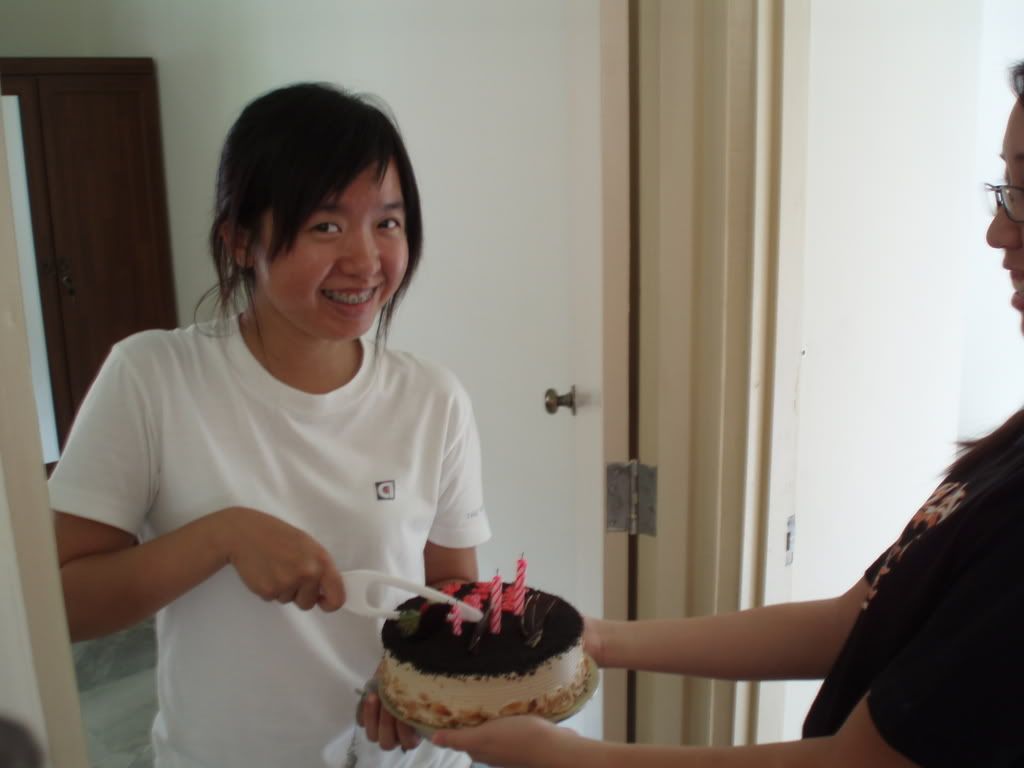 Picture courtesy from
Yau Fee
…as my camera kehabisan battery from yesterday's firework-ing,posing,jumping,etc…picture-taking session
To conclude this post…view food and random pictures,hehe…
Another visit to fushion-ised Japanese restaurant,
Sushi Groove
and 2 more sushi's on my "dah cuba/makan" list(click
here
for previous visit)
Flying
Fish
Roe
…
RM11.90
…crunchy roll with fresh tuna&unagi…topped with sweet&spicy sauce…once eaten,can fly/jump higher…not bad,I like the crunchiness once it is inserted into the mouth =D
Fusion
Dragon
Roll
…
RM14.90

Marinated salmon,shrimp tempura&beef roll…Looks artistic with a "dragon's head" as a finishing touch…tasted ok-ok only,I prefer the
Flying
Fish
Roe
though
…
Fly like a fish,not like a "dragon"!!! =_="
Advertisement time…
POCKY Chocolate Sticks
…once eaten,you'll feel very macho and "man-ly" ; P
As for the ladies…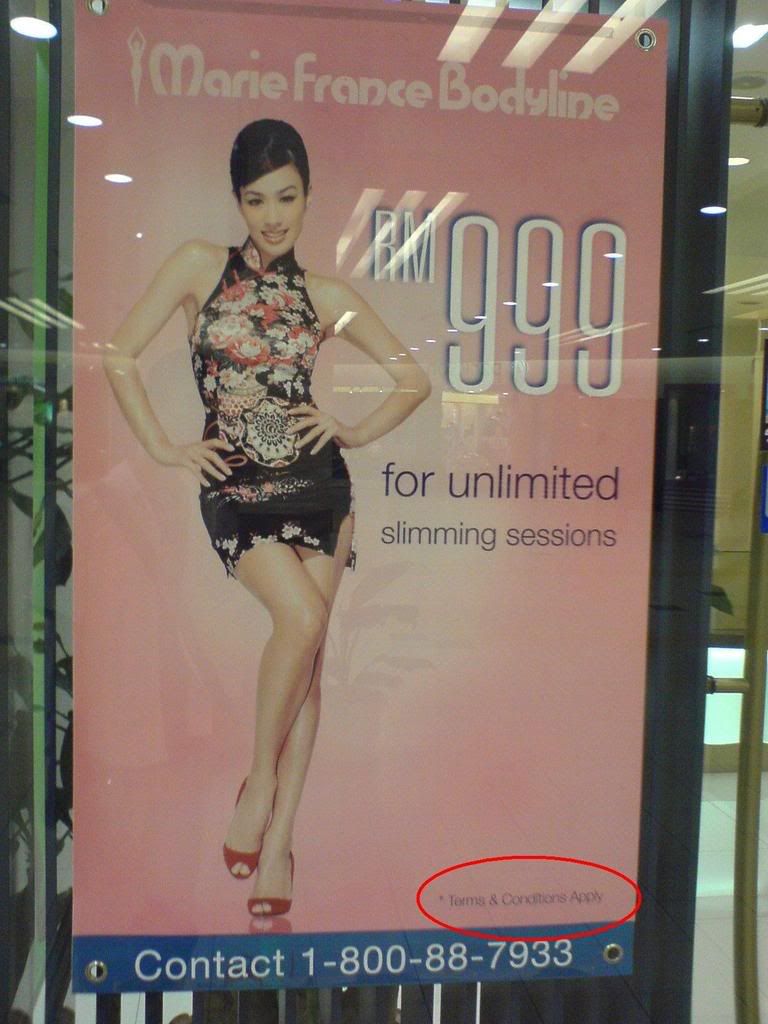 Spotted in
1 Utama
…
Marie France Bodyline
offering
UNLIMITED
slimming sessions for
RM999
!!! Now you can go for as many times as you like…until your ideally desired body dream figure is achieved!!!
P.S.
Terms&Conditions Apply
…check first!!! I'll not be responsible/liable for your actions,like kena con,body turned out too slim,appear in
Marie France Bodyline
newspaper advertisements under the "Before" part(or it's a good thing cuz appeared in newspaper? =P ),etc…
Take care everyone!!! More updates to come…if possible,hehe =P