My hobby is reading?!! =_="
Whenever someone asks you…or when you are filling up an application form…a simple yet bold question,which goes…"What is your hobby?"…is brought up and wanting to be a "sophisticated" sort of person,you answered/wrote down…Reading
Now that brings up another question…usually when one says or mentions reading…the other party would be quite amazed and may straightaway have an impression that he/she is some sort of "smart" or intellectual person…a bookworm…a keen interest for the literal arts…etc…
That is…until they knew what the other person actually reads about…hehe…so here's some of my current "reading contents" =_="
My (almost) Complete Collection of
True Singapore Ghost Stories
…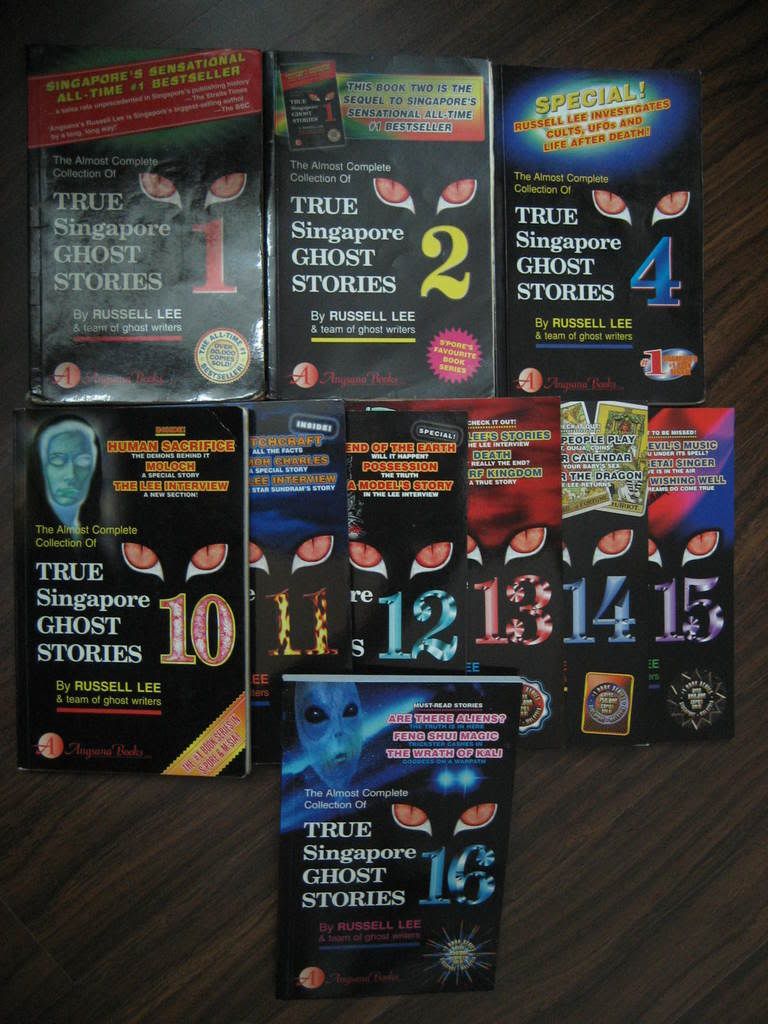 I started reading this series when I was in upper primary school…and there were a few times I couldn't go to sleep(imagination is a dangerous thing for a young kid…creepy-looking eyes of the book covers in the dark doesn't help much either,lols) The volumes which I don't have were borrowed and
Edmund Loh
indirectly made me searched for the latest volume(
Book No.16
) while I was browsing through his blog,lols…I wonder who else reads this book? Dun pray-pray…
Singapore
got lotsa ghost leh…afraid to visit there =_=" Fact or fiction,you decide yourselves…but a word of advice,don't mess around with the supernaturals…
Aha!!! The newspaper!!!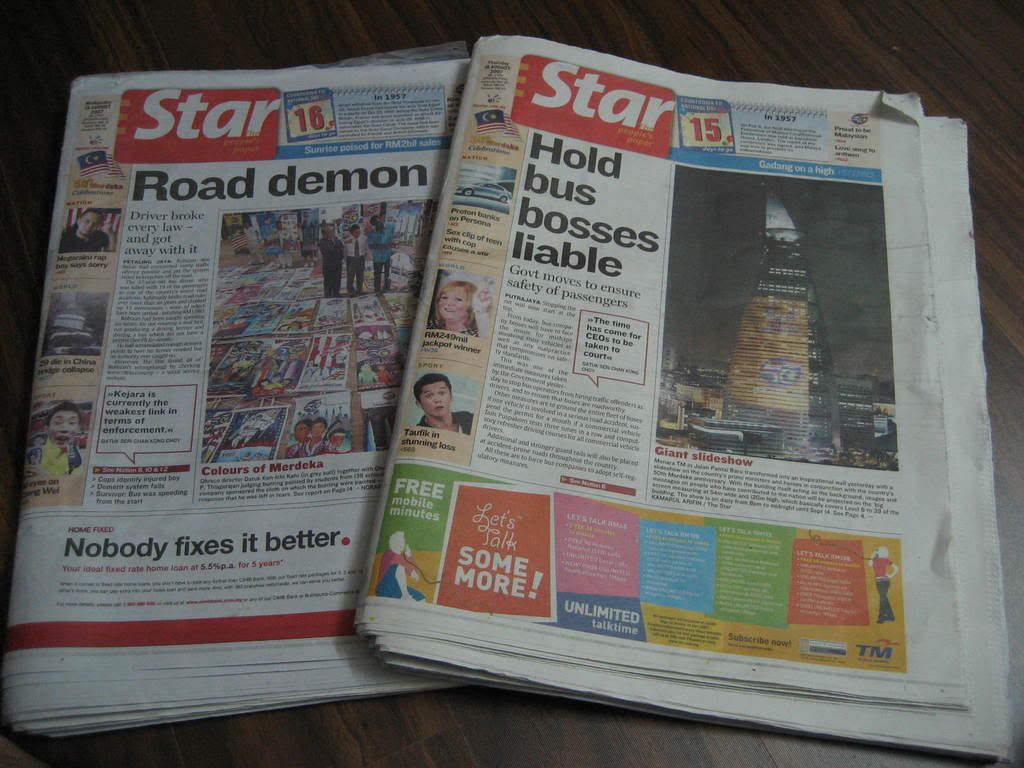 Last time I usually read/browse through all the newspapers that my dad or mum buys…but now lazy already leh,so
The Star
is my current choice…And I don't think I had ever bought any newspaper to read…the most is just grab free newspapers like
The Sun
and
Malaysian Today
when studying at
UNiM
in
Semenyih
…apart from reading lecture materials =_=" Now I am working part-time,I sometimes bring along outdated newspapers to read(no time to read mar…go back home after work,either online or terus tidur =P )
Manager: Eh…today's papers arrr?
Me: Apparently no…it's yesterdays…
Manager: Aiyah…expired already wan…
Me: =_="
No matter how old I am…yes…I am still reading comic books(and playing video games…and watching cartoons as well,lols)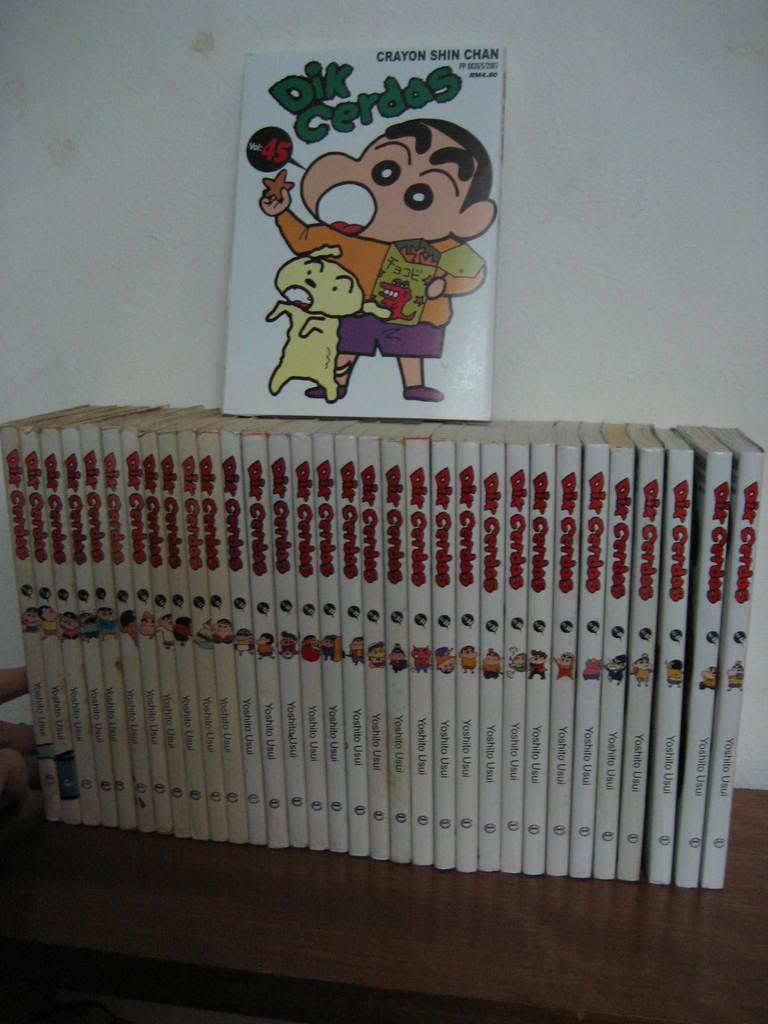 This is the only comic book that I am buying nowadays…yes…it's
Shin Chan
!!! Damn farnee wei…but I guess the cartoonist is running out of ideas already cuz not as funny as before…lols =P I can only read the Malay edition,which is slower to be published cuz dunno how to read the Chinese edition lah =_="
Not forgetting…blog-reading!!! Haha =D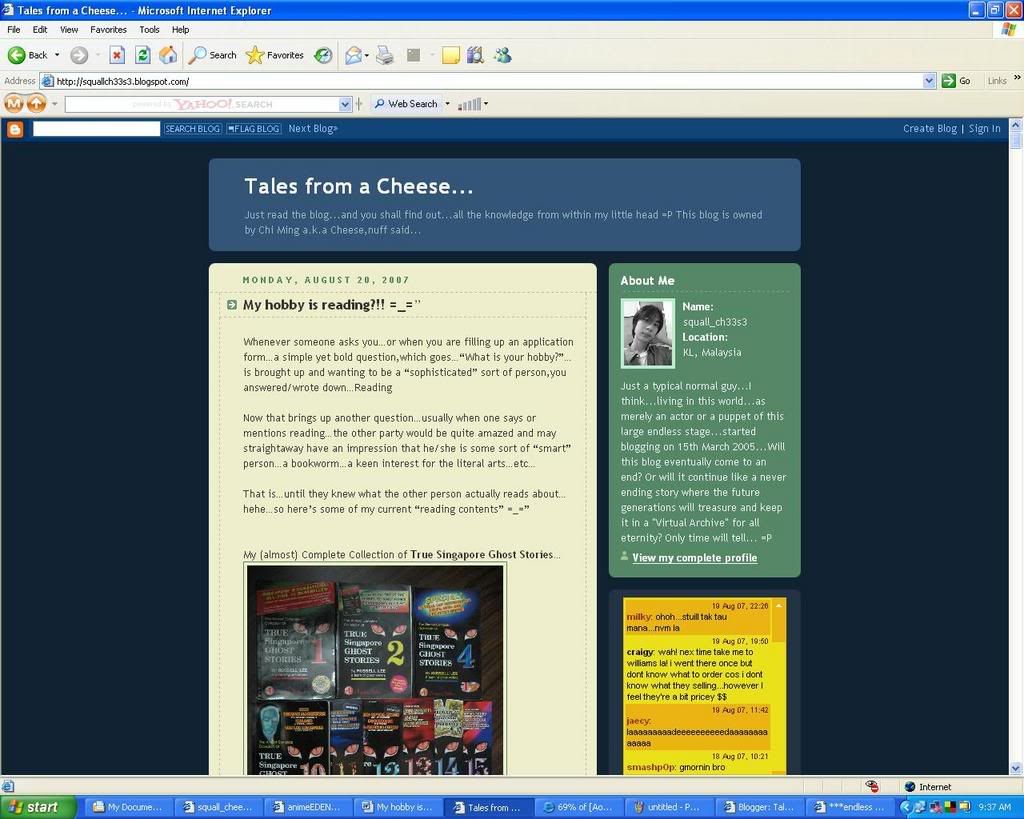 Hmmm…this blog looks very familiar wei~ =_="
Wah-Lau-Eh…all this "reading" is making me hungry leh…time to get a snack
After watching
The

Simpsons

Movie
…I don't think
Homer Simpson
had eaten any doughnuts in the movie…so I would like to "help" him a bit ler =P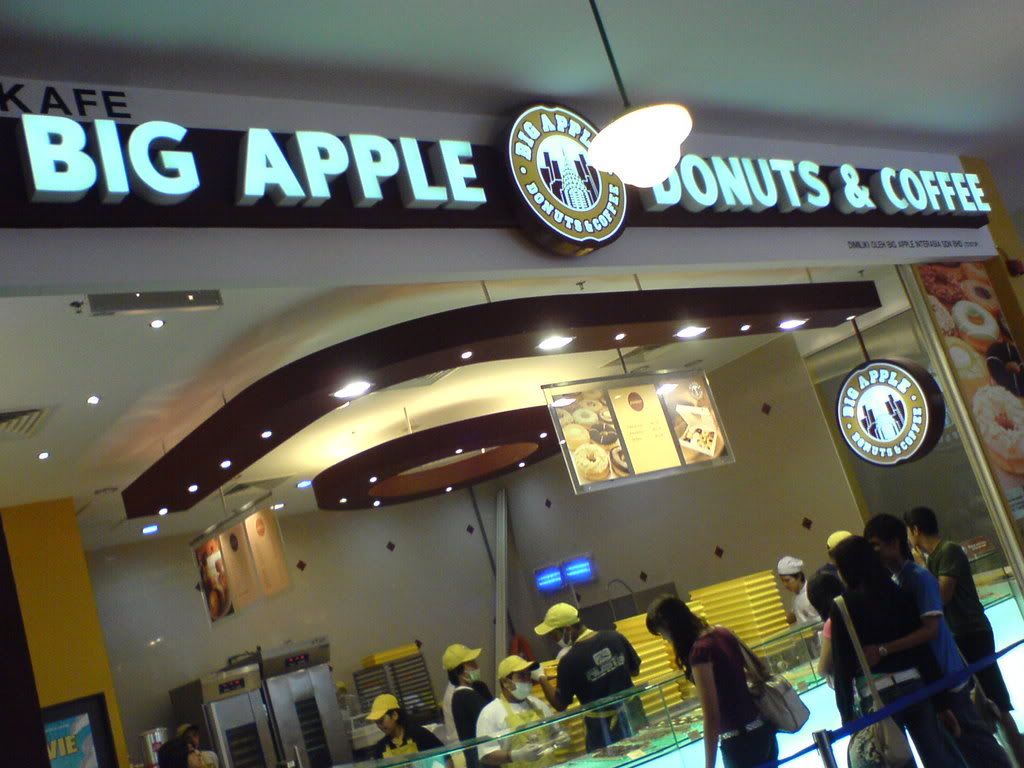 Big Apple Donuts&Coffee
…at
The Curve
I read about this place before in the newspaper(Aha! Witness the benefits of reading!!! Lols) and also
Milky~Pearly
made me wanna try this place,which is after I had visited her blog…click
here
for the post
Too many choices of doughnuts for my limited budget to purchase…"Paiseh" to take so many pictures of the doughnuts…Even more "Paiseh" to take pictures of the doughnuts without buying any at all =P
The design of the box looked simple yet nice…
Got colorful rounded "bulat-bulat"s which looked like errr…doughuts? =P
Which also looked quite similar to…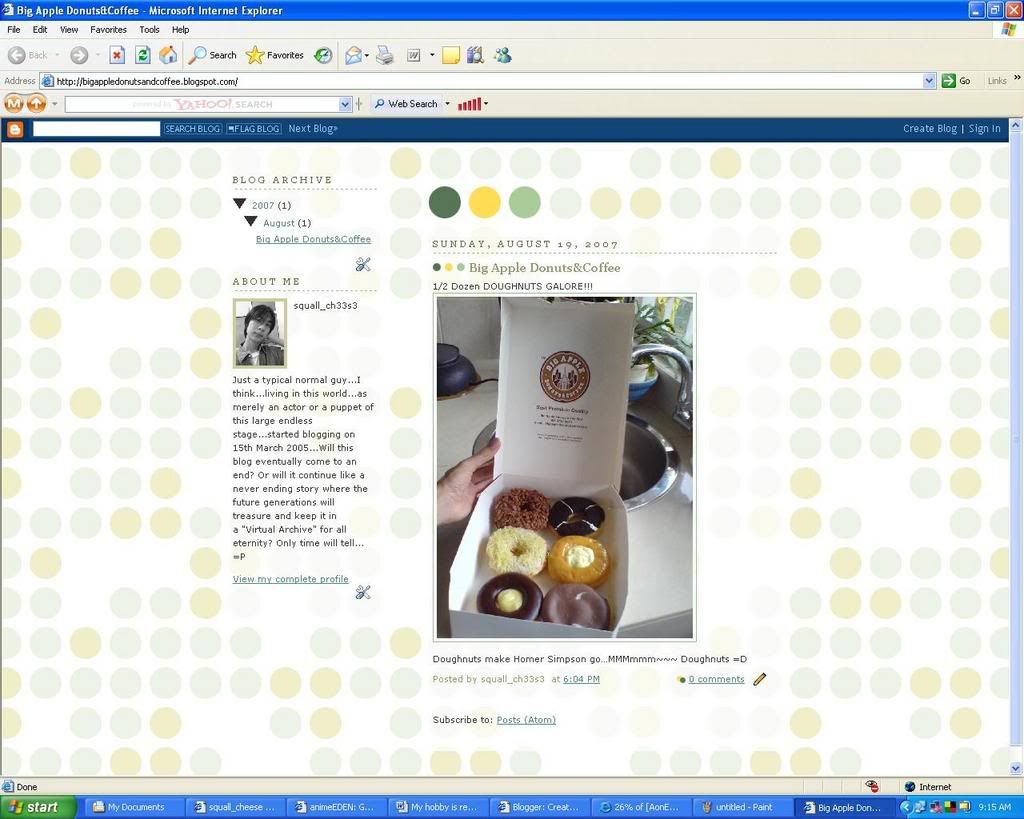 …one of the default layout in
Blogspot
=_="
As much as I wanted to claim all the doughnuts for myself…I shall not be greedy and bought back half a dozen only,share-share with family also leh =P
It is also advisable not to consume too many doughnuts…or else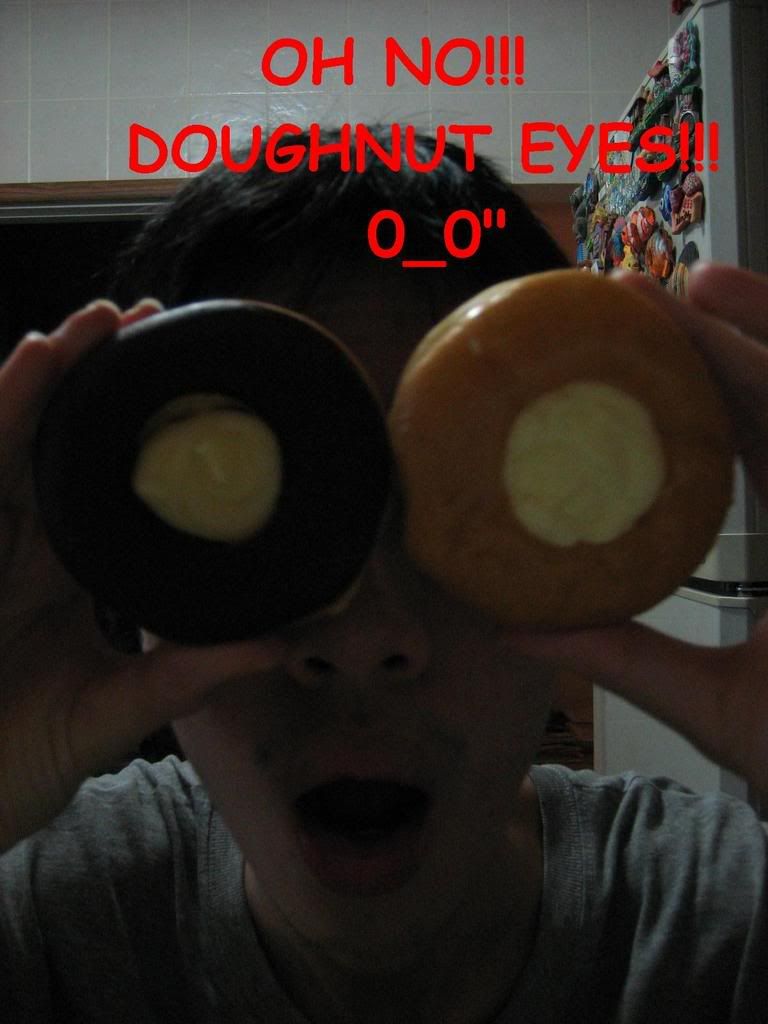 This would happen to your eyes…or maybe it's a good thing…can become the next superhero…
Doughnut Man
?!! O_O
Dunkin
Donuts
,makan before…
Big Apple
,also makan before…there's only 1 Doughnut outlet left(so far lah) to try…
KRISPY KREME
!!! Faster open an outlet in
Malaysia
!!! Lols…
Time to end this post…by uploading a random picture!!!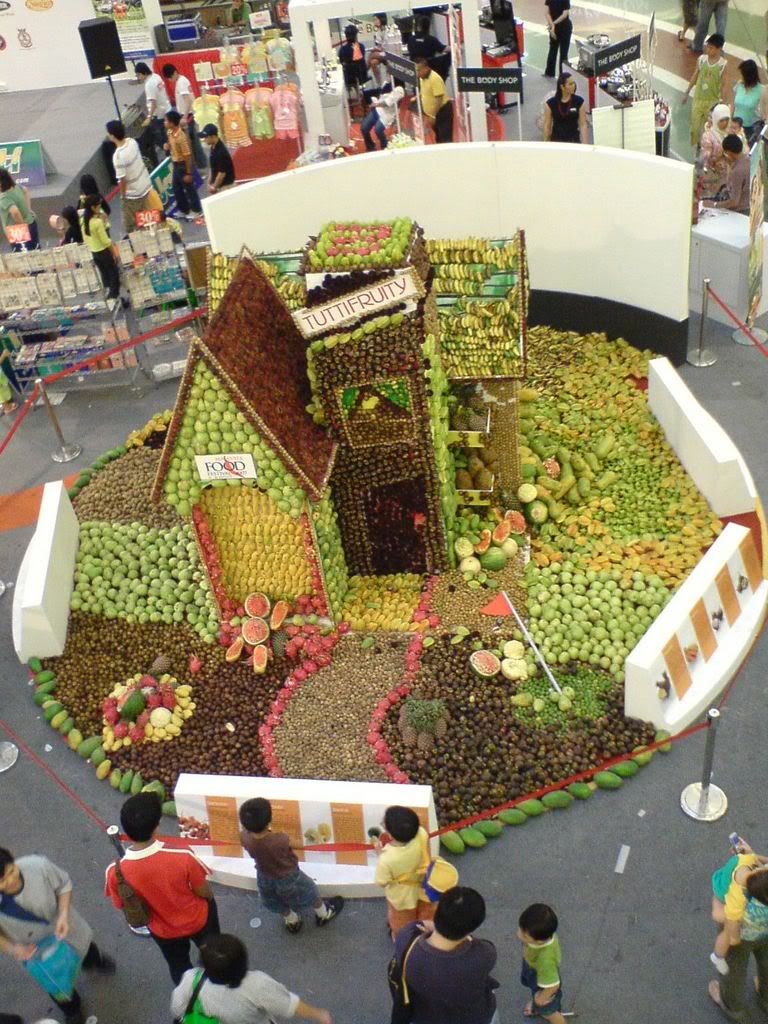 A healthier alternative for Hansel&Gretel…a house made from fruits!!!
(A food festival themed…Tutti Fruity…in 1 Utama)