Feeling a little bit of grooviness? =_="
Aha! Off-day from work on
Thursday
(
23rd of August
)…so must enjoy kau-kau…seriously,when I started working,I really-really fully appreciate my days off from work(cuz working by doing the same repetitive routine…at the same place for quite long hours…surely bored till death =_=" )
When I woke up…I looked outside my window and saw dark cloudy skies…dunno why everytime I've got plans to go out,surely the weather is never on my side,I better go to some plantation or paddy field to bring the rain along next time =_=" Was contemplating whether wanna bring an umbrella along cuz I am taking the public bus…but after a shower,the sun came out along with its rays of light…Ok-lah settle,no need to bring an umbrella =P As I was walking halfway towards the waiting point for the
Rapid
KL
public bus…it started drizzling…and it got heavier while I waited for the bus,covering myself with my windbreaker(which I bring along most of the time since me and the rain are "good friends" =_=" )…Grrr…kena con by the sun…can actually wait at the usual bus stop,but there were a few number of occasions I missed the bus cuz the driver claimed that he/she couldn't see me wor…quite true since got trees blocking the bus stop and some more the drivers speed kau-kau =_=" %#%@%$#%# Already know got bus stop there but then dun slow down and speed kau-kau instead,what-lah >=(
After waiting for about maybe 5 or 10 minutes…the bus came…I entered the bus,paid for the ticket and took a seat…a few metres driven and the inevitable happened…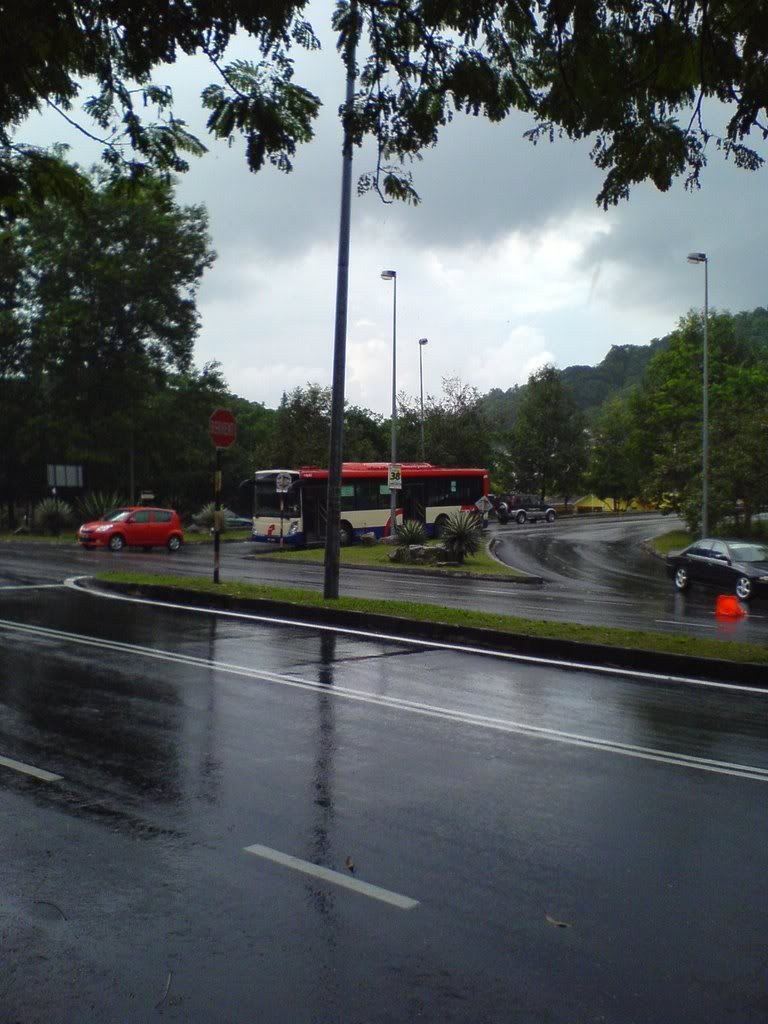 THE DARN BUS BROKE DOWN!!! #$!#!#%$!@!^% Wah…very "suey" leh…maybe I should take down the bus number and buy 4D,see whether can turn my luck around or not =_="
But not that "suey" ler…when I was waiting in the broke down bus,I got a phone call from my dad(he was at home) asking me where am I,since he knew that I was taking the public bus out…waiting for bus + raining = not a good situation…got a lift since he is going out as well(where I waited under a shade of trees and took the picture of the public bus)…at least the bus didn't choose to break down at some teruk geographical position…like in the middle of the highway!!! What a way to start the day,eh? =_="
Firstly,had lunch with
Wei Sun
at
Ming Tien
(
Taman Megah
) and one of the stalls caught my attention…thus,I ordered this peculiar meal...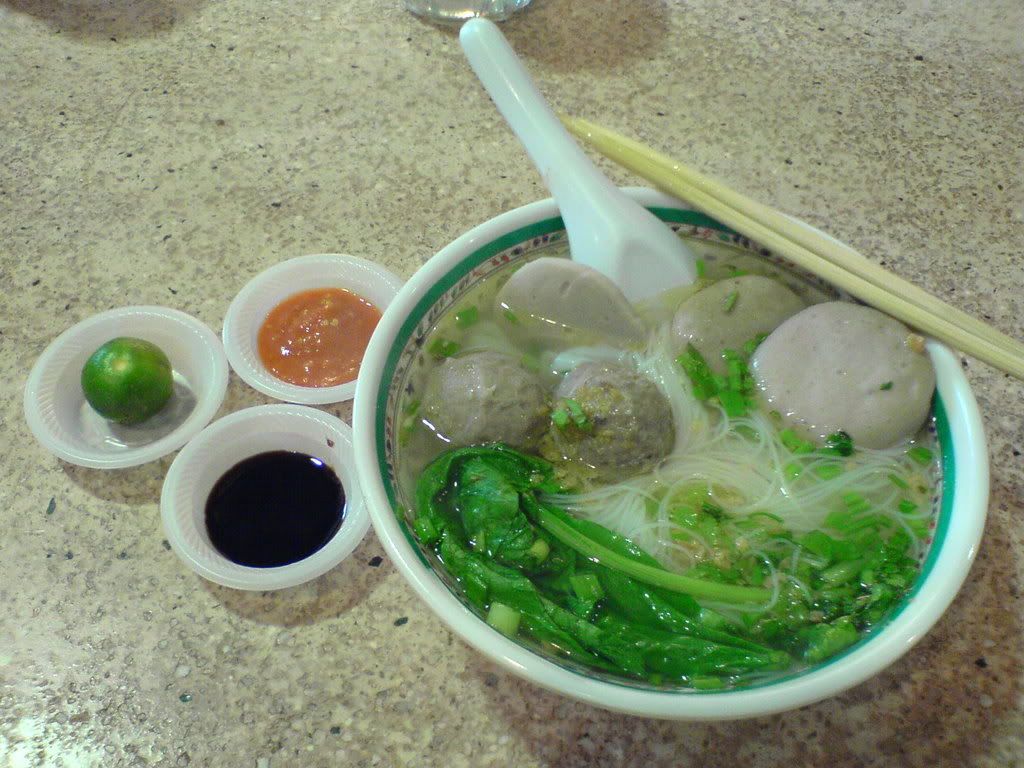 Baso Sapi Asli
,
Beefball Soup Noodles
…my socks and shoes were soaked…I think if I squeeze out all the rainwater,can manage to fill up an empty bowl until it's full like the soup of the noodles dish =_="
The
Indonesian Cuisine
stall which I ordered from…
To any Indonesian friends/readers out there…what's with Baso Sapi Asli? Izzit some famous brand name? Name of the dish? What izzit?!! =_="

Manage to restock some anime from her,since she had been downloading em' while she was studying in UK…hehe =P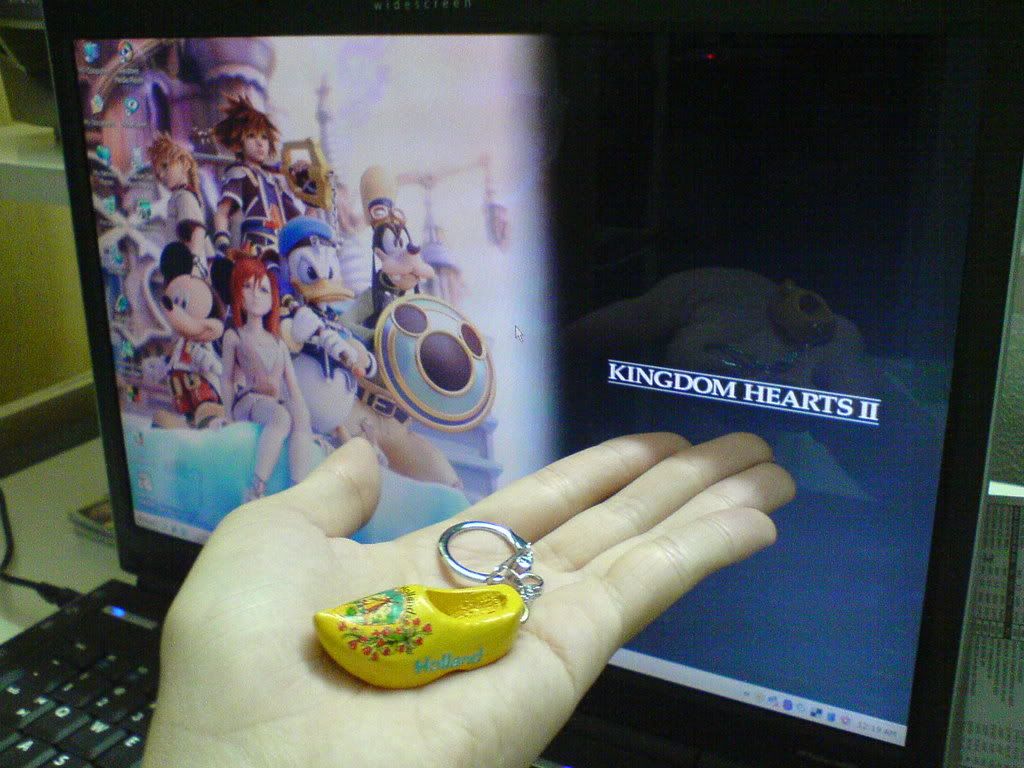 And also got this lovely
keychain souvenier
from
Holland
during her trip in
Europe
…shiok-nya to travel…although my footwear were soaking wet,I couldn't possibly wear it…besides,the
Holland
clogs doesn't come in a pair =_=" Thanks very-very much =P
Time to leave…bid her farewell…and off I went to
Kelana Jaya LRT Station
to wait for another
Rapid
KL
public bus to
1 Utama
…but the
Ikano
Power
Centre
free bus shuttle service came first(was 3pm then…still raining…well more like drizzling)…without hesitating much,I just decided to take the bus and then walk to
1 Utama
(to me it's a walkable distance ler),rather than waste more time waiting for the
Rapid
KL
public bus…which I am not even sure whether I missed it or not…wasted money on the bus fare only,cheh!
Having dinner here with a few "long time no see" secondary school friends…
Jom ber-groovy kat
Sushi Groove
…it had been quite some time since I had Japanese food and also the "must try-try" side of me invoked me as well =_="
In order to eat groovily…there's a suggestion piece of information provided…
Now you know how to eat at
Sushi Groove
whenever you decided to dine there =P
Ordered a main meal before trying out the sushi(s)…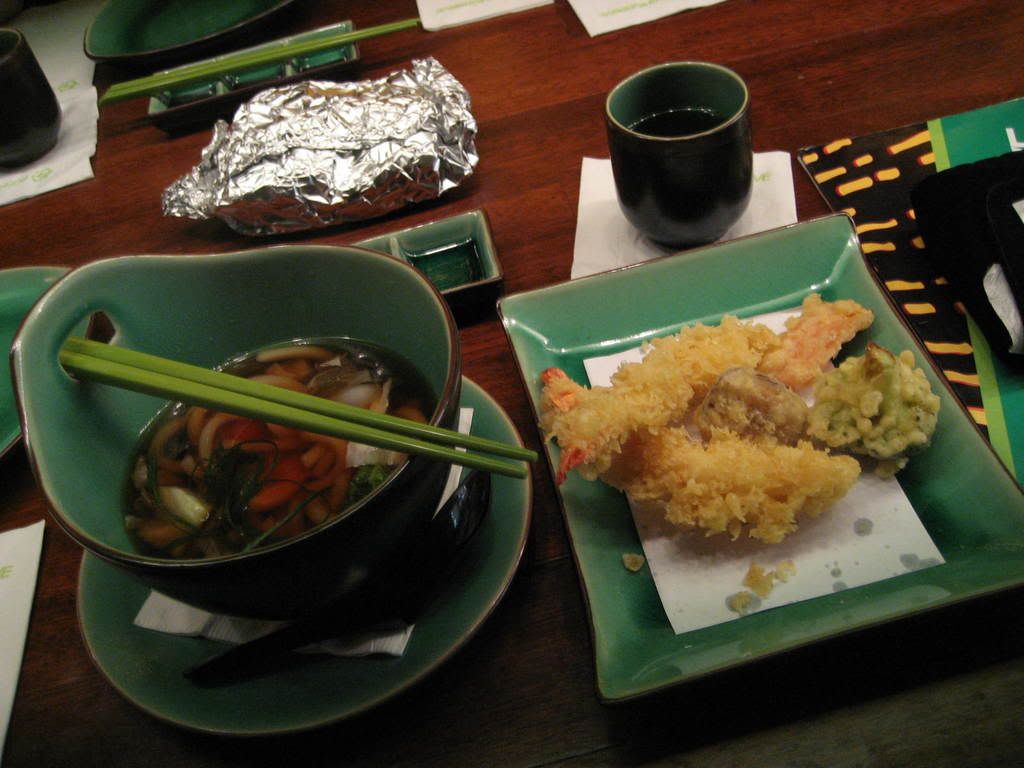 Tempura Udon
…
RM14.90
=_=" So expensive and the portion is so-so-so small!!!
Following the suggestion…this sushi has the
Groovy
icon…meaning that it's their signature/popular/recommended dish
Dynamite Roll
…salmon wrapped rice balls baked with special
Dynamite
sauce(dun ask me about the sauce,clueless…)…
RM9.90
…by the first look,my mind thought of
Malacca
Chicken Rice Balls
…lols…Strangely enough,it does taste a bit like it…the rice that is =P Tasted weird but edible,according to the majority of us…
Another sushi…called
I Love Unagi
…
Wahrao…this is good stuff…definitely
LOVE UNAGI
after eating it =D Albeit its a tad expensive,
RM16.90
…worth it compared to the previous sushi we ate
A bit skeptical about the last part of their grooviness of
Sushi Groove
…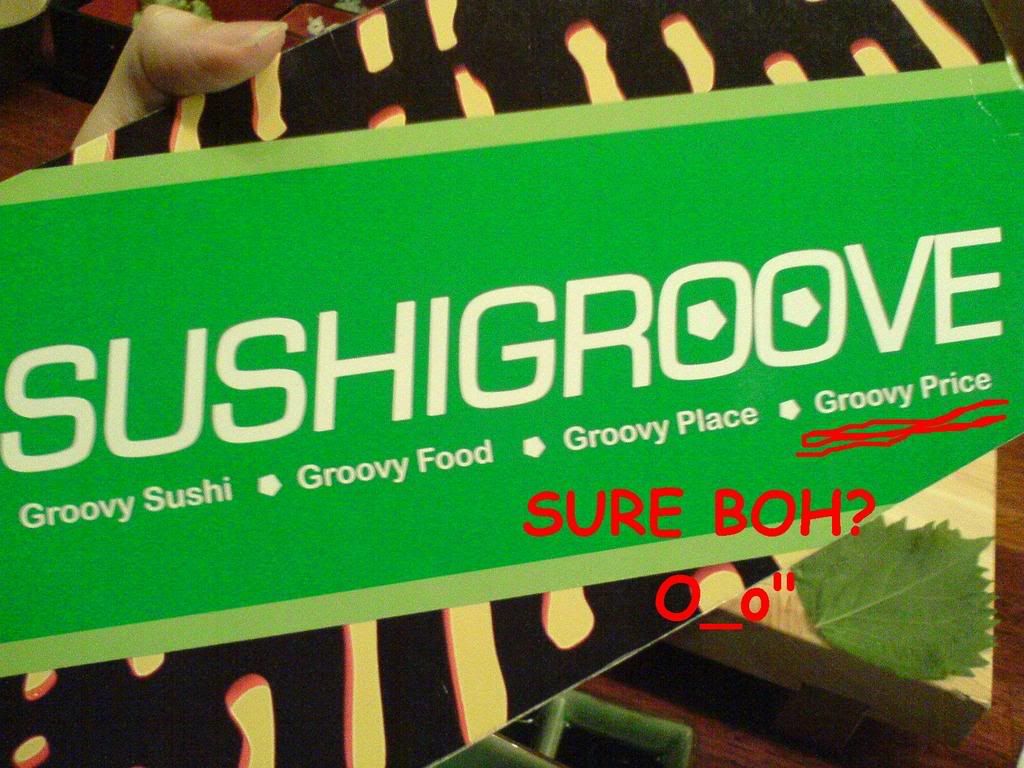 Even their refillable
green tea
is
RM2.90
!!! Can buy at least 6 "Siuet-Char"(Iced Chinese Tea) at coffee shops leh…the next time I come here,I'll just order sushi only…
After dinner,next on the agenda…watching
Ratatouille
at
GSC
!!!
Yet,another great achievement from
Pixar
…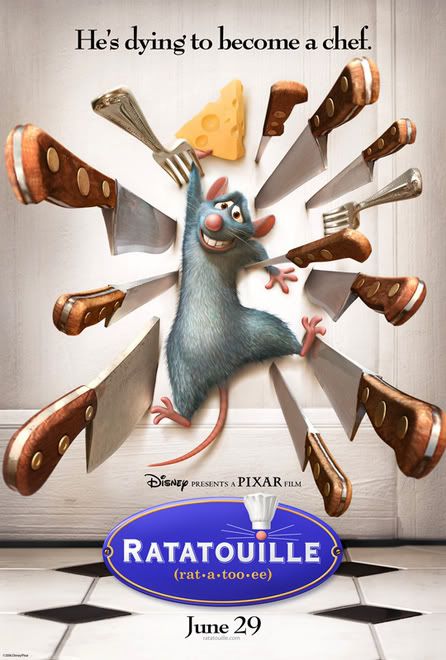 Somehow…I always enjoy watching animated movies by
Pixar
…it has that "feel good" feeling,dunno how to describe it…lols =P Even the animated food look yummy…if only the movie was in 3-D,no? =_=" Good movie to watch…so what are you waiting for? Faster go watch it!!! You'll feel satisfied…with the phrase within the movie,"Anyone Can Cook",making you dash to the nearest hypermarket to get ingredients for your cookout =)
A random group picture at a random place by a random passerby…after watching the movie…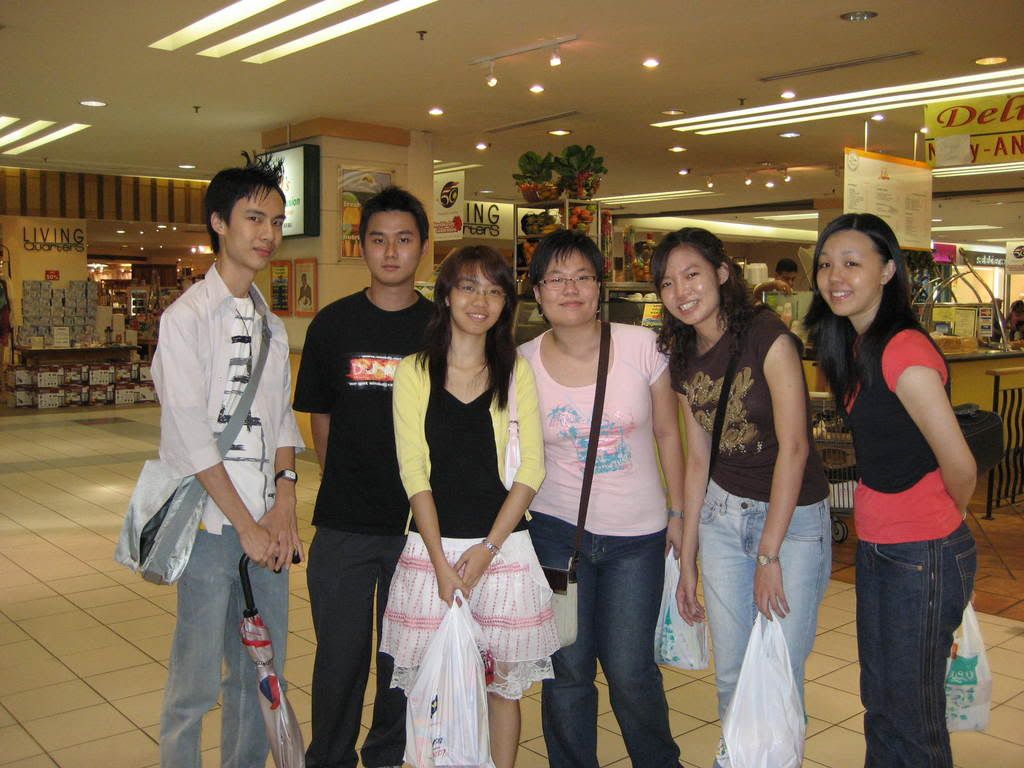 From Left to Right:
ME
,
Li Jian
,
Pui Fun
,
Li Yann
,
Sue Wen
and
Yi Ching
…only posted up this group picture cuz most of em' were not "sporting" or camera shy in
Sushi Groove
…lols =P Dun shy-shy,ok? Haha…
Ironically the next thing me and
Li Jian
did was…we went to
Williams
and ordered…
RATATOUILLE
(
rat.a.too.ee
)…tambah with
Ravioli
…shiok-ness!!! Pure vegetarian meal of goodness…
Williams
style ler,not the authentic
Ratatouille
recipe…still delicious nonetheless(click
here
for the original
Ratatouille
,sourced from
Wikipedia
)…Don't be surprised if there's a
Roti Ratatouille
at your nearest Mamak joint,hehe…
Eh? Managed to update an event within a few days instead of the usual "one week later" update…for this time only ler cuz I quite bersemangat a bit,hehe…wah,but the next day back to work…felt a bit sad and depressing,lols…which shows that I haven't berseronok for quite some time already…hehe =P A few more days to go until the
31st of August
,
ME
RD
EKA
DAY
and also the last day of part-time work…nyek-nyek-nyekssss…looking forward to payday as well,hehe…