Another Burger Outlet Joins the Fray…
Hello again…time for another update(lucky you…and me as well =P )
Yay-Yay!!! =D
Ever since I had been working part-time in
1 Utama
…during break times,I would most probably wander around
1 Utama
aimlessly(since I am practically there almost everyday till I know how many number of floor tiles are there in the shopping mall,lols)…looking at shops a.k.a. window-shopping,browse through magazines in bookstores,looking at leng-lui,etc…Oh and not forgetting…looking for food =) Which brings me/us to this post,haha =P Just like
Harry Potter
exploring
Hogwarts
…surely bound to find something new,exciting and interesting…?
Noticeable Burger joints located in
1 Utama
…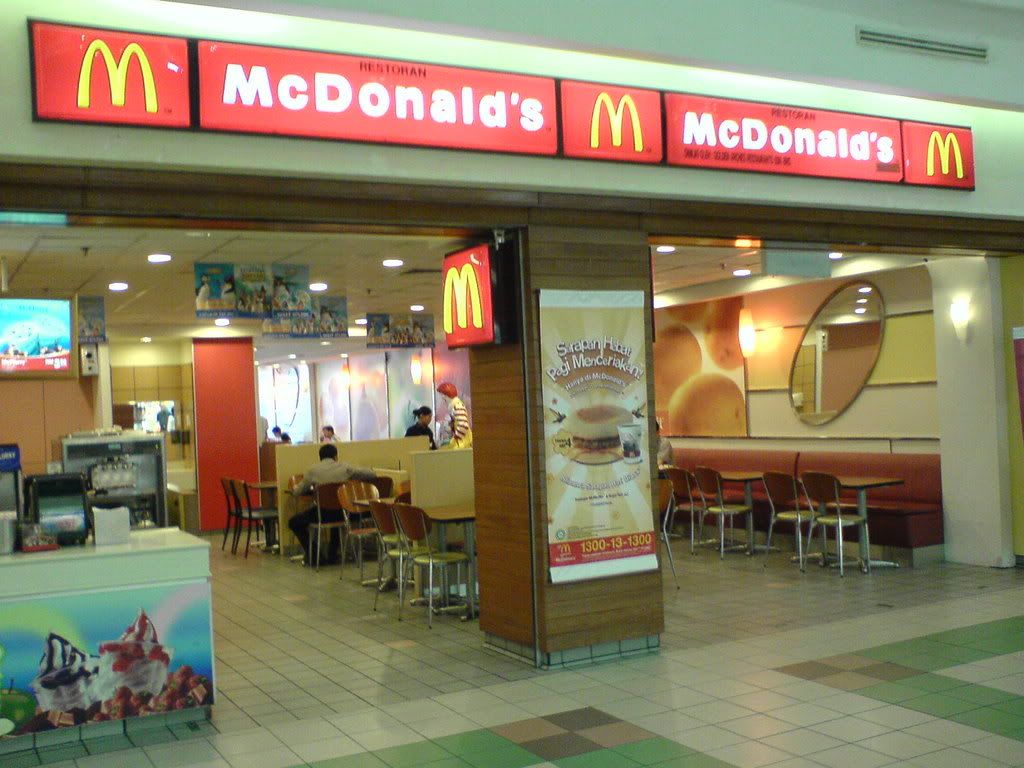 We are very familiar with this…
Mc
Donald's
And also…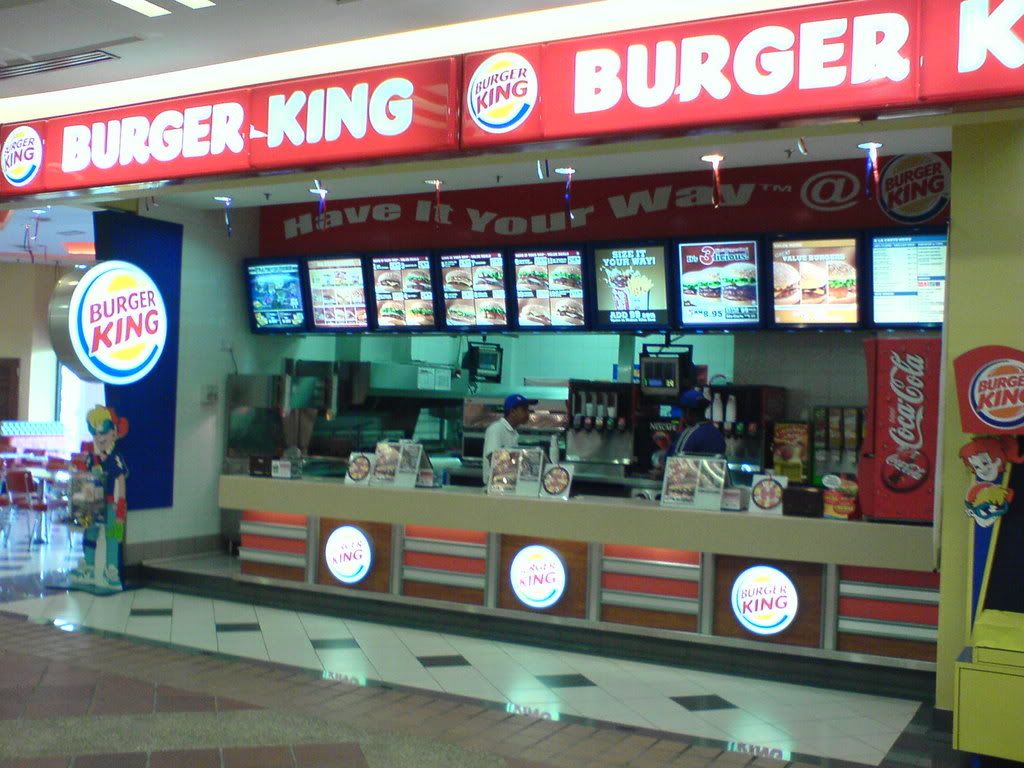 Burger
King
…another familiar face in the industry of fast food outlets
Now comes another newly opened outlet(just a few days ago prior to this post…can still even see those flower whatnots displayed at the entrance)…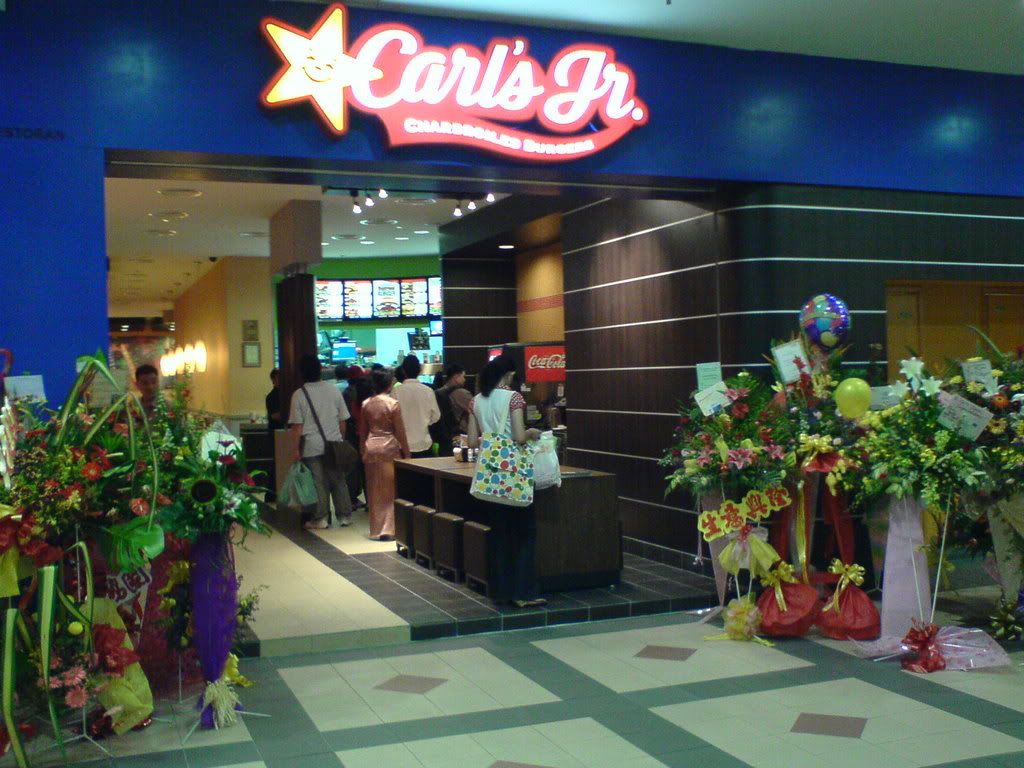 New kid on the block…
Carl's
Jr.
Thus begins a "Perang Tiga Segi"(Rough translation,Triangular War =_=" )…like
Maxis
,
Digi
and
Celcom
…or
Manchester United
,
Arsenal
and
Liverpool
,etc…football fans/jocks,please don't get uproared,merely examples only,hehe…
Pamphlets being distributed…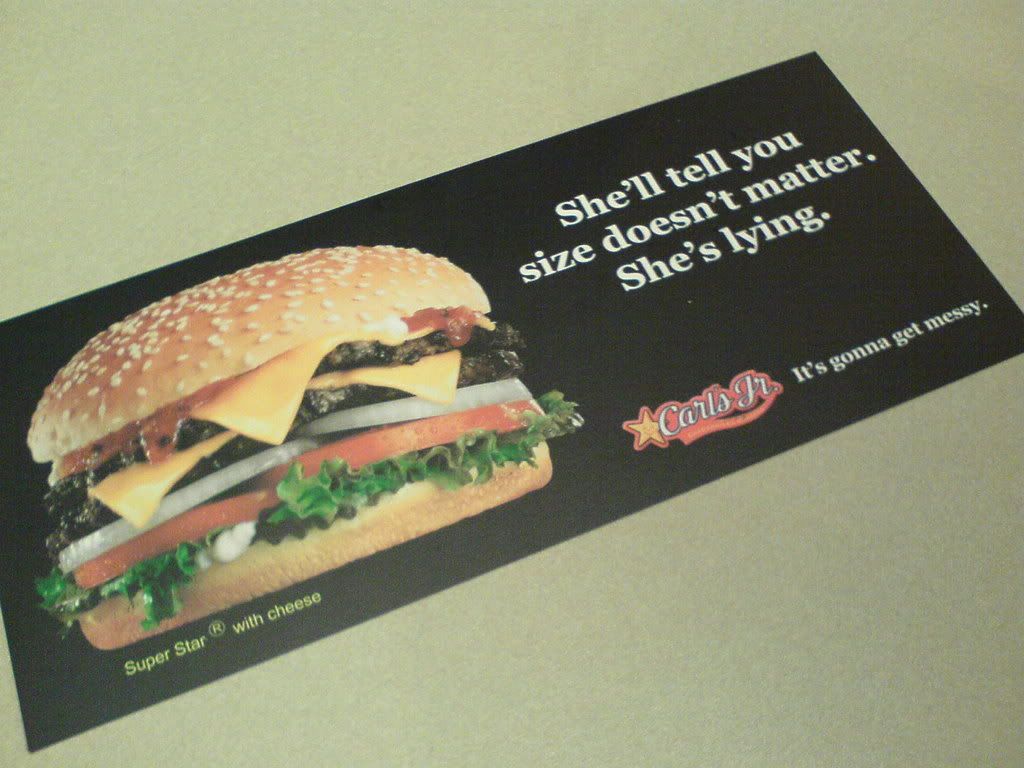 Hmmm…
Godzilla
would surely be angry cuz Size DOES Matter!!! =_="
Turned it over…a menu which listed the stuff being offered for your stomach's needs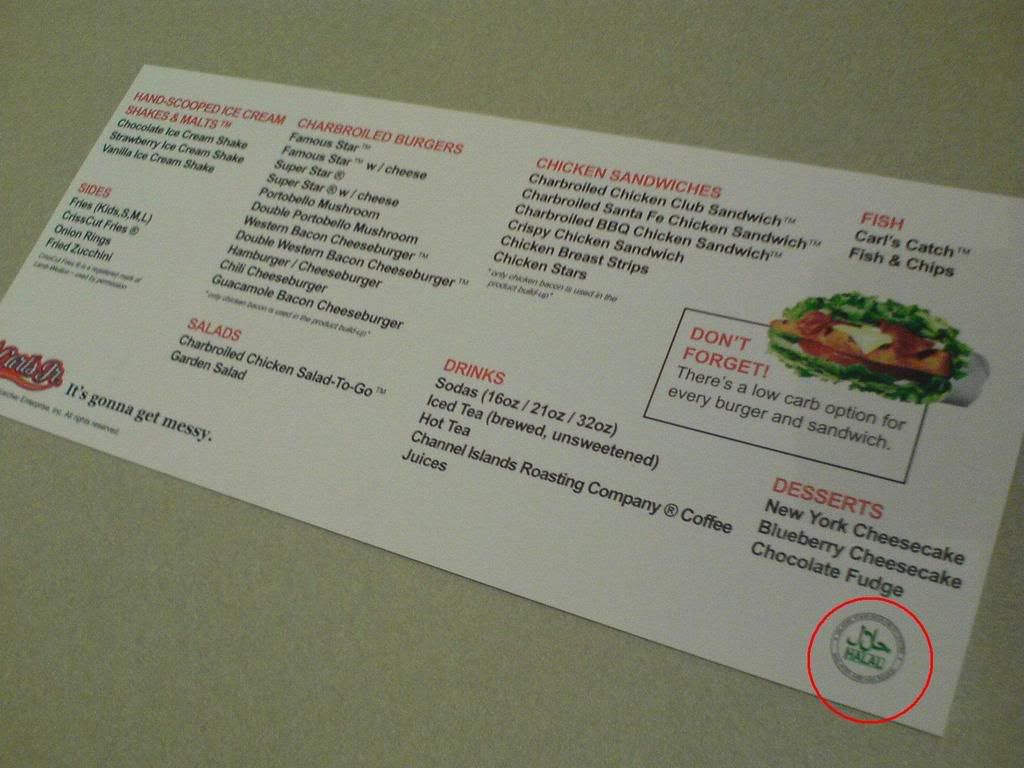 Dunno whether ya'll can see it clearly or not(click on picture to enlarge)…but anyway,who wants to see a menu with words only…must have the guidance of pictures(One would wonder what the heck is
Famous Star
as listed in the menu…
Honey Stars
in a Burger bun?!! =_=" ) So just drop by here at
Carl's
Jr.
to see for yourselves(it's nearby
T.G.I. Fridays
…which is also nearby
Burger
King
,ada competition ni…hehe)
Being curious(and hungry as well =P ),I went in to try-try this place…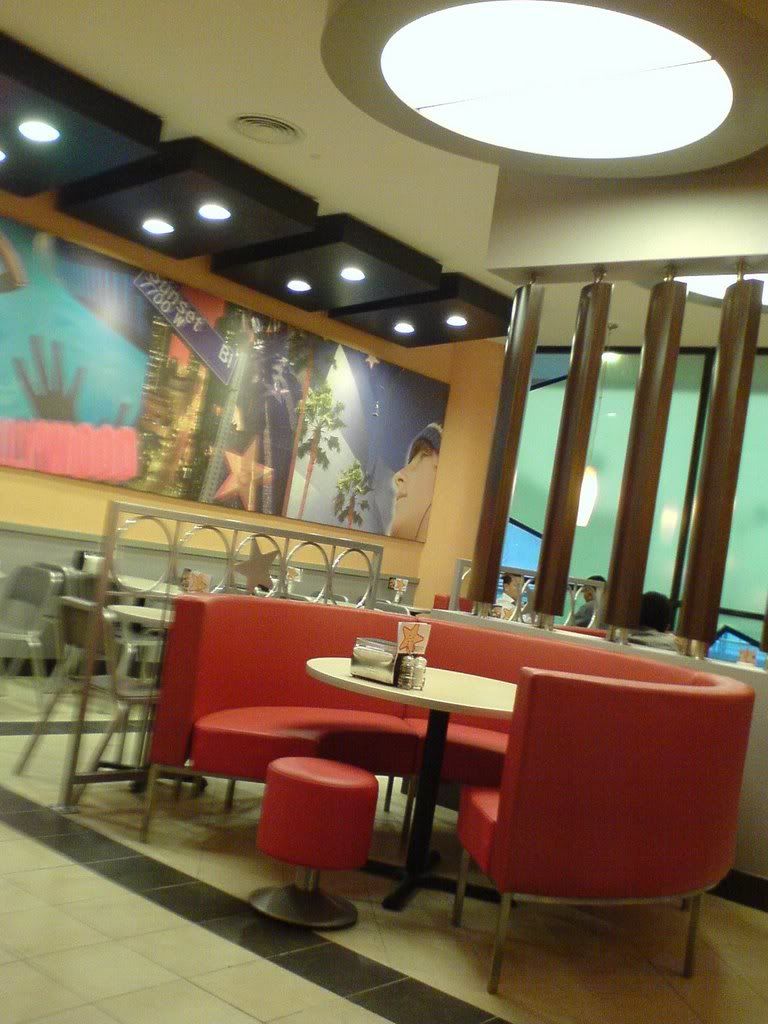 A shot of the interior…though the place seems kinda small
Adopting the style of
Burger
King
…drinks dispenser with free flow of drinks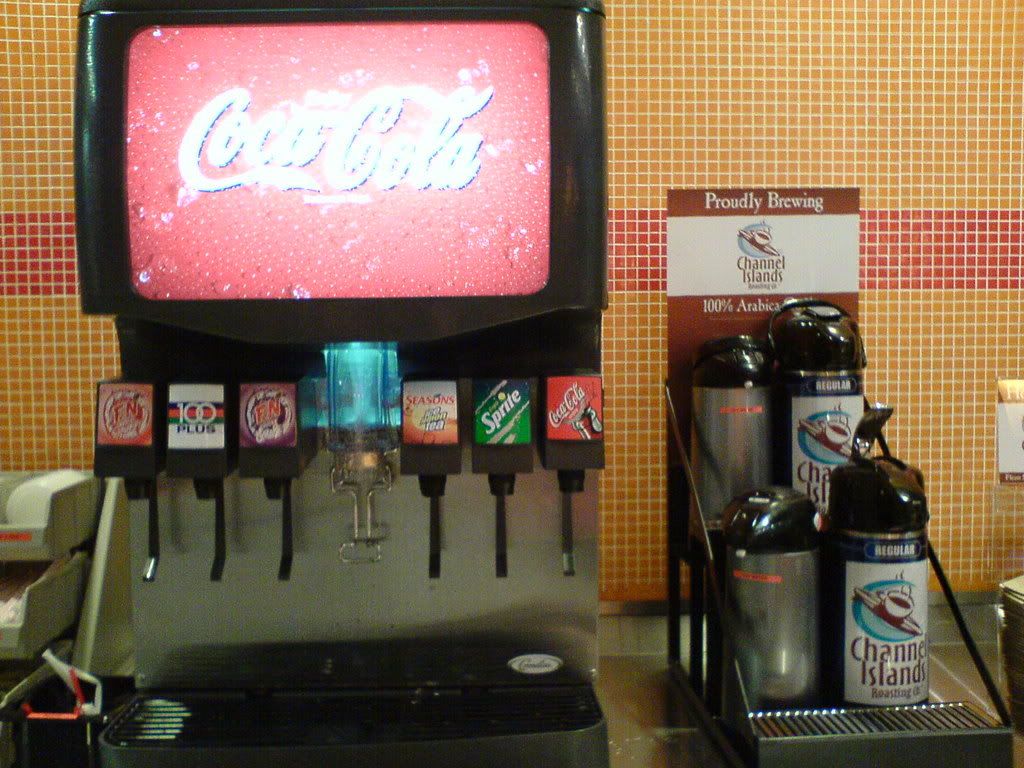 But this has
Channel Islands Roasting Company Coffee
(I am no coffee expert,don't ask,lols)…free flow some more and others as well(refer to the menu to have a rough idea)
A Combo Meal comes with drink and fries(which can be changed,once again,refer to the menu)…not forgetting the Burger as well,hehe…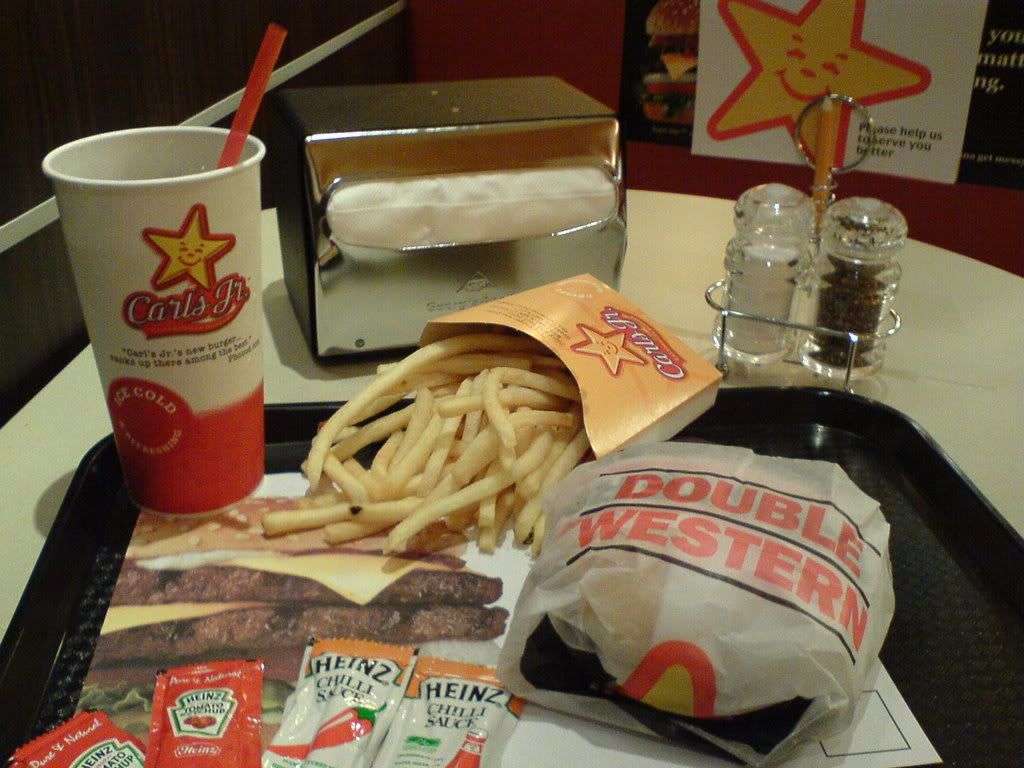 One thing is for sure…the Burgers here are quite pricey(Heh…and I/you thought
Burger
King
was expensive?!!) Prices range from as low as
RM7.95
to as high as
RM21.45
!!!(Seriously…for a Burger alone!!! >_< )
RM21.45 Burger
(Can't remember what it's called,hehe) sure is something to be boasted about,might try it someday to find out? Lols…all prices are excluding government tax…
Ok-ok…enough of the financial side of the story…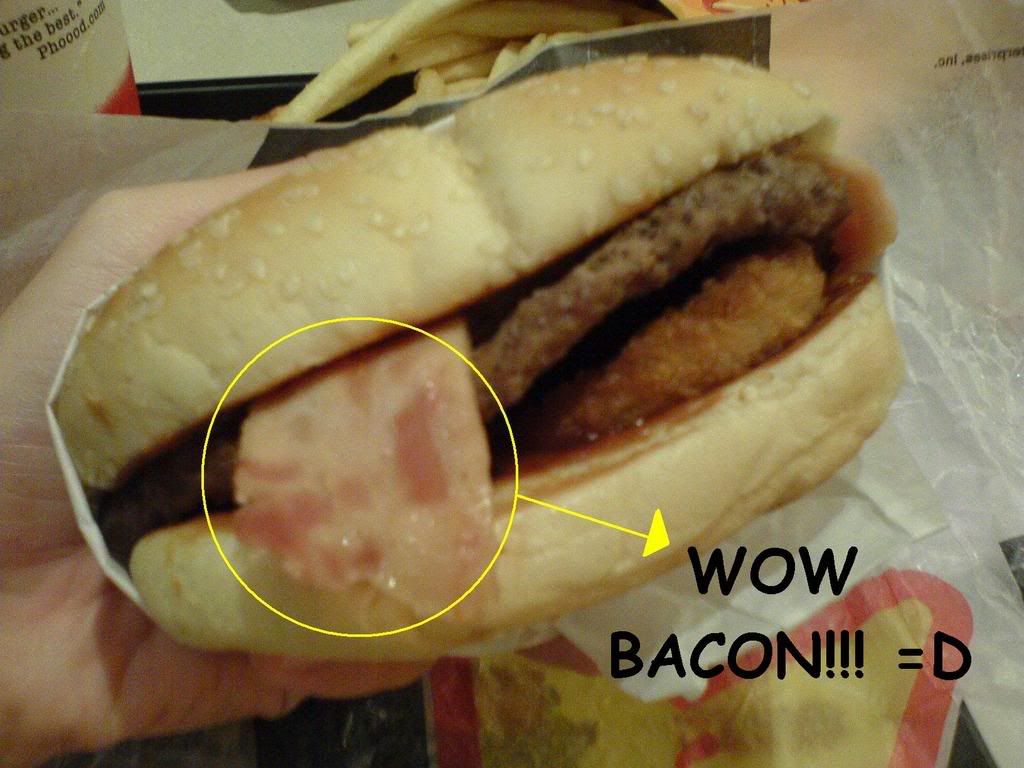 I ordered a
Western

Bacon

Cheese

burger
(not a
Double Western

Bacon

Cheese

burger
as shown on the wrapper of the above picture cuz I unwrapped it and rewrapped it again =_=" more $$$ to "Double" it ler) It has beef patty,cheese,onion rings and
BACON
!!! Sure or not?
Bacon
wor…tak Halal ni,contradicts as stated by the menu(not that I cared if I "accidentally" consumed any non-Halal food,lols…) Aiyah…it's
CHICKEN BACON
(spoiler =P ) only ler…chill-chill =_=" Wow,now that's quite a number of times the word
Bacon
had been used,lols…
Size is about roughly like
Burger
King
(Note: Size of Burger may vary as shown in the picture =P )…time to know how the Burger tastes like…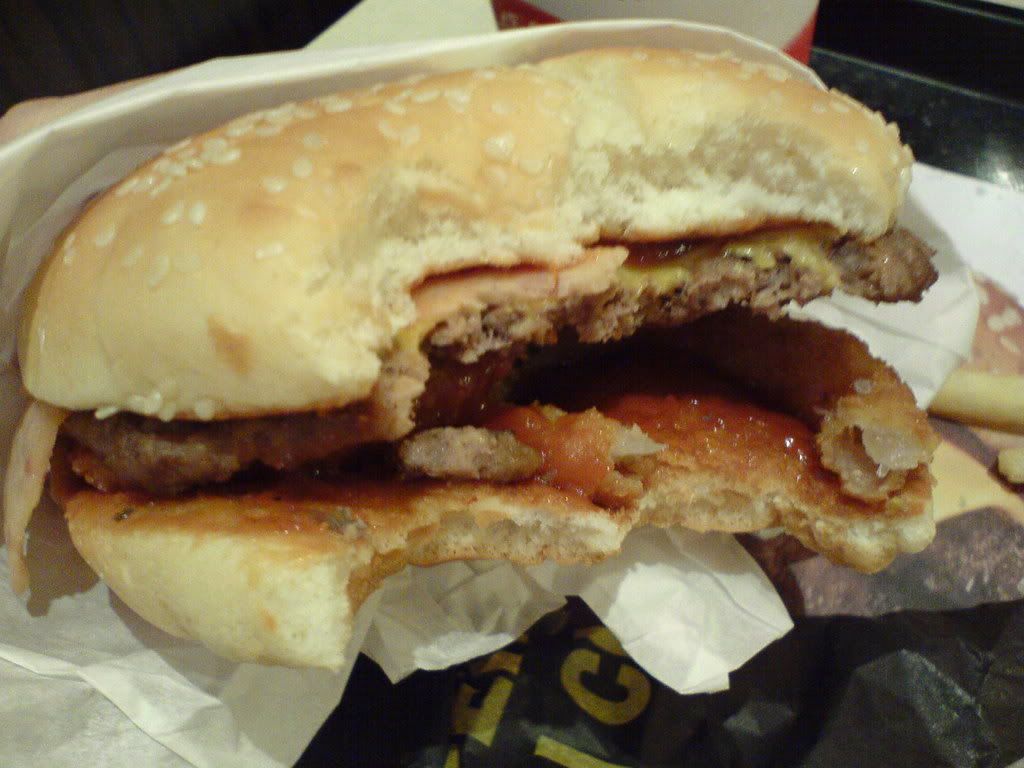 …and the verdict…I am totally awed(cuz I was hungry as well? Lols) The sauce with the juicy bite of the Burger made it taste good(might be even better if it was
REAL BACON
,lols =P ) Since I just wanna try-try…I wont be coming back here for quite some time,quite mahal for me,sort of like a high class version of
Burger
King
,lols…
Can visit their website too…
www.carlsjr.com
Well…if you're dying to eat Burgers…there's a cheaper alternative…
In the spirit of
Mala
ysia
Bo
l
eh
…a
Ramly Burger
stall can be found at roadsides/pasar malams near your local housing area…Do share any comments on the best ever
Ramly Burger
stall you had or your most favourite one,hehe…come to think of it,I haven't had one in ages…
This wraps up another post…Oh and one last thing…
As noticed by
Eddie
while he was in
1 Utama
…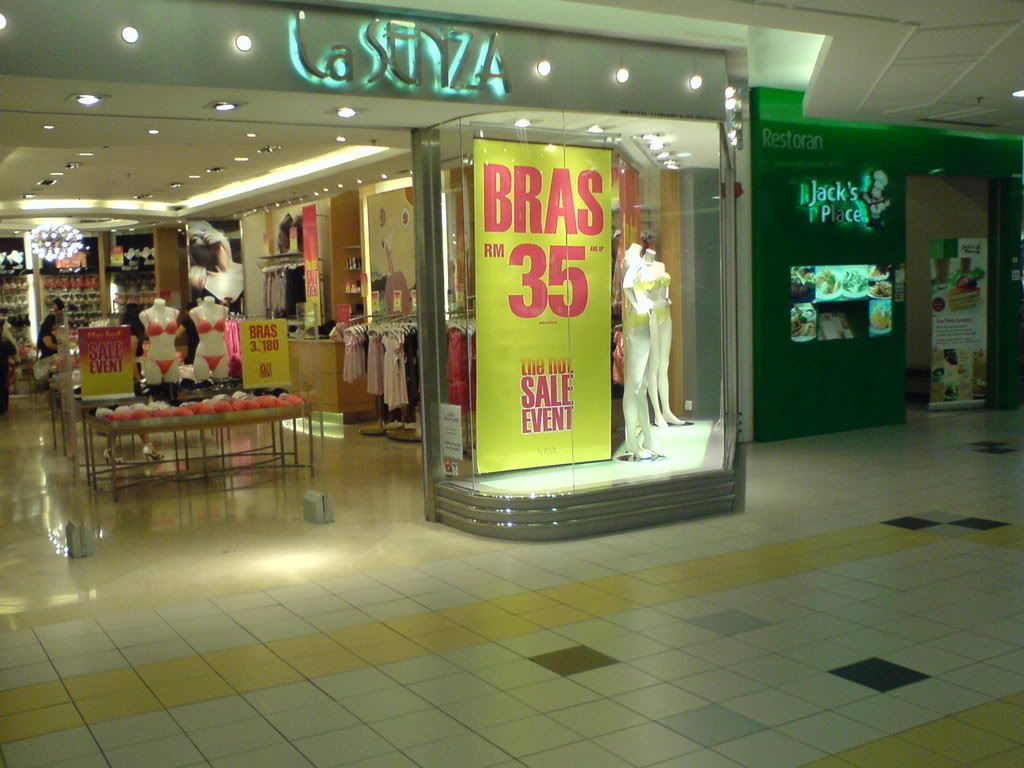 La SENZA
(no need to tell you what shop it is…see the picture also know already =P ) is just beside the restaurant which I worked part-time in(refer to previous post)…no wonder the restaurant isn't noticeable and not much customer either…kena "overshadowed"(lols…joking of course =P ) Men will look and women will look&buy…
RM35
!!! Cheap or not? =_="