Part-time working…again…
Aha!!! Finally when you load this page…got update!!! Lols…well,nothing much happened recently…part-time working mar…not to say that I am very busy but also,nothing that I feel like blogging about as well…in times such as these,I must use my creativity+lameness to "entertain" my dear fellow readers…
I don't really like to blog about work…but in this case,let's make an exception shall we? =P So here goes…
It was still early for business to start…so I just curi-curi took out my cameraphone and snap some pictures…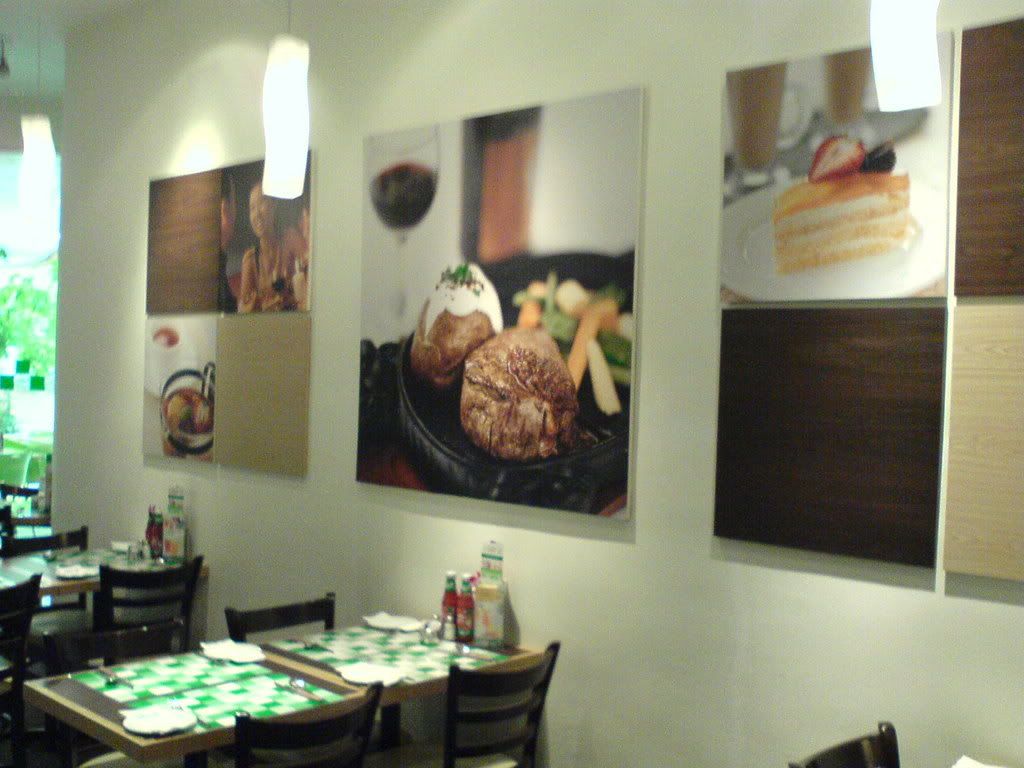 This is part of the interior…by a mere glance,you will know where I am working part time in…assuming that you had been to this place before ler…hehe
For those who don't wish to waste time guessing…the answer lies in the following picture…
A western themed restaurant…
J
a
c
k
'
s
P
l
a
c
e
…in
1 Utama
(There is another branch in
Sunway Pyramid
,though...the franchise is from
Singapore
)
To travel to work…I had to rely on the public bus…again…not to say that I cant drive there,but think of the payment for petrol,parking and toll(yes,in order to go to
1 Utama
from my place,had to pass through toll…to&fro,
RM1.60 x 2
!!! As of now,in the future may increase >=I )…definitely not beneficial from an economical point of view…
Although I really despise public transport(particularly buses = waiting = time wastage)…by using it everday(nowadays),I am also eligible to win $$$...some sort of lucky draw to lure kiasu people to use the
Rapid
KL
bus service…
A ticket only costs
RM2.00
(for the bus that I take) and can be used again within the same day(to&fro journey for me…plus it passes through the toll!!!)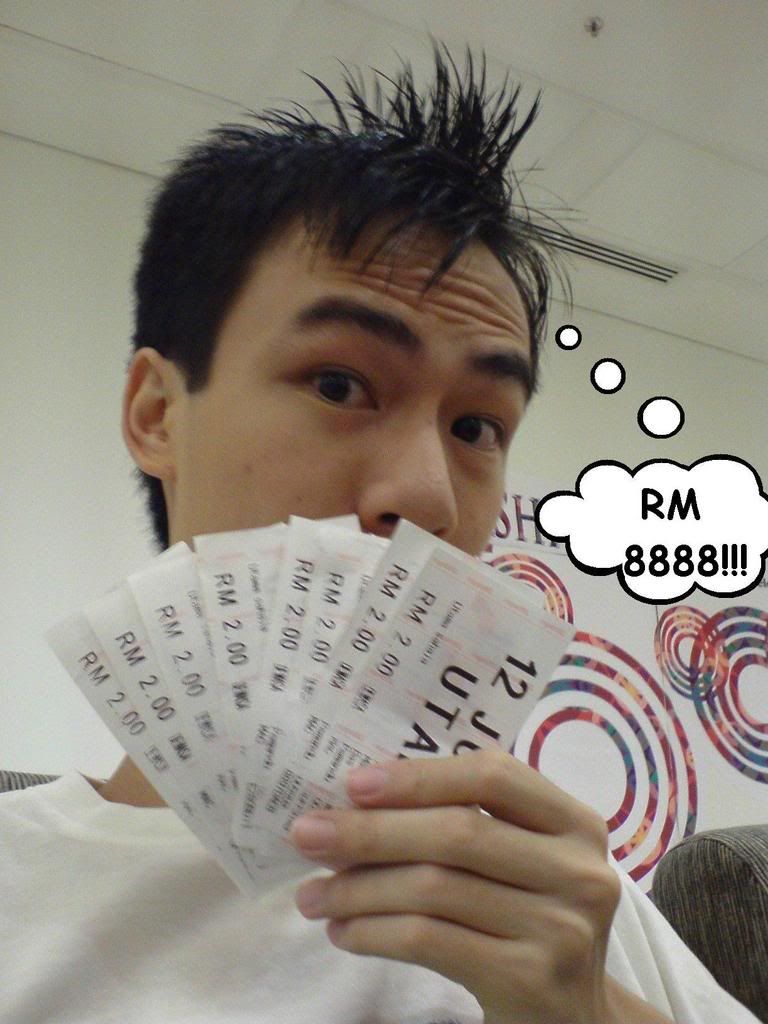 So as a wise decision…take the bus lor…can be a potential
1st Prize Winner
some more(
RM8888
!!! 2nd&3rd prize isn't so bad either…since it's free money!!!)…although the probability is kinda low…considering how many other people use
Rapid
KL
bus…lols…but you'll never know…you'll never know,hehe…Surely belanja kau-kau others…provided I win lah,hahaha =D
Anyways…I better not get my hopes to high…ehem-ehem…back to the main story of this post…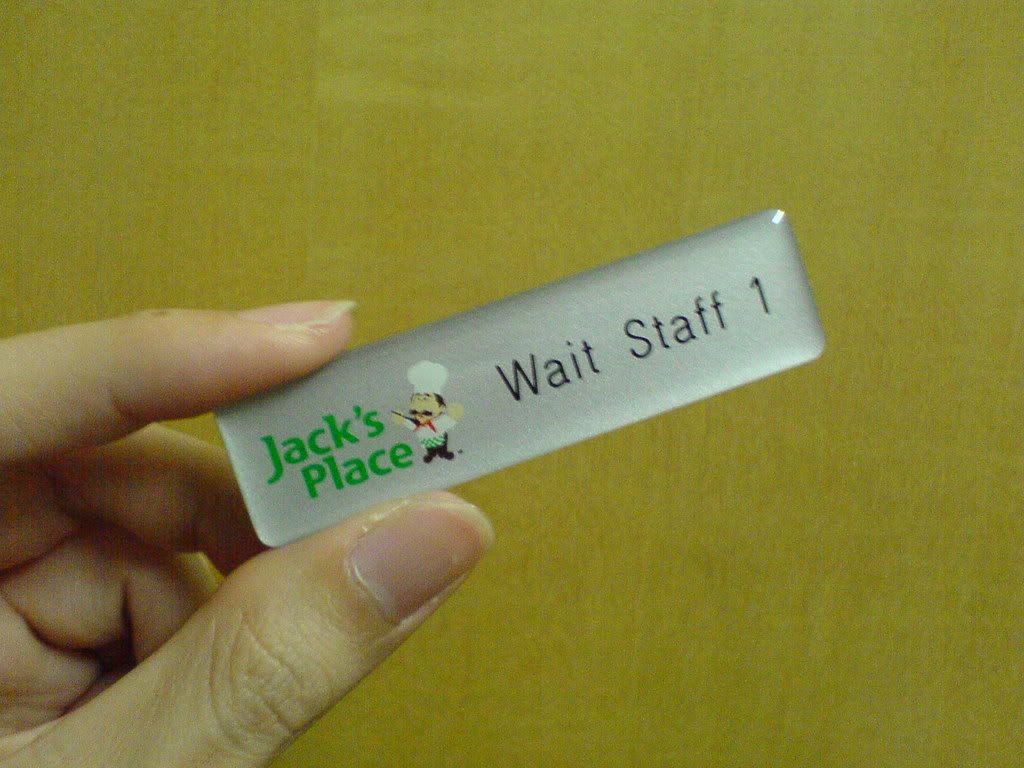 My name is…
Wait Staff 1
,like giving football jersey numbers only =_=" The other staff call me…
Jimmy
…
Jimmy Ooi
…(you know lah,Chinese names…How could
Chi Ming
turned into
Jimmy
?!! Surname also wrong…missing letter H in the front =_=" thank goodness paycheck isn't paid by cheque…or else I'll definitely go demand/extort/rob the real
Jimmy Ooi
somewhere out there for my hard earned money,imagine me demanding,"Give me RMXXX and XX sen!!!" instead of "Give me all your money!!!"…no offense to the real
Jimmy Ooi
,ya? Lols =P )
Here's a computerised "key-in" order screen on one of the 2 computers(no-no,cannot play computer games here like
Diner Dash
=_=" )…the waiter/waitress would take note of the customer's orders and input em' here…
So far as of now,I am not allowed to take orders yet…say if keyed in wrongly,then got mistakes or extra orders,how? Potong gaji?!! We're talking about steaks and lobsters here…not fried rice or noodles(as a matter of fact,the DO serve those…please,oh please don't come here just to eat those…better go
Food Court
or something…) Hmmm…those colour-blinded people a bit susah to key in orders,no? =_="
This is where all those soft drinks you ordered come out from…like pumping petrol only =_=" No refills though…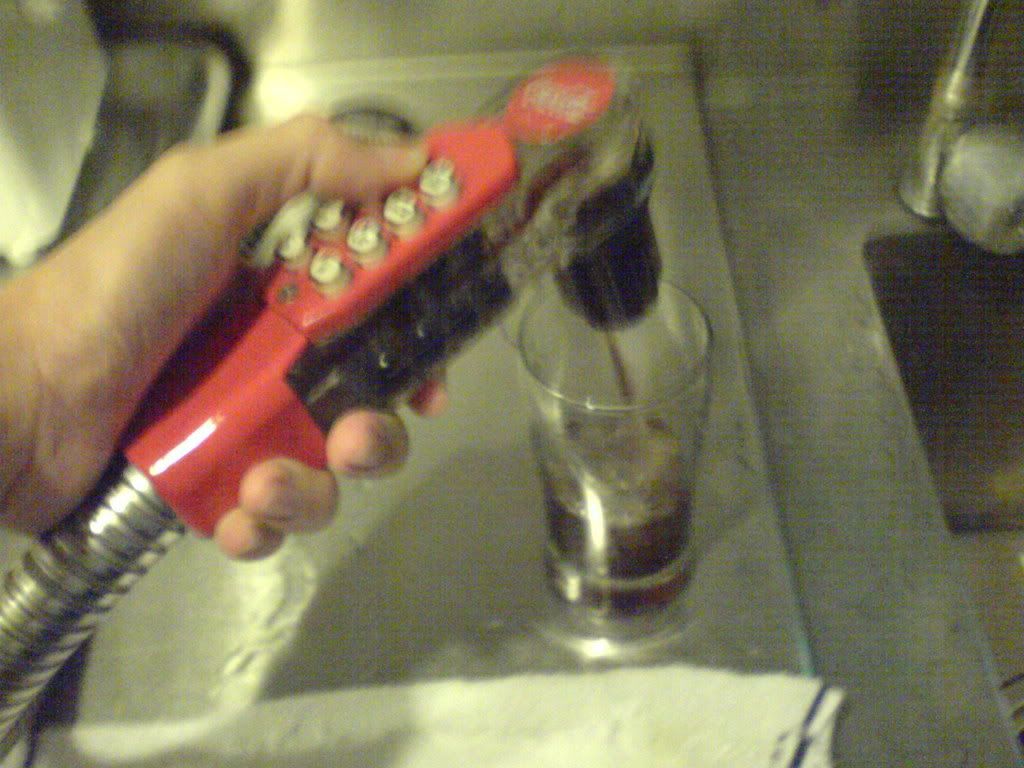 Staff are allowed to drink too…unlimited some more!!!(Think
Burger King
…lols)…so if anyone comes here to dine(who I know of) and want refills,look for
Wait Staff 1
,lols(keep it hush-hush,ok? =P )…provided the place is not TOO busy lah or else sorry lah,wont be able to layan you…haha
When working in a restaurant…your makan schedule is screwed up a bit…the time when customers makan,is the time that you are doing your job =_="
Oh and if you are lucky(most likely),meals are provided…cant complain much since it's free though…but somedays,our meals aren't that bad either(the picture that I took is on one of the "not so good meal" day)…somedays though…
Compared to the food that the customer's are eating…feel kinda sad lah =P Likewise customer's cannot eat the "special food" for the staff,jealous rite? =_="
Here's a preview of the food…by having a look at the menu…sorry lah,cannot take a picture of the food…customers wouldn't want me to…"Wait arr…wait arr…don't eat first…let me take a picture first…*Ci-Cak*(camera shutter sound)…Ok…now you can eat…Wah,looks quite delicious…can I try some? Eh,why cannot? For your safety,I better taste the food first…what if got poison inside? I am concerned about your life,leh" =_="
This restaurant is famous for its steak(price ranges from
RM30
to
RM42
,for ala' carte)…there's also a daily lunch set(changes everday),from
11am to 2.30pm
…each day is either a fish/chicken set(roughly
RM14
) or steak set(roughly
RM18
)…included together with the main course are complimentary garlic bread,soup of the day,dessert of the day(pudding,jelly or ice cream) and a choice of coffee or tea…Don't understand what the heck I just said? Then just drop by here and find out…lols =P
Note: Promotion and prices are subject to change at this time of post =P

Well…if you come to
Cheese's Place
…got set lunch too…creamed bread(not complimentary though =P ),soup of the day(
Campbell's
!!!),main course(
San Remo
Pasta+
c
r
a
b
s
t
i
c
k
s
+deep fried fishball+
Pringles
?!!),dessert(
MARS
chocolate bar!!!) and coffee(Kopiko!!!)…for only
RM8
only!!! And no need to pay for government tax and service charge…D.I.Y.(Do-it-Yourself) only =P
*Estimated price only =P
Set doesn't include any drinks…be adventurous and try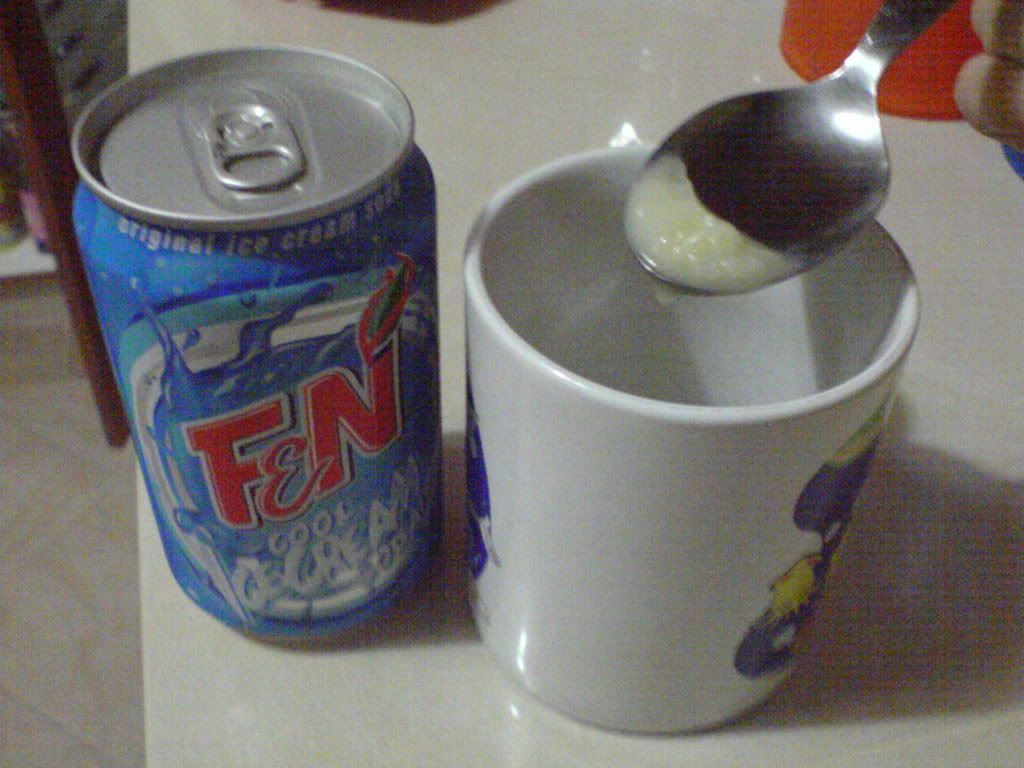 A concoction of
Condensed Milk
and
Ice Cream Soda
!!! Caution,not for the sweetened-hearted(supposedly to be fainted-hearted) cuz I tried it,full tablespoon of condensed milk some more and also don't drink it every single day unless you wanna get diabetes or high sugar level in your blood…
Idea came from
Kenny Sia
's blog,click
here
for the direct link to the corresponding post…curiosity gets the best out of me =_="
Hire a model very expensive leh…so better do it yourself…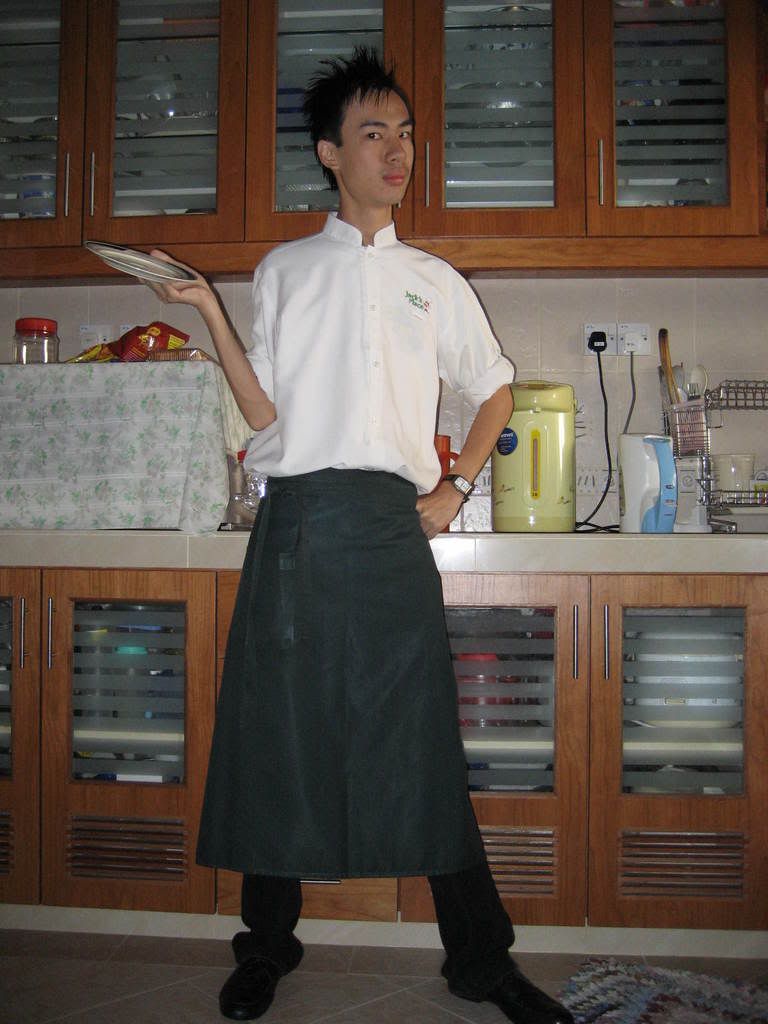 Working attire… =_="
Can also become
Iron Chef
?!!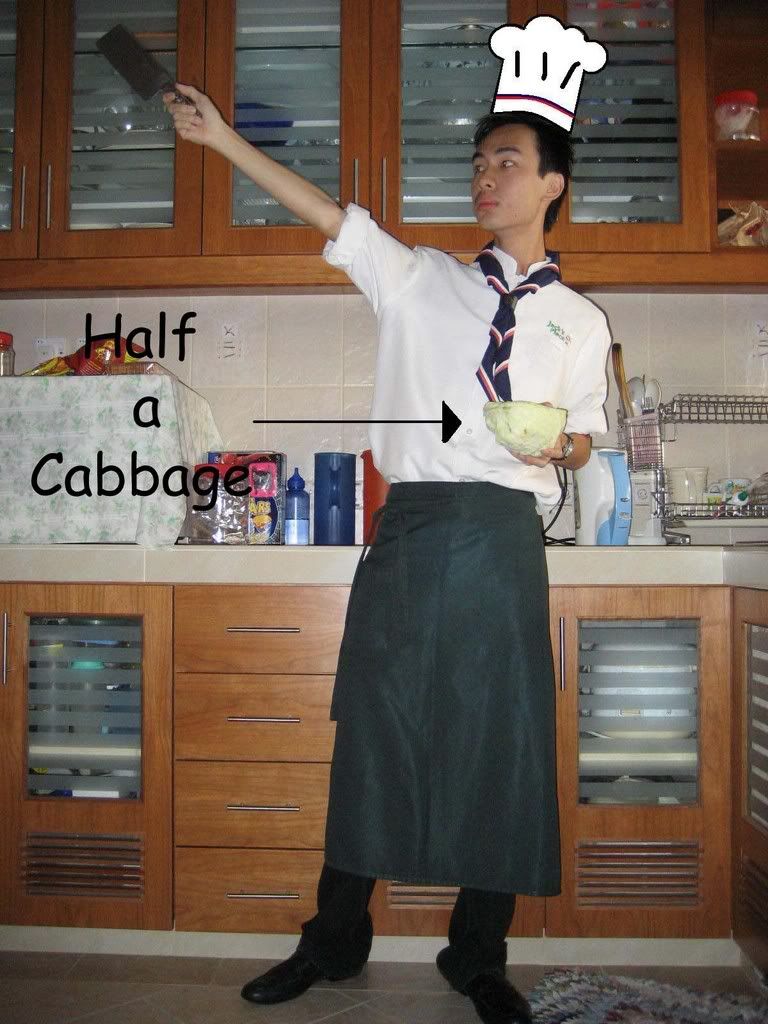 But do a better pose lah(don't do
Statue of Liberty
pose like above?)…if the opponent sees you,surely laugh till die wan…then can win? =_="
Ok…I have displayed enough of my stupidity in this post…hehe…will update again if I feel like doing so…in other words either "interesting" events or a lame post such as this to make you entertained or just more random posts…Bai-Bai for now!!!
Ah yes…I have finally watched
Harry Potter
(
s
) today(off-day)…
But still haven't watched the latest one though,Harry Potter: Order of the Phoenix…neither had I read any of the books(wouldn't think of buying any…borrow can? =P ) Speaking of which,I haven't been doing any "proper reading" for a long-long time…unless you count newspapers,magazines,blogs and also lecture notes(this one only applicable when studies commences and especially near exam)? =_="