Year 2…Semester 1…Completed =P
Yesh!!! Exams are finally over…staying over in
Semenyih
for 3 weeks,felt like I had been there for 3 months!!! Anyways…glad that was over and another semester is down for the count…Well,technically it isn't really over yet…like any other fairy tale stories out there,it must have an ending,right? A good or bad ending is yet to be determined yet…as I await the outcome of the examination results…which of course,depends on how well I did for the papers…which depends on the questions asked…which depends on the person who sets the questions…which depends on the modules/topics/subjects that were decided for me,without any choice at all *cough*cough* Basis of Biotechnology *cough*cough*,etc…(never-ending non-sensical ramblings)…
Oh well…since what had been done couldn't be altered…I shall leave it as it is…and look forward to this 1 week of holidays!!! Tough luck…it wasn't 1 month off though,hehe…
Just right after the last day of exams(Friday)…went to a very far-far away place(well,it wasn't that far…from
Semenyih
…minus the traffic jam and rain) to have dinner…
It was an Italian Restaurant…
Venezia
…all the way to
Cheras
…
The ambience of the restaurant was quite soothing…(or maybe because there weren't many customers =P )
Hmmm,if only they had made enough money to afford some curtains…lols…
Pasar Malam
(Night Market) outside…
Open-aired kitchen…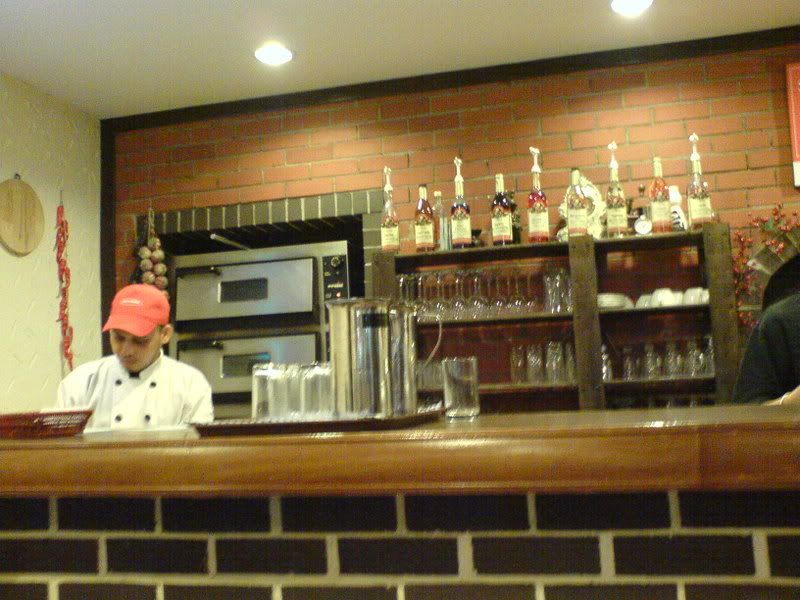 Smell of pizza from the oven…as
The Rock
says…"If you smeeeellll…What
The Rock
is cooking?!!"…imitated by person in picture =_="
Lo and behold!!!
The BEST
Spaghetti Carbonara
in the whole wide world!!! Lols…over-exaggeration…well,it probably tastes good if one had been eating instant noodles one too many times in a week =_=" And a slice of heavenly
mushroom+chicken+perhaps other stuff that I cant remember pizza
…quite pricey though,but definitely good stuff!!! ; )
For all you anti-
Pizza Hut
,anti-
Dominoes Pizza
,anti-
Shakeys
,etc…out there…do drop by to
Venezia
…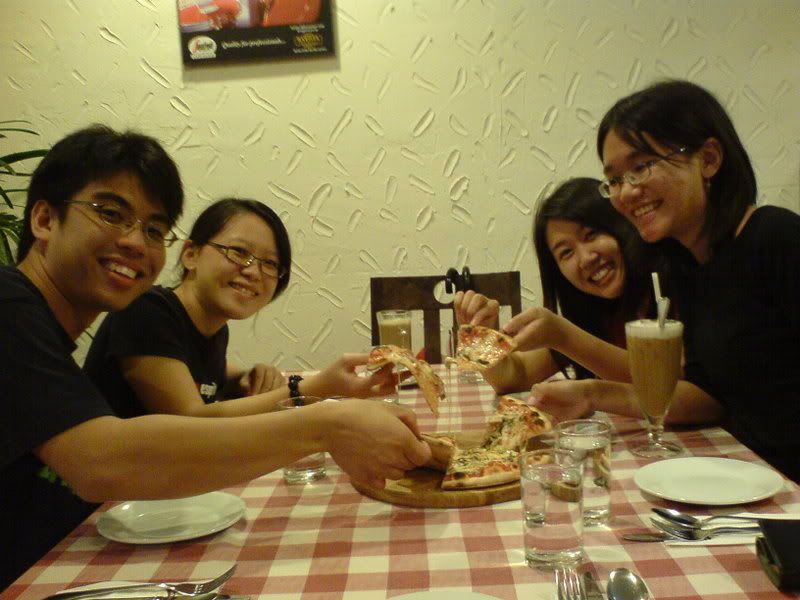 Advertisement Picture Pose!!! =P
From Left to Right:
Choong Hoe
,
Pei Wen
,
Sulyn
and
Pin Pin
…Many thanks to our sponsor,
Pin Pin
…so whatcha say for Round 2,book the whole restaurant? Hehe…
The following day…
TTS5
once again brings you…something different…something bizarrely odd…something no one had ever witnessed before…Ok-ok,maybe it's only me who've never seen it before…
Steamboat
with bubbling
brown
stuff???!!! Lols…it's actually
Satay Celup
…the soup,are those peanut sauce that is usually eaten together with
Satay
A closer view…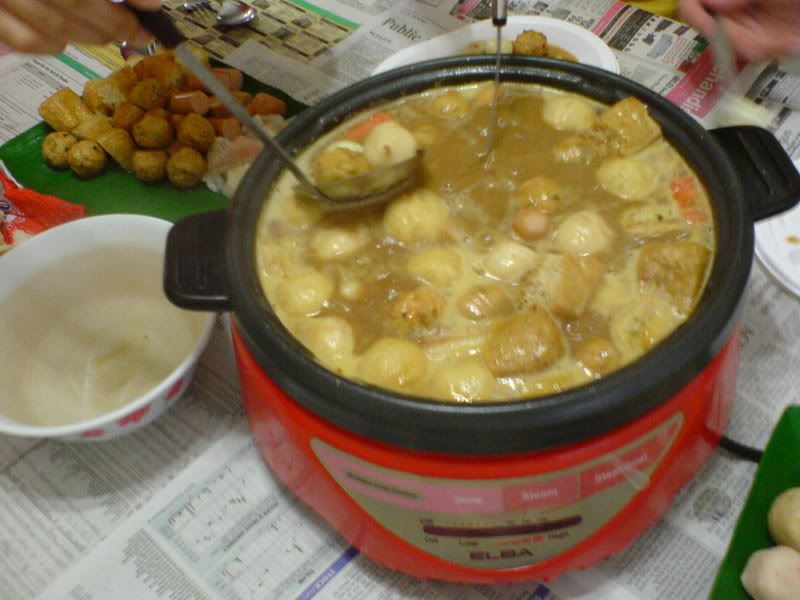 But the soup/sauce wasn't thick enough…still Ok though,managed to stuff ourselves…actually almost felt like puking…too much peanut-ty feeling in my stomach =_="
Now…something normal…something ordinary…something commonly found around…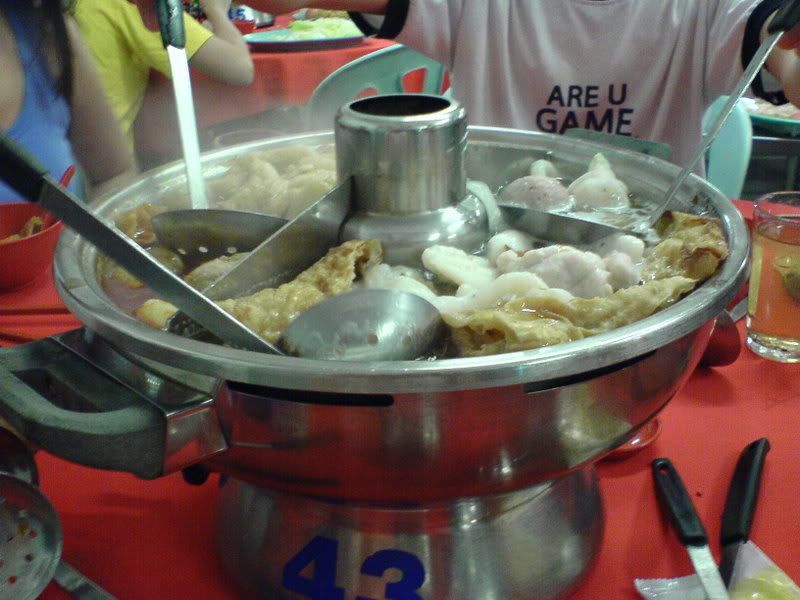 Your typical
Steamboat
in a typical neighbourhood…near
Cheras
…again?
Time for another Advertisement Picture Pose!!! =D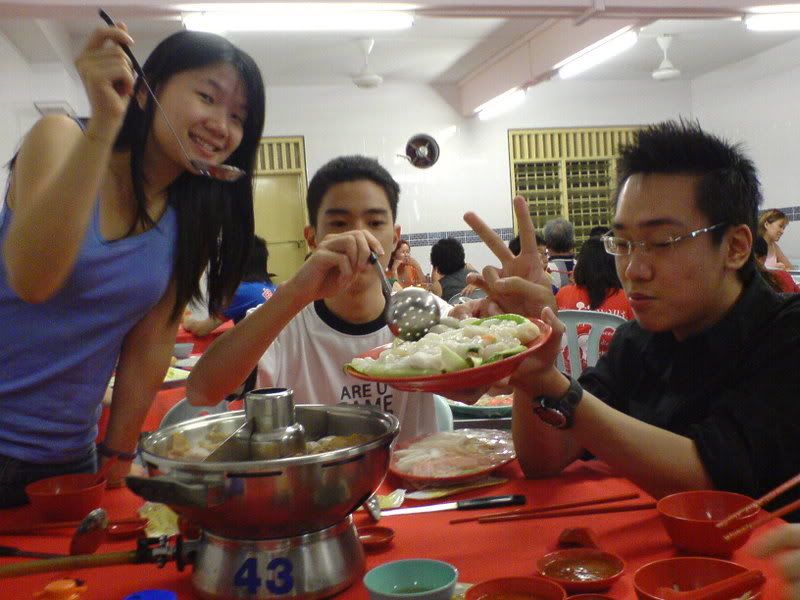 From Left to Right:
Pui Yen
,
Weng Siong
and
Lik Yang
…Lucky number to buy for lottery,number
43
!!!
Probably I would get complained for putting up pictures of food again…haha…the whole post is not really about food only(as in pictures of food only)…surroundings and people are included too…ok? Apart from the happy-happy makan-makan post…my laptop KO'ed…just whenever I need to rely on it…Windows couldn't start-up when I turn on the power…sigh…will bring it for repair…hopefully could save my stuff inside,saddening indeed if everything gone case <=(
By the way,I had recently started to watch
American Idol
…probably I was too bored whilst staying in
Semenyih
…I find it interesting though,especially the early preliminary rounds of course(wont watch the later parts I guess)…my goodness,all the funny antics one would do,to become…the next
American Idol
…wake up and face reality man…lols >=P