Feeling 20-ish? Hmmm…(Part 1)
Yes-yes,it is time for another update since another long absence has occurred…blame it all on the coursework,haha =P To make it up to you readers,I shall have a double post…well,actually I cant fit all the pictures in 1 post…so had to split to 2 due to limitations =P Actually,suppose to be doing coursework now…but,take some time off to do this "side quest" first lah…hehe
Another year has passed,365 days…8760 hours…525600 minutes…31536000 seconds…*whoosh*…gone…thus marks another brand new year ahead since the day that I had been brought to this world(note:not an alien!)…How long has it been? By golly,its already 2 decades!!! Throughout these 20 years,I had witnessed strange occurrences and overcome adversaries…particularly,when the "day" drew closer and closer…best be prepared for "surprises"…
Yes-yes,its that time once again…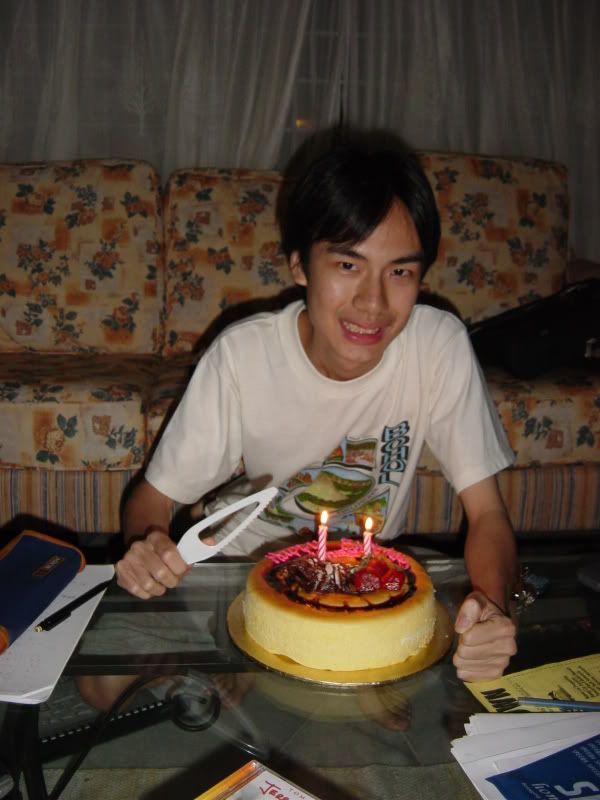 WWWAAAHHHH…someone turned older…but luckily still got hair(still
black
some more,haha)
The customary birthday cake…
Blueberry

Cheese Cake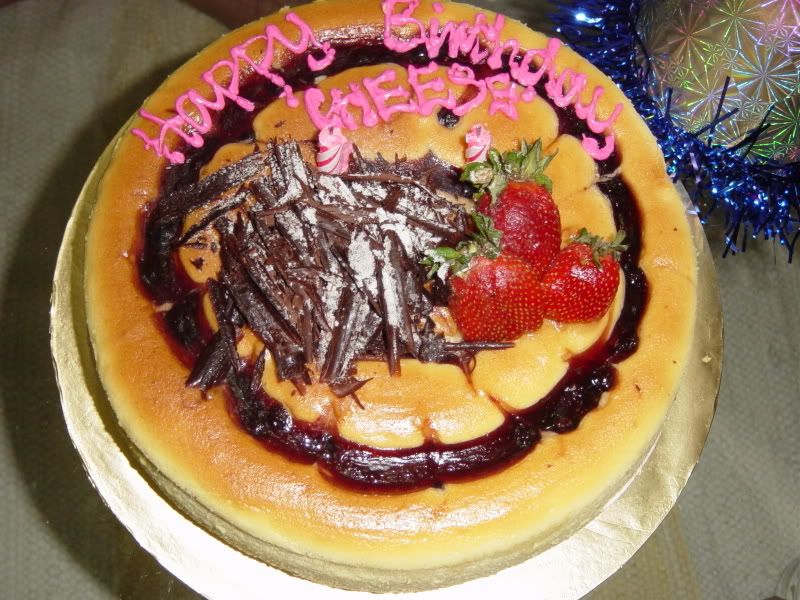 The
pink
cream lettering reads,"
Happy Birthday CHEESE
"…wait a second,now I am confused…could it be that it's the Cheese Cake's birthday? Hmmm…come to think of it,I think so…since it is made on the day itself…so technically speaking,it is the cake's birthday too!!! But,sad to say…that the cake "will not have another birthday"…lols =P
Time for a group photo!!!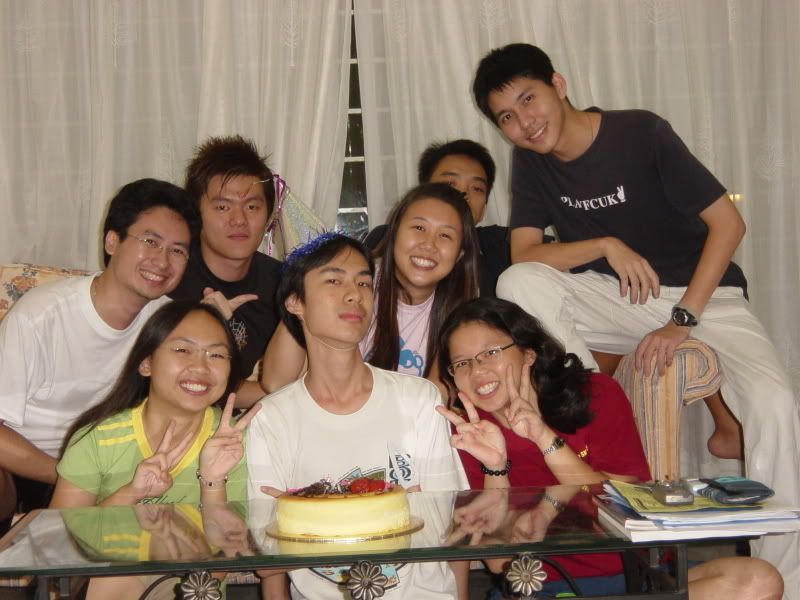 Here we have the masterminds behind this event(excluding me of course…I just had to become an "actor" for the night,haha)…Left to Right…
Front Row:
Hui Jiun
,
ME
(wearing "stylish" hat that "attracts" people's attention),
Qianhui
Back Row:
Eddie
,
Wilson
,
Sulyn
,
Douglas
(partially blocked =P ),
Wee Kiat
"Lawak"(farnee…) pose…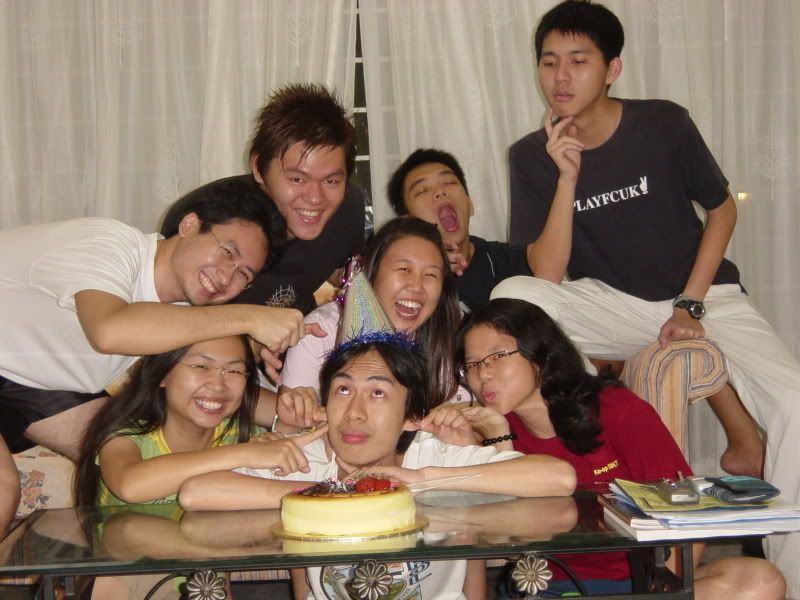 Nothing to comment about this…except with an expression of =_="
Now,onto another side of the story…first it was in
TTS5
…now,we move on to
1 Utama
…venue was at
Old Asia Cafe
(at first I thought it was
Asia Cafe
in
Subang Jaya
…transport problem liao like that,haha)…Oh and thanks to
Pin Pin
for providing transportation back to my house on that day…also have to thank her for giving me and
Qianhui
a "tour"(hidden meaning) around the highways in
KL
on a rainy day…lols =P
So,when I reached back home…took a shower and then off to
1 Utama
…to
Old Asia Cafe
…once everyone arrived,ordered the food…and after some time…
Meal arrived…and
Craig
took out his digital camera(new toy) to snap some pictures…cant really remember the name of the dishes,but I do remember that mine is the one which is the furthest(as seen from this picture)
Yes-yes,its that time once again…Round 2,haha…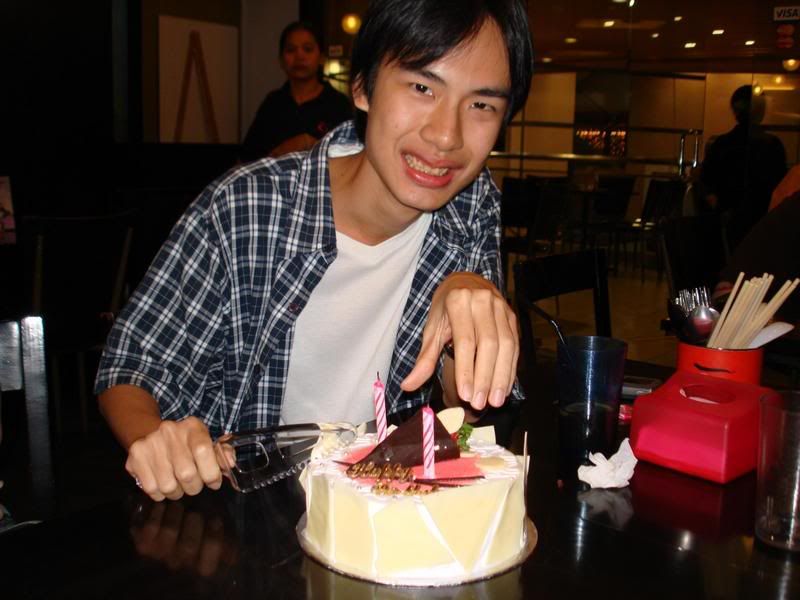 Note: This is not the 21st birthday…yet =P
Say Hello to another birthday cake…
Strawberry

Cheese Cake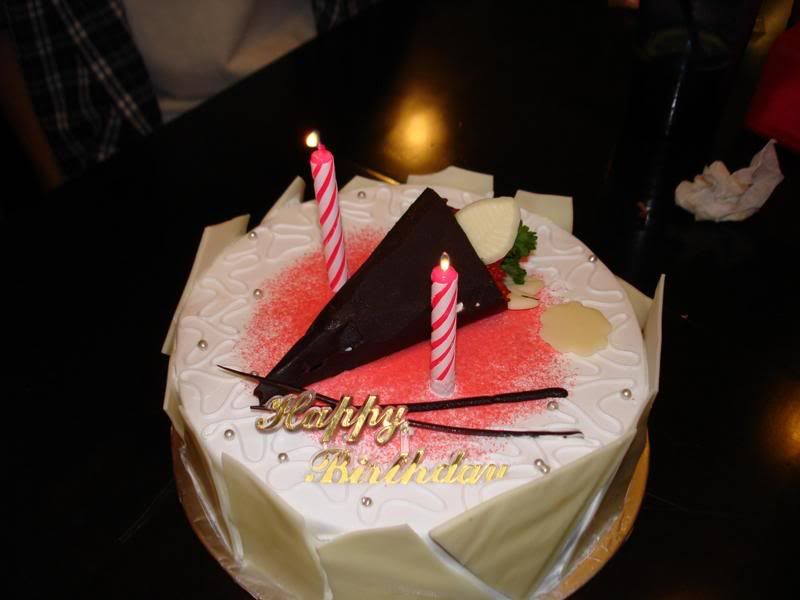 Unique in its way…comes with a free
California Roll
…
chocolate
flavour =D But the cake is kinda too creamy ler…can hardly taste any cheese at all,lols
Must eat the "proper" way using "chopsticks" that were given together with the cake…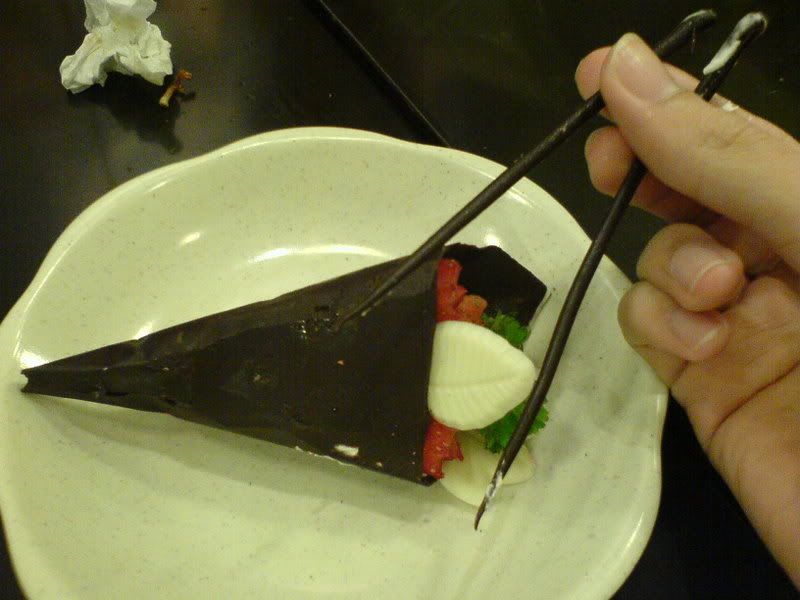 Wonder how it'll taste if eaten together with
Japanese Soya Sauce
and
Wasabi
…Hmmm
Customary group picture again!!!
From Left to Right:
Craig
,
Jien Eu
,
Michelle
,
ME
,
Weng Siong
Hmmm…the birthday boy should be in the middle of the picture ler…
Michelle
took the "spotlight" away from me,lols =P
After the lovely dinner(not necessary need to be a fancy-pancy expensive place…but it is encouraged,though =P )…went to watch a movie…
The Prestige
…only left
Craig
and
Weng Siong
to accompany me to watch cuz others went back already.
Liying
and
Camellia
were there too,just for the birthday wish and short meet-up session. Apologies goes to my friends who got dragged along,walking to and fro between
GSC
and
TGV
…to get the appropriate time for the tickets. The movie was quite "interesting"…it's the plot that is as twisty as
Dominoes
Pizza
's
Twisty Garlic Bread
…but then,the ending a bit too fake ler,haha…considering it is too extreme to think of a proper "reality" based ending…
(To be Continued…in Part 2)