Post No. 100!!! =D
TADAAA!!! This is the
100th post
on this blog!!! Wahahaha… >=D
…
Well errr…nothing so great about it,no? Hehe…well,compared to other bloggers out there…they might had already reached much-much higher number of posts…One thousand? Perhaps One million???!!! Yikes…100 posts to them is just like a one cent coin lying on the roadside…But hey,this means that I still haven't stopped blogging(albeit not much posts) and will continue to do so…just wouldn't know when I'll lose the drive to continue anymore…hehe…so to me,100 posts so far is a pretty good achievement and the
2nd anniversary
for this blog is coming soon too =P
My laptop finally returned back to my arms…after undergoing a "surgery" in the computer shop…The "operation" was successful…it didn't die and came back with more hard disk space,from the peanut-sized,
40Gb
to double the amount,
80Gb
!!! But unfortunately…it suffered "amnesia" and all it's previous memories(data) couldn't be recovered…it was reformatted and replaced with a new hard disk,
80Gb
(previous
40Gb
hard disk was corrupted)…meaning more $$$ bye-bye <=( sadness…So now I am thinking of getting another hard disk(the
3.5 inch
,desktop hard disk type) to back-up all the necessary/unnecessary stuff in it…wont be bringing this around cuz its huge…Aih…better start saving money from now…lols…Oh and do please "donate" some mp3s to my empty library of music =P
To commemorate this
100th post
…once again,it's time for some pictures…
In the olden times…people tend to take pictures with their cameras…like this…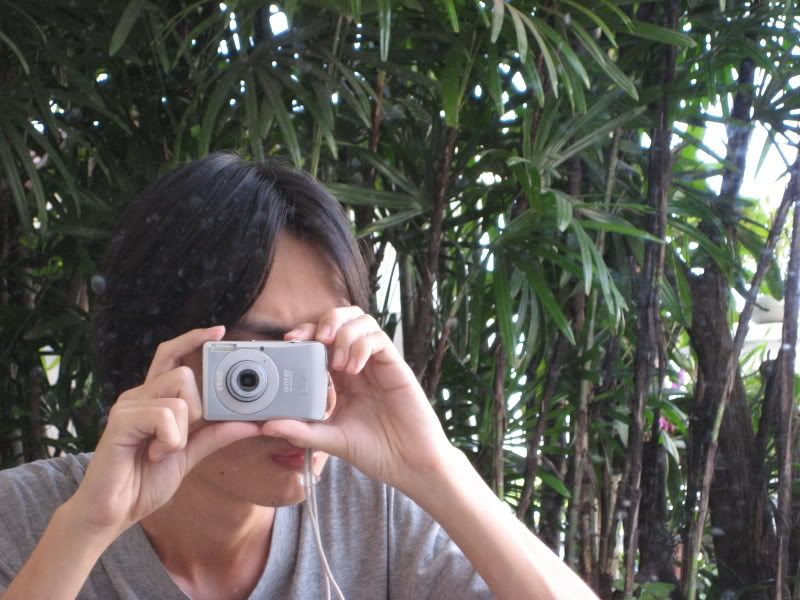 Notice how the "subject" places the camera against his eyes and snaps the picture…so primitive-looking =_="
Now,with modern technology…even mobile phones are able to take pictures as well…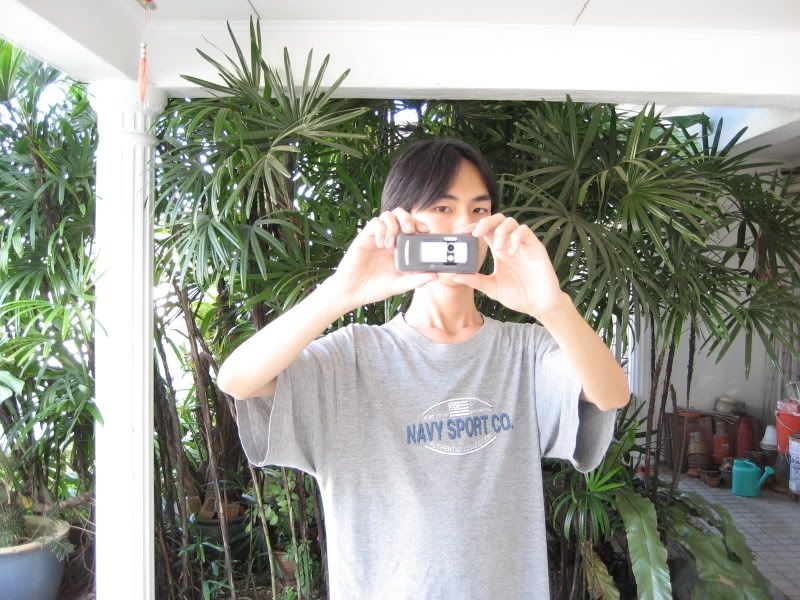 Notice how this particular "subject" uses his cameraphone to snap a picture…without the need to rub his head against the camera(or in this case…the mobile phone)
Caution: Might invoke cancer if head is rubbed(exposed) against mobile phone for a prolonged period of time <= 0
He could also take a "shiok-sendiri" picture of himself too…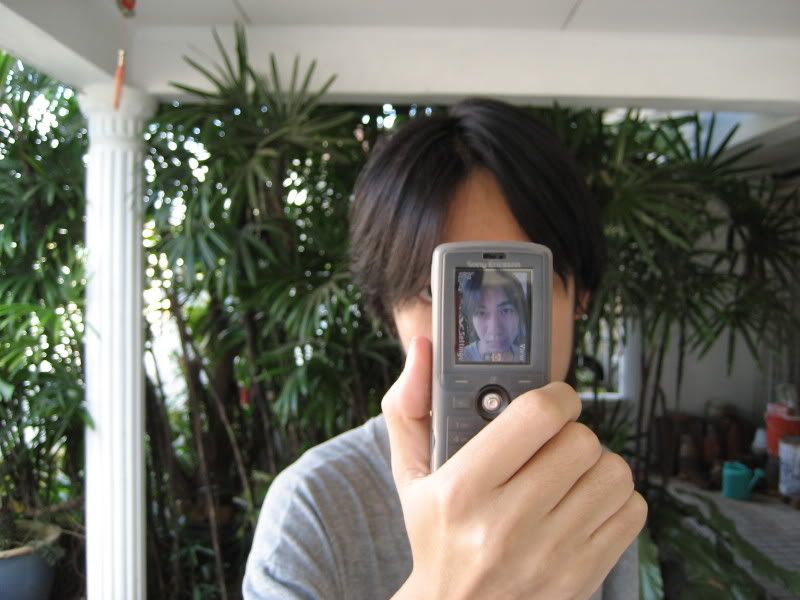 Don't worry…his face is not stuck on the display of the mobile phone =P
Hmmm…but how does he snap a picture the "traditional" way?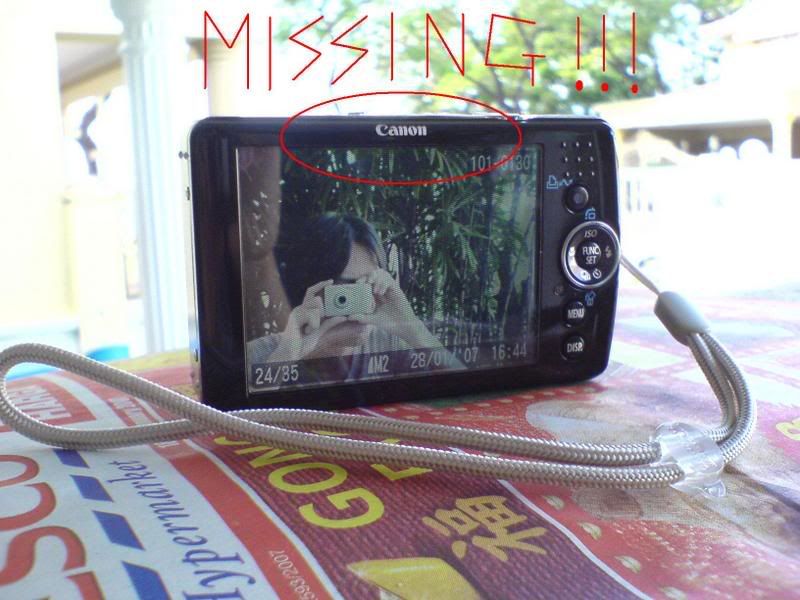 If it doesn't even have a viewfinder??? How??? Simply amazing!!! =_="
Of course…this mobile phone is able to take pictures and also work like a mobile phone…so,if a camera is able to take pictures,then…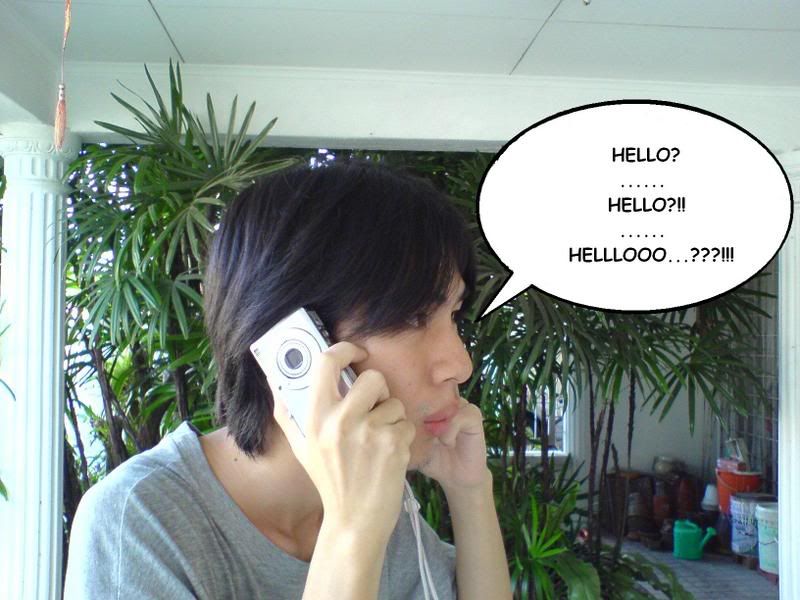 It might be able to work like a mobile phone? =_=" Must've been weak signal or something =P
See…this is what happens if I am too bored(and hafta update my blog too =P ) and also this post had nothing to do with food too!!! Lols…anyways,the 1 week holidays are over and I am about to return back to
Semenyih
in a few hours time(after dinner of course =P )…Too short to be counted as a holiday though,I barely did anything "eventful" if I must say so myself,haha…Oh and if you have nothing to do like me,pay a visit to
www.warbears.com
to play a lame game…try it,haha…hilarious and lame humour ensures =P
Take care everybody!!!
Note:Camera is not a mobile phone…in case no one knew about this…So stop trying to insert a SIM card into the camera's memory card slot…lols =P