A Secret in Secret Recipe?!! =P
Wanted to plan a farewell gathering dinner for 3 gals(all going to UK…hmmm,everyone is going off to UK…izzit the Visit UK Season? =P ) that I've met in Taylors College…Wahahaha…"Main kayu empat" =_=" *ehem*ehem* Eeerrr…lets don't let our imagination run too wild =P *ehem*ehem* Anyways,it was held last week,a Wednesday on the 20th September 2006…cuz one of em',Xian Ai is leaving first on a Saturday(23rd September 2006) before the other two(Melissa&Wei Sun)…so might as well have one gathering with all 3 of them ler…to save cost,haha =P No-ler…am I that business-minded sort of person? Am I? >=P My studies resumes on Monday(25th September 2006) mar…after that dunno when I am free and if by the time I am free,the remaining two would have flew to UK already,hehe =P
So since
Xian Ai
is going off first…I let her be the one to decide where she wanted to eat lor…choose wisely,since when go to
UK
cannot eat Malaysian food already,hehe…I've been waiting for her reply via SMS…for 99 days and 99 nights
=_="
ok-ok,its just after 1 night…and her reply was…
Secret Recipe
in
Taman
Megah
?!! Haha,serious?!! Well,if that's the way she wants it then let it be lor…haha…probably its easier for everyone to meet up since most of em' stay around that area…I guess…I was thinking of Mamak though,haha =P
So I made a reservation for the appropriate number of people(imagine making a reservation for a Mamak stall,that is if wanted to =P )…first person to be there(since I made the reservation,so I must be the first to be there mar…) sitting among the cushioned area with tables arranged together…like a greedy person who thinks he owns the place >=P After quite some time,almost everyone came…majority was there,so ordered first lor…
Wei Sun
was as hungry as a eerrr…hungry ghost? Lols,joking arrr…but seriously hungry lor cuz she only ate 1 miserable bowl of
Koko Krunch
for breakfast+lunch =P (see lah,sleep late and wake up late some more lah…haha =P busy day for her I guess,hehe…)
While waiting for the food to arrive…time to once again unleash the camera to snap photos…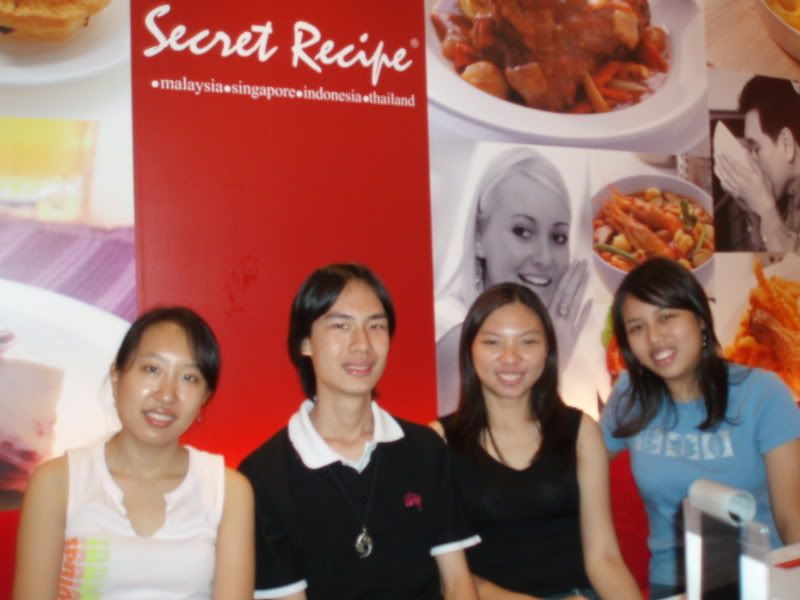 From Left to Right: Miss Hungry-Hungry…
Wei Sun
,the happiest person to be in the picture…
ME
(Hey,instead of Charlie's Angels…I have my very own
Cheese's Angels
=P ),Scout-queen *salute* …
Xian Ai
and "I like Turtles&
Green
colour"…
Melissa
(she does like turtles!!! And
Green
just Rocks!!! =P )
Ok Angels…time to do the pose that I had been training you gals to do for over a month…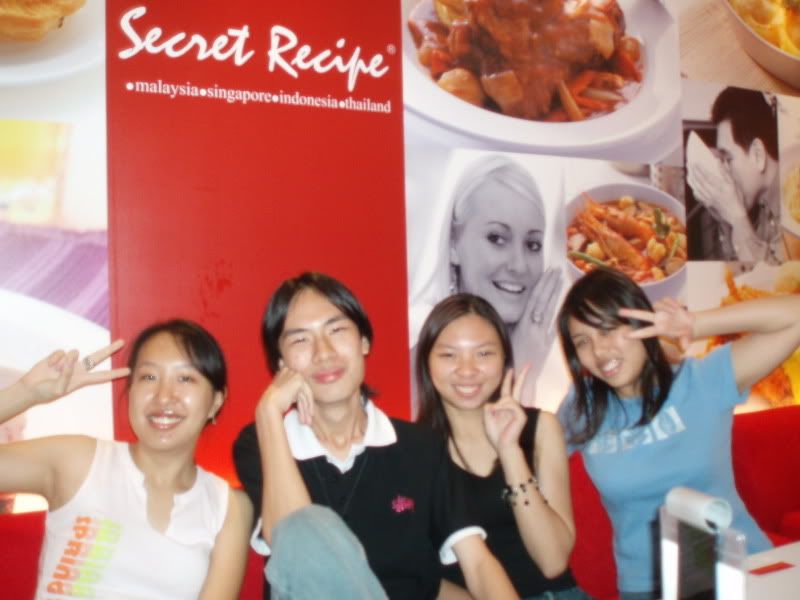 Haha…yes-yes,practice indeed makes perfect =P Lol…yes-yes,lame me…hehe
=_="
Here's a shot of everyone else…
It was taken when almost everyone is done with their meals already…most of em' are
Wei Sun
's friends…
Xian Ai
didn't brought anyone…and I forgotten to ask
Melissa
whether she wanted to bring any of hers…Nooooo…how can I do that to one of my Angels?!! Eeeerrr…ok-ok,the
Cheese's Angels
thing is getting lame,I know
=_="
So,as a sort of apology…wanted to treat her cake lor…actually,beforehand I've already decided to treat all 3 of them…but due to their cunning abilities,in the end all I did was treat them cakes only…3 slices of cake only please…not 3 WHOLE cakes,unless I own
Secret Recipe
,ok? =P I actually took my paycheck(from part-time job during the long holidays) on that day…so being generous,I wanted to belanja…but didn't turn out quite right…when I want to belanja…don't want to accept…when I don't have much money,want me to belanja…lols,haha…too bad,the next time you want me to belanja…wait lah =P (I think they must've been feeling furious by now…haha)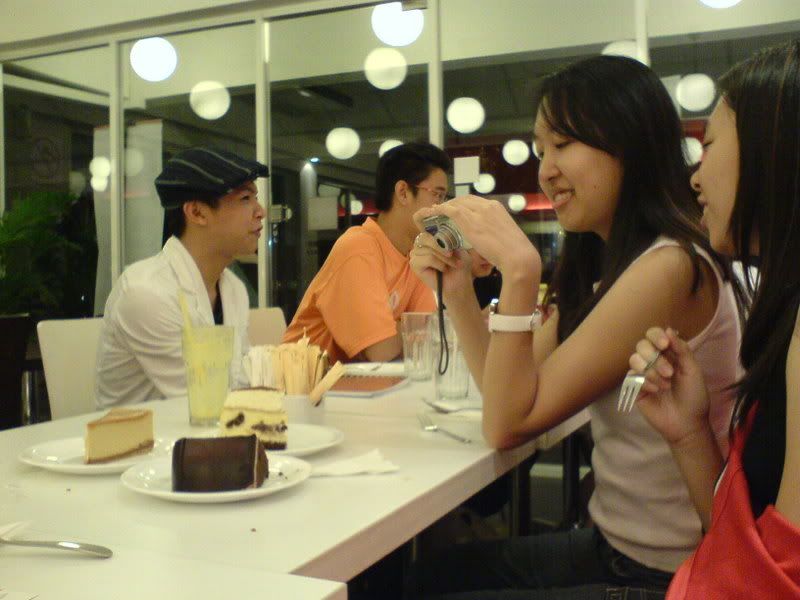 A shot from my cameraphone,
SE k750i
…entitled…"I Prefer to Take a Picture of the Cakes Rather than Eating Them"…well,
Xian Ai
on the right proved otherwise by holding a fork =P
Cakes from
Secret Recipe
that people couldn't resist…taken with my cameraphone,not from
Wei Sun
's digital camera…cuz mine nicer mar…haha >=P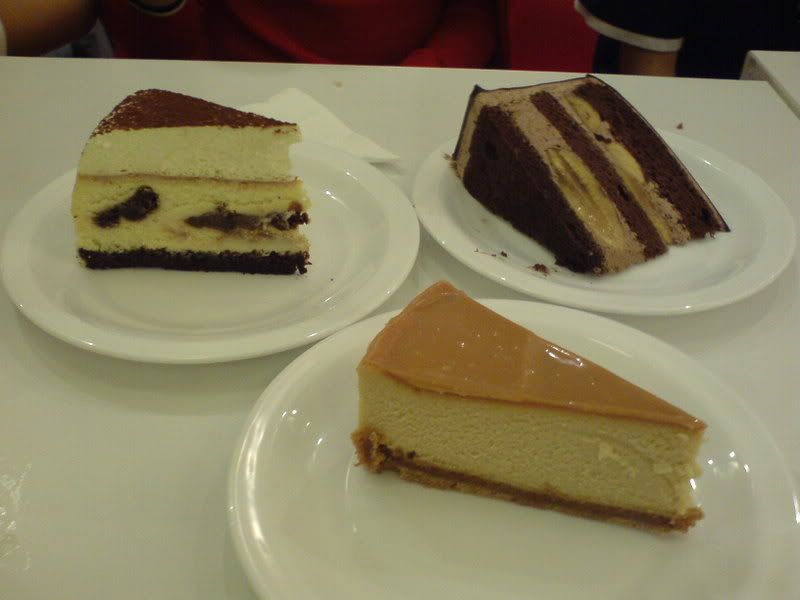 Clockwise from Left: The ordinary…
Classic

Cheese
,the cake that everyone claims had been eaten too many times until getting sick of it…
Chocolate
Banana
and
Secret Recipe
's cake of the month…
Caramel

Cream

Cheese
(which I liked among the 3 cakes,although it looked quite simple =D )
Wandering around the outdoor section of the
Secret Recipe
Restaurant
in
Taman
Megah
…I stumbled upon this,beside the kiddies playground…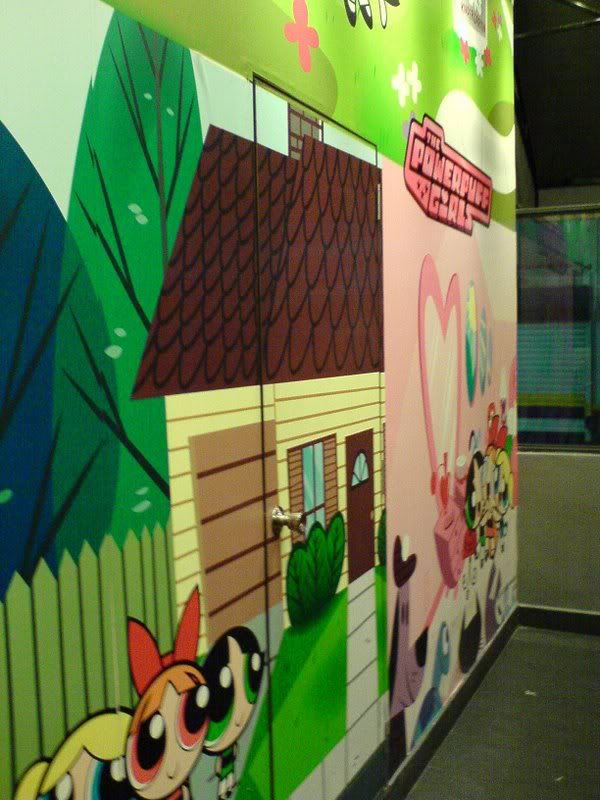 What?!! A "secret door" at
Secret Recipe
?!! Lols =P
If there is a chair,you sit on it…if there is bed,you sleep on it…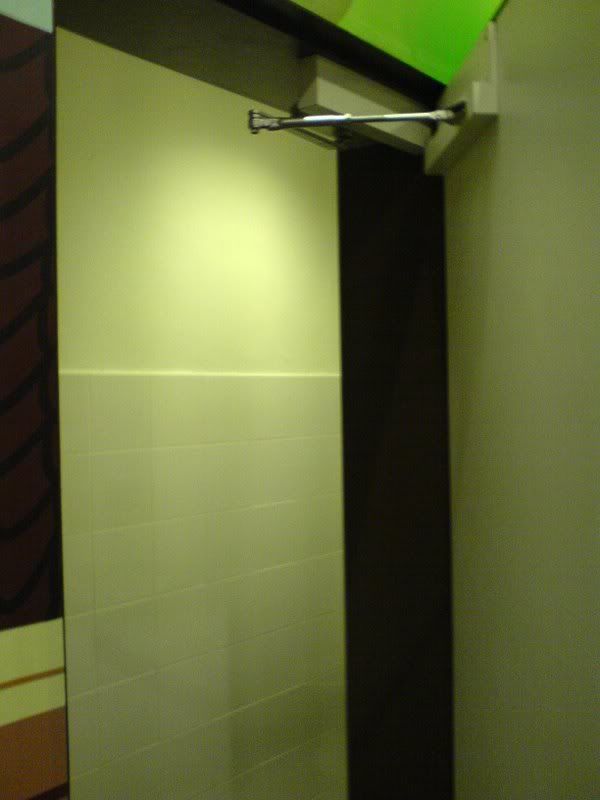 If there is a door…of course you open it!!! =P
Behind the door lies…
A…toilet?
=_="
Anyways…after that "adventure" =P It is time to say bye-byes and some(including me) decided to pay a visit to
Wei Sun
's house for…
MAHJONG
!!! Hehe…very bad luck leh,never even won one round at all…haha,cuz not used to playing "4 people Rule"(Heck,I don't even know how to play a game with 4 people,I am taught how to play "3 people Rule" by my peers)…even the other 2 playing the game besides
Wei Sun
also blur-blur like me,haha(they too are used to "3 people Rule")…so of course you guessed who won most of the time ler =P A few rounds later,it is time for me to go…bid farewell and off I go into the darkness of the still night…
Wanted to update this post before
Wei Sun
and
Melissa
leave for
UK
on the
29th September 2006
(by this time,
Xian Ai
already left)…so here it is,hehe…probably unable to send both of you off from the airport…all I can do now is to just wish a pleasant flight and arrive in
UK
safely…Take care!!! =)
Await the next post!!!
The House of TTS5
!!! See ya dear readers… ; )