The Day After World Cup
As the title suggests…it isn't justified since this update is a few days after the
World Cup
ended…suppose to be something like the movie,
The Day After Tomorrow
…Bah~never mind…let's get on to another "filler" posts…after this,no more football talk,ok? Till the next 4 years lah,haha >=D
Firstly…yes-yes,
FR
AN
CE
lost to
IT
A
LY
in the finals…that is the fact and shall be accepted…the Italians played pretty good in the 1st half and in the 2nd half,the French knew they had to improve,so they did…in the end,victory goes to the those pasta-makers in the penalty shootout…so I already knew that there would be a slim chance for
FR
AN
CE
to win cuz I am not so 100% reliable on
Barthez
(the goalkeeper) if I were the coach…didn't really watch throughout the whole match though…I slept through the extra time and just suddenly woke up during the penalty shootout…lols…it was already the 4th Italian taking the penalty kick…so the following day,I watched the replay,for the extra time part which I missed(Now this is really,"
The Day After World Cup
" lols =P )…sad case to
Zidane
for earning a
red card
and being sent off on his last ever
World Cup
debut…should have used his powerful head to send the ball into the goal…not to bring the opponent player down by head-butting him in the chest(it seems that
Zidane
was provoked and just lost his cool)…I think he would've head-butt-ed the referee too for sending him off,lols =P
I remembered that my first
World Cup
that I've watched was
France 1998
,that time I think I was still young and wasn't so appreciative of football yet…then in
Japan&Korea 2002
,didn't really watched much cuz most of the matches were played in the daytime(when I had school)…finally,
Germany 2006
,my most up-to-date
World Cup
mania…watched almost every single match(summer break from University mar…) and this time I was really in the mood to watch football every night after part-time work…shiok~
Since
World Cup
is over…What would those people who are still in the football mood…do? How do they satisfy their cravings for more
World Cup
goodness? Eat football and sleep football wouldn't feel the same to them anymore…never fear…they are lots of other things to put their mind into…to keep them sane…
For your eyes only…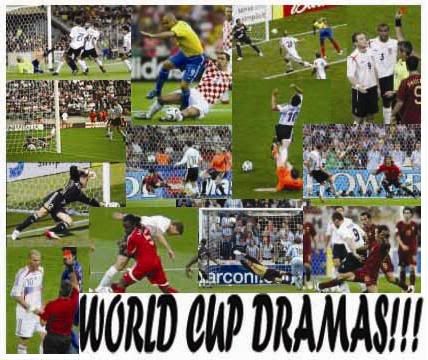 Watch tonnes of replays on TV!!! All the exciting parts which you missed or perhaps,just to watch those "moments" which made you scream and jump for joy,made you shed tears for your supported team which lost,beautifully work of art goal scoring in slow-motion,etc…however,there is a catch…provided you have
ASTRO
ler =P go subscribe one today!!! Or maybe perhaps those pirates(not from
Caribbean
=P ) would have a special long running series of
World Cup 2006 Football Matches
,to be released…so that you can watch em' again and again and again…coming soon to your local pirated stores,haha =P
For sentimental moments…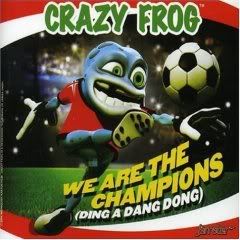 Purchase music which was inspired by the
World Cup
…sing in tune with the songs and follow the rhythm with your very own dance moves…many choices of soundtracks out there and who could forget that little fella…
CRAZY FROG
!!! Ding-Ding =P
For those who have itchy fingers…


Raining outside? Couldn't go out and play a game of football? Well,here is where video and computer games comes into "play"…
Winning Eleven
and
FIFA World Cup 2006
…redeem the glory of your supported team which lost halfway along the road to the finals with these virtual moments…for those who are control freaks and want to be in charge of everything…get
Championship Manager
,lols =P
For those who have itchy feet…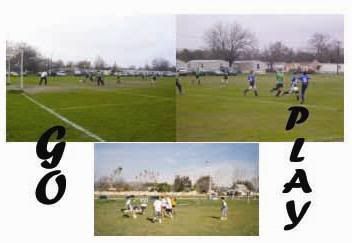 Don't want to just let AI intelligence get the better of you? Obviously,go outside under the sun and kick some football around the field with a bunch of friends…futsal and foosball is a different story altogether…play nice and don't head-butt anybody else in the chest,lols =P
For the movie-goers…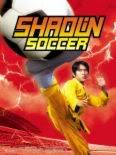 Who can forget this bizarre Chinese movie which combines martial arts and football…
Stephen Chow's
…
SHAOLIN SOCCER
!!! It's a must see for those who are craving for more football themed movies…though its probably an old show by now,still its entertaining and worth a watch…for laughs…you no speaka' Chinese? Then turn on the subtitles…get the DVD today
Hehe,running out of suggestions already…so,I am going to end this post…wait!!! There is another battle going on amidst the
World Cup
phenomena which had "clouded" this important decisive challenge…
Both "ambassadors" from their respective fast food outlets duke it out with their new promotional meal,recently unveiled in the market…
McDonalds
against
KFC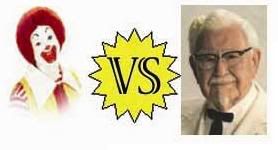 RONALD McDONALD
VS
COLONEL SANDERS
!!!
Here are their "pokemons"…(the pictures are quite blur and I cant find any good pictures online,so I had to use the newspapers…)
With a slight variation from their
Grilled Chicken Foldover
,here comes McDonalds's…
SPICY BEEF FOLDOVER
!!!(Left)
With a bizarre named meal that I don't have a clue what the heck it is,here comes KFC's…
CHEESY BBQ MELTZ
!!!
Looks like its gonna be some real showdown…I'll be the judge of that,haha =P will try those 2 meals while I am still working in
1 Utama
…stay tuned to find out the results!!!
Anyway,work sucks… >=P But I need the $$$…aihzzz…