The handphone rings...
Finally,the moment that you all had been waiting for!!!
Hmmm,ok-ok,it's actually the moment that I've been waiting for...
A brief history first =P From my first handphone in late 2003,the
Nokia 8310
…which fulfills my need of communication,although it sometimes frustrates me by "hanging" halfway during phone calls/SMS-es/playing a game of
Snake
…in turn,was lost on the voyage to
Redang Island
around late May 2006…so,a substitute was called into action,the big clunky "rare"
Nokia 3210
…it made my pants felt like it had a huge pimple whenever I insert it into my pocket and after using it for about 2.5 months,it is time for it to be given a "long holiday"…awwww,I never even got the chance to use it for eating crabs =P
Anyways,introducing…my new handphone!!! The
Sony Ericsson k750i
!!!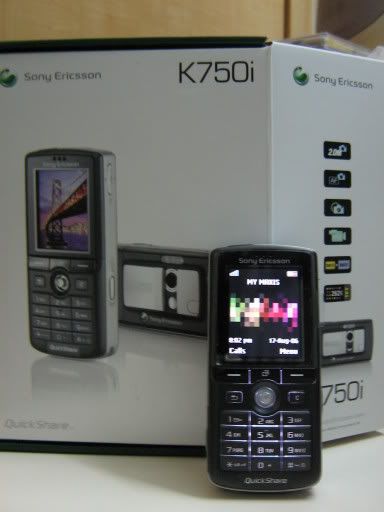 Finally a handphone that has a colour screen…comes with a 2.0 megapixel camera…and able to play polyphonic tunes(MP3's as well) =) Although,it isn't one of the latest Sony Ericsson models,it is within my budget and has most of the good stuff(no 3G compatibilities,I don't think I'll use 3G for the mean time)…Would have to get used to it,since a sudden change from the Nokia era to Sony Ericsson era(For example,I keep on pressing the zero button for spacing during SMS-ing =P ) and now I'll hafta bring my own handphone charger around(unlike Nokia,where all the models uses the same type of charger),its different from old and new Sony Ericsson models...bought it from
Sungei Wang
And while I was there,I've decided to buy these stuff too…
A "protection" for my
SE k750i
(at right) which comes together with a free screen protector(at left),the handphone protector is made from rubber and is quite pricey,I might as well go to
7-11
,buy a pack of condoms and use it instead…can get flavoured ones some more and also to be used for "my protection" =P …also obtained a free keychain(the heart-shaped one at the bottom left) from the handphone dealer,aihzzz give something better lah,lols >=P …and if you're wondering what is that black box(at bottom),its actually a BOMB!!! Eeeerrr…it's a
100GB external hard disk
for my laptop,got it from
Low Yat Plaza
(Yay,finally more hard disk space!!! =D )
First message received on my
SE k750i
: From
Hotlink
…lols
First message sent on my
SE k750i
: To my dad
First call received on my
SE k750i
: From
Jason Goh
a.k.a
SmashpOp
…thanks for recommending the place to buy at a good price =)
First call dialed on my
SE k750i
: To my dad
First hand to touch my
SE k750i
: Right hand
First picture taken on my
SE k750i
: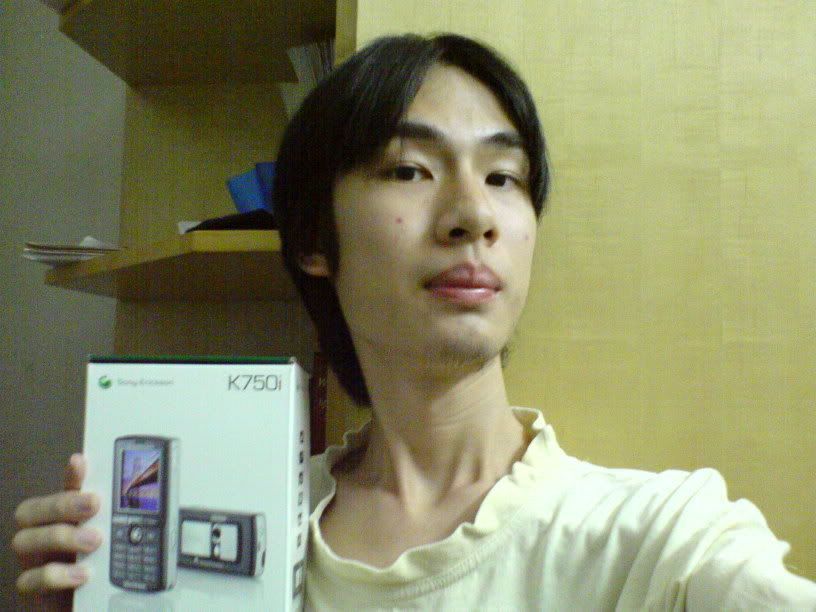 "Get your
SE k750i
today!!! While stocks lasts…" lols…ok,no more useless facts to be mentioned anymore =P
Do you remember last time,when you are outside…we would have to rely on public telephone booths…lazy to bring coins? Never mind,we have something we used then…it is called a phone card =P And you know what? I used to collect those phone cards…whether it was discarded on the streets or obtained from people who finished their credits on the card already,here's a look at some of my collection at a glance…
I've also obtained some limited phone cards from my uncle too,such as…
Jackie Chan
…
Supercop
And…
Bruce Lee
…
The Big Boss
Now that I have a cameraphone…which I can use to snap pictures on the go…so hopefully,I'll put it to good use in taking some "interesting" photos and update it on my blog,if deemed necessary,haha…but obviously,a digital camera will do much better for other picture-taking purposes…feel like getting one for myself,but seeing as now I am quite "Pokai"(Broke) after spending my hard earned cash from part-time working on one go…I guess it'll hafta wait for quite some time…will recover back my "loss" by next month for August's salary =( Last day of work is on
31st August
!!! After that,I'll be free from the chains of slaving in the workplace…haha,and I've finally started watching anime again(after getting them from
Sue Inn
,Thanks!!!)…watching
Bleach
nowadays
Alrightey then…it is time to bid farewell,await the next update then ; )