Random Foodstuff Post...
Since I got a few pictures of foodstuff that I cant simply relate to any event whatsoever…this entry is to just compile the misadventures of eating during the past few weeks…all the pictures were taken using my handphone camera(
SE k750i
),so some may appear less appetizing…actually it depends on the lighting conditions,haha =P Anyway,here we go…
One fine day,when I was walking aimlessly around
Midvalley
,I saw this shop…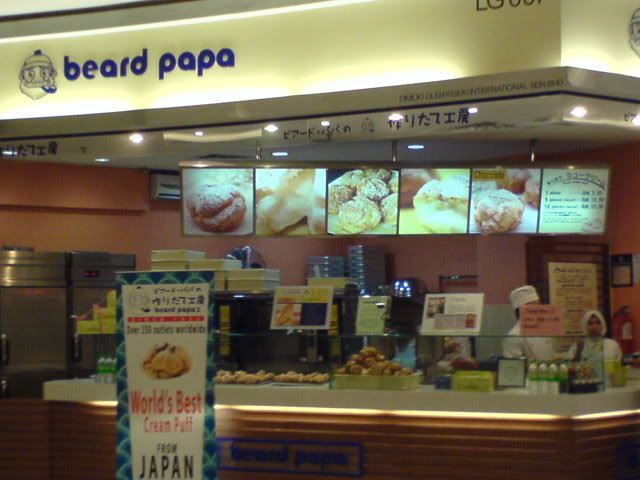 Beard Papa
…(A Santa Clause smoking a pipe mascot?)
I read about it in the newspaper before,this place sells cream puff that originated from Japan…the idea is from Japan,but of course made in Malaysia lah cuz…Malaysia Boleh? =P the "puffs" resembled the style and main ingredients used…as in Japan
So…curiosity caught my attention once again towards edible stuff…I decided to buy one piece back…Of course buy one piece to try first lor…not cheap ler,
RM3.30
for a piece =_="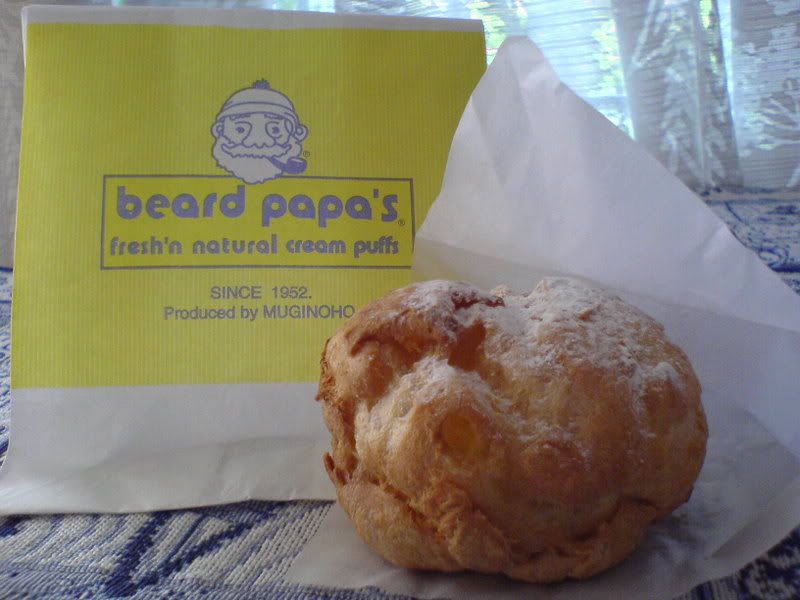 The size of the puff is quite "moderate"…which I suppose majority of it consist of air or empty spaces…
Each piece of "puff" is wrapped in special Japanese silk paper(edible)…which is then stuffed into the oven for baking…when someone orders it,they just take a "puff" that was prepared earlier(which was left on the shelf under a light) and use some sort of syringe to insert the vanilla custard cream into it…and voila~time to eat it =D
After taking the first bite…I felt a bit disappointed…haha,it tasted so-so only ler…I think the "puff" should be served hot with the cold vanilla custard cream texture inside,so when you take a bite…the hot crunchiness of the "puff" makes a perfect balance with the vanilla custard(tasted quite rich) that oozes out…that's what I think,haha…but apparently I only consumed the "puff" about 2 hours later after purchasing it =P since I thought that when I was given the "puff" at the outlet,it was kinda like room temperature,so just bringing it back to eat is almost the same thing…they are currently introducing a few other flavours(but I decided to try the basic original one),perhaps I would try it again…perhaps…when I am around there ler,hehe =P
Last Friday(
15th September 2006
),which was before my University mates leave for
UK
,I went to lunch with
Kae Shin
,
Pek Wee
,
Qianhui
and
Yau Fee
…it was in
The Curve
at…
Paddington House of Pancakes
…
The first thought in my mind was…eating pancakes for lunch?!! Surely die of hunger later,haha…that is until I opened the menu and took a good look…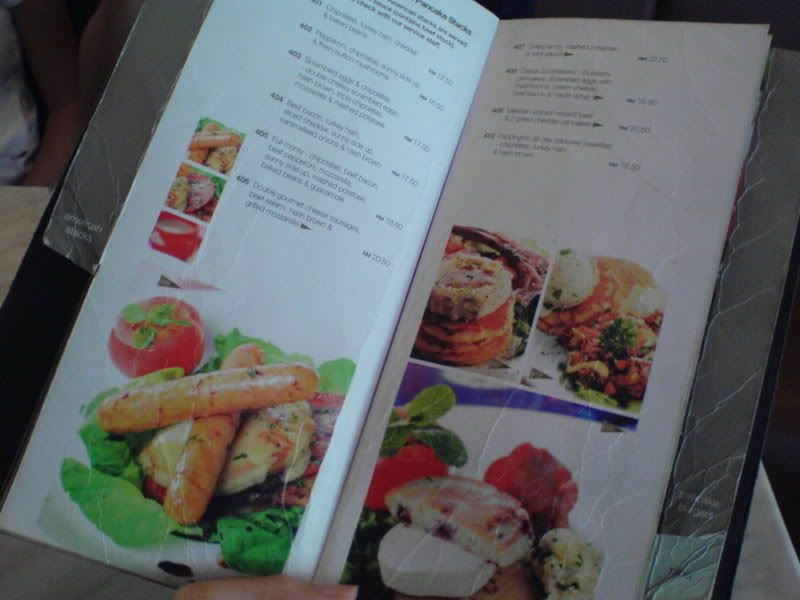 WAH LAU EH!!!~~~Damn a lot of styles of pancakes leh…whatever imaginable stuff they put inside like cheese,fruits(strawberry,banana,kiwi,etc…),meat(chicken,beef,lamb,etc…),seafood(salmon,prawn,tuna,etc…) and loads more…type of pancakes ranges from
12 inch flat type
,
American style
(the ones which are thick&fluffy,I think they are called Flapjacks),
Dollar pancakes
(small bite-sized pancakes which are shaped like our extinct
RM1
coins),
Wheatbucket type
(instead of the normal dough,they used something that tasted like Wholemeal Bread),etc…I cant remember exactly what are the proper names they use,so I used my "method of explaining things" haha =P it may differ a bit,but more or less its the same…I guess =P
The restaurant boasted that there are at least over
100 different types of pancakes
served…generally,I can classify them into 2 categories…either main course type(heavy meals,with meat&vegetables) or dessert type(light meals,with fruits&ice cream)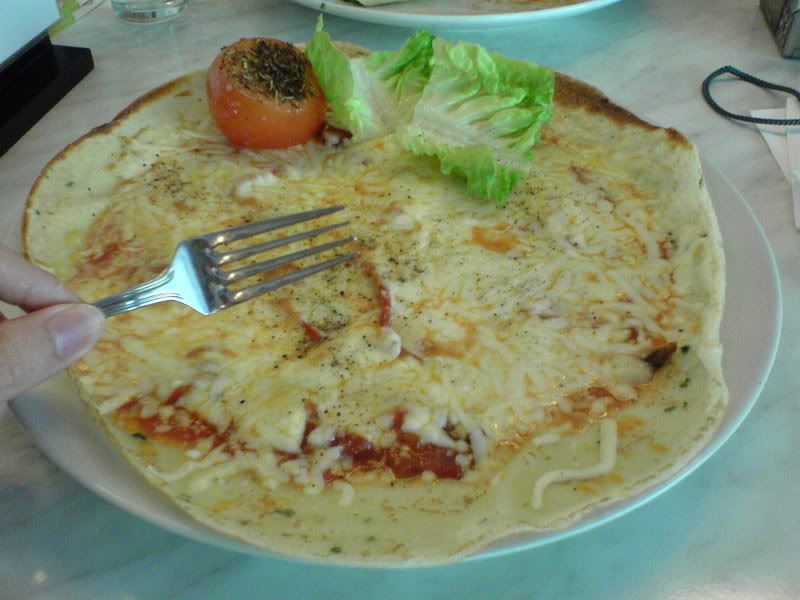 In the end I ordered this
12 inch pancake
…its called
Amsterdam
…Yup,not so creative type of names for pancakes according to cities,other examples such as
Tokyo
,
New York
,etc…Eh? No
Kuala Lumpur
meh? Haha,maybe got but I didn't saw it…
Kuala Lumpur
is probably just
Roti Kosong
,lols =P The
Amsterdam
consisted of Mozzarella cheese,beef salami,tomato sauce,spices,etc…Actually when I ate it…tasted like pizza…haha,considering its generous servings of Mozzarella cheese…actually,it kinda reminds me of the food in
Wiliams
(Mamak stall situated near
LimKokWing
,
PJ
)…looks like there are at least 99 more pancakes to go…for me to try >=P
As I was flipping through the pages of the newspaper…I saw this…so I quickly scanned it into my computer and wanted to post it up on my blog…the headline reads…
"
Eat 150 Free Dishes for Free and Walk Away with Prizes
"…are you serious?!! This article was in
The Star
newspaper(dated on
9th September 2006
),quite late I posted this entry up,eh? =P Anyways…obviously,it sounded to good to be true and indeed there is a catch to it…its actually an eating challenge!!!
Toh Lee Chinese Restaurant
in
Hotel Nikko
challenges you to eat 150 different type of dishes in their menu(poultry,seafood,soup,DimSum,dessert…famous dishes such as
Buddha Jumps Over the Wall Soup
are included) Once you successfully finished everything,the prize is yours for the taking(worth at least
RM12000
!!!)
Before you happily embark upon this challenge,must pay "entrance fee" first lah,haha…
RM69++ per person
and also for each
100g
of food wastage,
RM10
is charged accordingly >=P So this challenge is not for the faint-hearted(more like faint-stomach-ed =P ),I think its quite worth it,provided you can eat a lot(although if couldn't finish all 150 dishes,at least eat until its worth your RM69++…don't waste food or else pay more,haha)…I think the line-up of their dishes is pre-set by them…strategically/economically speaking,my guess it would either start off with cheapstuff dishes and towards the end,the expensive stuff starts coming when you couldn't eat anymore…OR…start off with dishes that are "filling" like potatoes and then midway through,you would give up…even digestive products such as
ENO
&
Poh Chai Yun
cannot save your stomach =P
Well,those are the gist of it…look for the newspaper if you wanna read it in detail…or just click on the article that I've scanned to enlarge it(if still couldn't see clearly,all you gotta do is Copy&Paste into your computer,then open the file and zoom in to view ; P )…if you are still puzzled,its best to call the place and enquire about it…better hurry though cuz the challenge ends on
10th October 2006
…which means,have roughly 2 more weeks till its over from now…so far I guess no one won the challenge yet or else surely appear in newspaper(probably would also appear in the "
BEFORE
" part of
Marie France Bodyline
advertisements…after the challenge =P )…What are you waiting for? Sounds challenging,no? But the food nice or not I am not sure lor…haha…can go there to "buka puasa" also for fasting Chinese =P Sorry,not being racist here…it is
non-Halal
food served,hehe…
To conclude this entry,this would probably be my last post(wah,sounded like a death wish…*
touch

wood
* =_=" ) before I return to University for studies on the
25th September 2006
,since this entry is about food…I cant imagine I am going back to eating crappy overcharged meals in the
Cafetaria
(why cant they have some sort of
Nottingham Budget Meeting
to discuss all these matters?!! >=P I think there are,but food isn't their major concern…heck,its important to us!!!) I think I had been spending money quite a lot lately,mainly for gatherings with friends before they further their studies elsewhere and also running around all over the place to meet up,haha…at least it makes others happy,so its ok in a way =) Must spend wisely when University begins to counter-balance it,hehe =P No worries,I'll still update this blog from time to time…when there's a will,there's a way…I have a few posts waiting to be updated in my mind,just waiting for the appropriate time and place to do it,hehe
So for now,I bid farewell to my dear readers…and please look forward to the next update,haha…Take care!!! =)