Late Post of Penang... =P
(Continuation from old post:
Job Sessions
…which was quite long ago,I think about 2 months late,which this post should've been up =P Initially,I didn't want to post this up since I kinda cant remember exactly the things that we did and also lost "interest" to continue this entry…anyways,decided to put it up…to stop certain "people" from pestering me to update,hahaha…lols,don't get angry arrr… ; P )
…Arrived in
Penang
for road show event…it was held in
Kompleks Bukit Jambul
,during my stint over there,decided to meet up with University friends,
Pin Pin
and
Su-Lyn
…its not that I have any other choice,only knew those 2 living in
Penang
…haha,lols…don't be angry arrr… =P Its been an awfully long time since I've set foot upon this island…waaayyyy before the Tsunami disaster…last time was always with family members…this time for work…and after that,a spontaneous decision to stay back and enjoy for a few days before returning to
KL
(since other University friends are coming over,which were
Eddie
,
Yau Fee
and
Shuyi
…and also luckily got extra spare clothings too,haha =P ) Obviously,besides traveling all the way to
Penang
for visiting purposes…each of them has their own motives…
Eddie
to keep in touch with girlfriend who just came back from the
United States
…both
Yau Fee
and
Shuyi
decided to purchase some cheap "merchandise"…*ehem* DVDs *ehem*…and as for me,I was just right there at the right time,haha…makan-makan,jalan-jalan and enjoy-enjoy ler…actually wanted to watch World Cup too,haha =P So needed to find a place to stay and watch,haha…thanks to
Pin Pin
for providing the accommodation
Let me try to recall the events that took place…now already the month of September and I went to
Penang
then was in early June =P Although I only manage to obtain only a handful of pictures from
Yau Fee
,my creativity is thus limited,haha
On the first day,after I was done with my work during the road show event in
Penan
g…
Pin Pin
came to pick me up from the hotel that I stayed and later when to pick up
Eddie
,
Yau Fee
and
Shuyi
from the bus terminal…complaining that some of them were hungry,headed to makan first…cant really remember which roadside hawker we went nor the food that they ordered…but I only remembered the "Char Kueh Teow incident" =P After that,proceeded to
Pin Pin
's place to rejuvenate…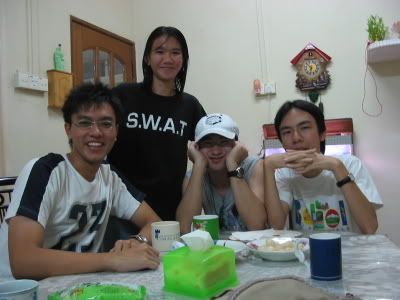 While waiting for
Su-Lyn
to finish her working hours so that can have dinner together…waste time by taking photos…From Left to Right:
Yau Fee
,
Pin Pin
,
Eddie
and
ME
…(
Shuyi
as photographer,thus not in the picture =P )
When the time comes,went to makan dinner…at some coffee shop at "somewhere"(Can hardly remember things lah…haha,next time must take down notes =P )…Some had to eat Char Kueh Teow again(If I remembered,it was
Shuyi
=P )…lols,thus the "Char Kueh Teow incident"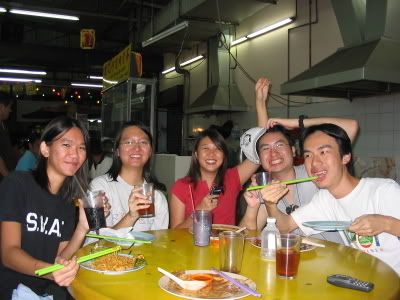 From Left to Right:
Pin Pin
,
Shuyi
,
Su-Lyn
,
Eddie
and
ME
…(This time,
Yau Fee
as photographer)…In every picture,must have at least 1(or in this case 2) people to look kinda ackward…
Eddie
's cap being pushed by
Su-Lyn
's reflex reaction of her arm once the shutter of the camera clicked…and of course,the ackward looking person on the right…still eating… =_="
After dinner,went to
Gurney Drive
…which in turn,entered
Gurney Plaza
to walk-walk for a while…then detoured on the way to
Su-Lyn
's house to
Jesselton
,where all the rich-ass people lived,some had crazy huge bungalows(more of like a mansion…one house had a huge garden with weird looking semi-naked statues!!!)…
Su-Lyn
's place is the next stop…to watch
WORLD CUP
!!! Till now I still couldn't believe that
Aus
tra
lia
managed to beat
Jap
an
with a score of…3-1…anyways,its all over already…better luck in 4 years time,eh? =P Feeling tired already,decided to head back to
Pin Pin
's place and get our stuff…next stop,is
Pin Pin
's old house(which had been converted into a tuition centre for young kids) near
Bukit Bendera
…since this place isn't used for the time being…slept throughout the night
Suddenly…its already the second day!!! =P Today's agenda is to go to
Bukit Bendera
…via foot(
Yau Fee
's bold idea)…walked to the base of the hill,not all the way to the peak,mind you…once we arrived,took the tram uphill and got excited to observe the view from above…but apparently,it was quite cloudy thus preventing the feeling of accomplishment for being all the way up
Bukit Bendera
…decided to wait for the clouds to subside by…taking more photos…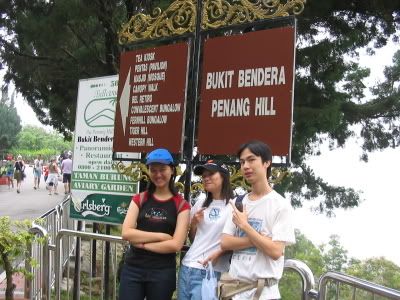 When you are at
Bukit Bendera
…must prove that you are there…by taking a picture such as this…not Photoshop-ed,mind you >=P
Trying to earn a living by selling peanuts…
The Famous Penang Hill Peanut House
lah wei,don't pray-pray~ (Click image to enlarge =P )
As you can see…well,actually you cant…the view downhill…due to the "haze" lols >=P
Once the tour is finished…downhill we go…as we descended,we were welcomed by quite a heavy downpour…which explains the ever so cloudy-gloomy day…took a taxi back to
Pin Pin
's secondary home…decided to wait for the rain to be less heavy before going off to lunch…I cant remember the place again…I only recalled that we had western food in town and that I've managed to stuff a quarter piece of
Pin Pin
's fish fillet into my mouth… =_=" Soon met up with
Eddie
and his girl,
Jenny
in "cant remember the name" shopping complex…the quest to obtain DVDs had begun,which brought us to another shopping complex and also all the way to
Batu Feringhi
…of course had dinner in between…
After another misadventuring day,time to head back to
Pin Pin
's place…to watch more
World Cup
,haha…and also…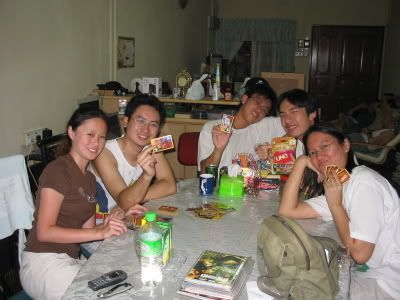 Harry Potter UNO
?!! Yes,apparently was playing that in the wee hours of the morning…which means its already the third day…Oh and on the far left is
Jenny
…the other four no need to re-introduce again kua… =P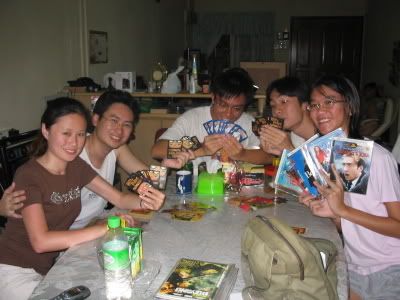 Please go and buy the
ORIGINAL UNO CARDS
…don't buy this
Harry Potter
deck,the numbers looked very confusing…number 3 looks like an 8…the Skip icon is confused as the Reverse icon,etc…and as you can see,one might mistaken it to be the
Harry Potter
Trading card game…or worst,
Pokemon
Trading card game…errr…DVDs too?!! (Click image to enlarge =P )
After UNO-ing,went to
Pin Pin
's secondary home again…chatting and playing some sort of FLASH game which can be obtained from Yahoo Games…which is called,
Goldminer
…yes it looked interesting,but after a while…I just went to sleep as the others are still up…
As the sun rises(signifying the third day,last day in
Penang
)…I overheard them giggling/laughing outside the room door…followed by the sound emitted from the laptop speakers of that game…it seemed as though they were up the whole night playing that ridiculous game,lols =P Anyways,woke up and got ready for the last day here…went to have lunch and then the others wanted to buy some sort of "Dragon ball" biscuit(dunno what is was called) back to
KL
…and then…WHAT?!! DVDs again?!! =_=" …so had to tag along lor…haha…bid farewell to
Eddie
cuz he's gonna stay back for a few more days
Where else to go which is not a shopping complex and also no need to pay(in other words,FREE =P )…ended up at some sort of
Botanical Garden
,hehe…so walked around a bit and looking at green stuff while keeping in mind the departing time for the bus back to
KL
…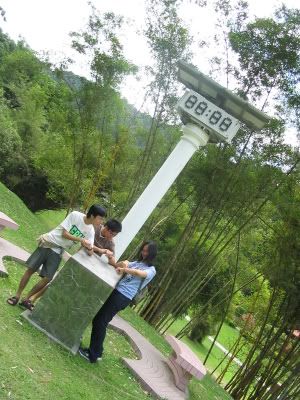 Eh? What time izzit arrr…? Hmmm…a scene from the movie,
Back to the Future
?
Allowing enough time to spare,we went back to
Pin Pin
's place…to watch a
Pixar
animation…
Cars
…cuz she wanted to watch all those cute-cute cars…realising that it was soon time to embark to the bus terminal,we decided to leave…but,our luggage was still in
Pin Pin
's secondary home(she thought it was already in the car…as in the real car in the real world,not the animation,
Cars
=P )…so,she drove as fast as
Michael
Schumacher
for a podium win…wait a second,change to
Fernando
Alonso
,considering its his prime time for this season liao…ok wait,change to her current favourite driver,
Giancarlo
Fisichella
=P …back to the old house to pack up and zoomed towards the bus terminal(made it in time some more,"kau-tau" lah to this "dangerous"
Penang
driver =P )…the last stop of this journey…farewell and will soon meet up again,hehe =)
THE END
Consider this post as some sort of tribute since some of my university mates are going to
UK
for 1 year,departing around late September…and also to my university mates who are still here,well see ya soon when the new term starts…and as usual,to others who are busy with assignments/exams,all the best and good luck…as for those who are on holidays,just kick back,relax and enjoy the days!!! Haha =P