To the Star…(Part 1)
Greetings and welcome to another post…I haven't been updating regularly(hah…as though I did >=P ) and my avid readers always felt disappointed whenever they re-visit my blog again and again…only to find out that the first thing they see is still the same post as the last one they had seen…a thousand apologies,but hey…if a new post pops up,then everybody would be happy then =) Now for the latest post…
On last
Saturday
(
26th
of
August
)…a get-together was planned among my secondary school mates who were still around(as in not studying abroad yet…)…in a way,this was supposed to be some sort of belated birthday gathering(which birthday girl's "important" day was roughly 2 weeks ago!!! What to do…everyone is kinda tied up with their stuff…and finally manage to settle on that day =P )…Where did we decided to go? Hmmm,read on to find out…(Those who already knew…don't care,must still read on to the end of this post >=P )
Firstly…to travel to our destination…we would require a Transporter…and well-well,problem solved…our ever lovable "personal driver"…
Craig
(who also is the host for this event) decided to switch from his usual vehicle,
Proton Gen 2
to a more spacious
Proton Perdana
so that can car-pool…a total number of 6 people!!!(Including the driver)…haha,hafta squeeze a bit ler…at least not as bad as squeezing(well more of like getting squashed) in the
LRT
/
Monorail
…for the perilous journey to
KL
!!!(He knows the way to our destination as well as able to swerve his way around the lean-mean streets of
KL
…plus he was able to use the car on that day) Hmmm,feel a little bit bad to call him a "personal driver"…never mind,from now on he'll be known as
Transporter Craig
!!!(sounds more gaya,eh? =P )…anyways,joking lah
Finally reached
KL
and obtained a parking space…so before we went to our "primary" location…must fulfill the secondary objective first…which is to fill our stomach with food,haha =P Went to have dinner at
Secret Recipe
…the 6 of us consist of
Craig
,
Camellia
,
Weng Siong
,
Mun Yee& her younger sis
…and of course
ME
also lah =P Without further ado,it is time to unleash my
SE k750i
to snap some pictures…lols…So here is the first picture of the day…my dinner(Note: From now onwards,please feel free to click the images to enlarge for viewing pleasure =P )
SPAGHETTI&MEATBALLS?!!
Although the humble spaghetti&meatballs is just too plain ordinary to be taken a picture of…who cares!!! At least its something which I haven't eaten for a very long time since I've started working…cuz always eating the same stuff from the restaurant which I worked in…so sick of it(at least no need to pay,so hafta tahan a bit >=P )…the quality of the picture not too bad,eh? But obviously lose to cameraphones with 3.2 megapixels(mine is only 2 megapixels) and digital cameras =P
After dinner,everyone was happy-happy cuz we headed to…
Starhill
!!! Went there to yam-cha…no not in Mamak or Chinese coffee shops(I don't think so those exist in
Starhill
…high-class ler)…the place that we came all the way from
Petaling Jaya
is…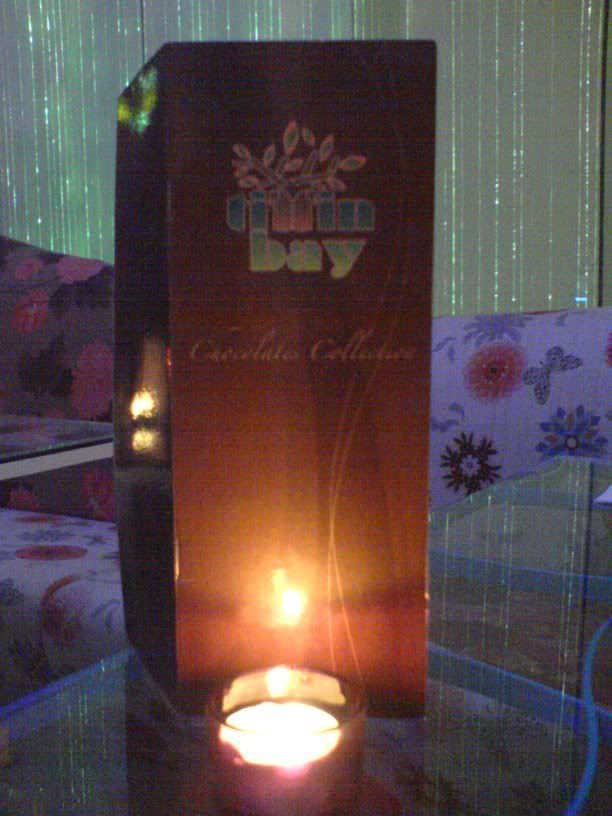 Tiffin Bay
…
The ambience of the place is quite relaxing…with jazz music being played…included a live performance when the time comes…sorry lah,
Kenny-G
not present there for performing,busy schedule ler so there was some local band playing the instruments instead(got singing too,but not Karaoke-ing =P )…speaking of its surroundings,there were quirky furniture used…such as…
A "unique" table…
This picture doesn't really justify its "unique-ness"…the plates,fork,spoons.knives and plastic cups are actually INSIDE the see-through table…you hafta go to this place to see it for yourself…
A stand lamp that couldn't be bought from
I
K
E
A
…
Instead of using an ordinary pole for the lamp…they decided to stack metallic saucers,pots,plates,bowls.etc…above of each other…there is actually another stand lamp that use porcelain instead(but I didn't snap a picture of it cuz the staff working there told me that picture-taking is not allowed…apa ni?!! >=P )…so high-class place but using cheap stuff such as these…lols =P
Tiffin Bay
serves dessert stuff such as cakes,chocolates,tiramisu,etc…and also drinks…milkshakes,cocktails,mocktails,beer,wine,scotch,etc…
I ordered a
White Chocolate Milkshake
…other stuff quite pricey(which doesn't mean that this milkshake is cheap though >=P )…and since the chocolates are irresistible to the eyes(and mouth too),but the price that accompanied with each piece of chocolate makes me rather spend it on sushi…so just snap a picture of the menu only ler…Mark my words,I will return to eat you chocolates some day!!! Lols =P
(Please continue reading on To the Star…(Part 2)…by scrolling down…encountered problems using Blogger,for that I had to split the post to two parts >=P )