The aftermath...
(Note: This event had occur on the
19th of May 2006
,so please adjust your biological clock or just imagine that you had miraculously traveled back in time…)
Yup…the day had cometh!!! The ending of examinations(for
Chemical Engineering Year 1
students only)…at least for the
2nd Semester
,that's something to be happy about…for the time being…which also means that the holidays had officially begun for us!!!
Summer break
…see,although in
Malaysia
have no 4 seasons,still got
Summer break
…in a way ler =P Everyone was excited,everyone was overjoyed,everyone was screaming their lungs out…but as tradition goes…group picture time ; )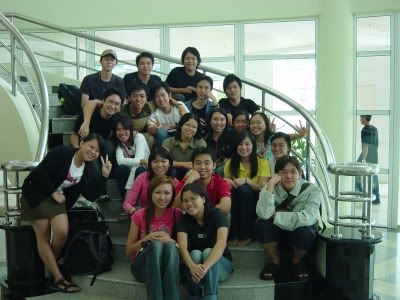 "Historical event" picture taken outside the
Great Hall
(where the last paper was held) at the staircase…spot the 2 people who didn't took the paper =P (Answers are within the next few pictures in
RED
)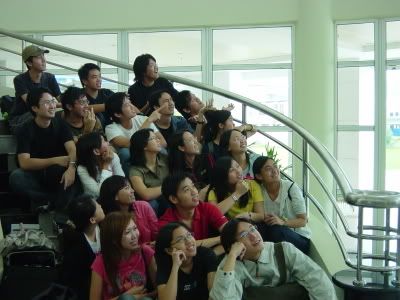 The infamous "Look over there" picture that makes people wonder…"Why are they looking over there?"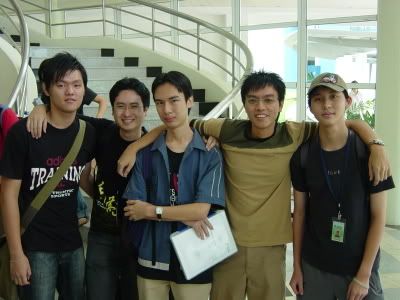 Delegates from the
TTS
area,from Left to Right:
Wilson
,
Eddie
(
CSIT
student who had been an "adopted Chemical Engineering Student"),
ME
,
Yau Fee
,
Wee Kiat
(New kid on the block in TTS,
Foundation
in
Business
Student)
Once that had been done,each went their separate ways to spend the rest of the day doing something "eventful"…mainly its either
Karaoke
session in
KL
or a 3-Combo ice skating/bowling/watching movie in
Sunway Pyramid
…my choice,would definitely be Sunway Pyramid…haha,sorry not a person very fond of Karaoke…
Had
Teppanyaki
for lunch when we arrived…ordered the
Salmon Teppanyaki
cuz it was on promotion,who can say no to half-priced meals(originally
RM14.90
…if I re-called correctly)…sorry no picture and the meal was kinda oily,but still ok-ok
Then,it was off to the arcade to kill time before the movie begins…somehow ice-skating was not so favourable among the majority(including me),so got cancelled…2 rounds of arcade-racing-goodness of
Daytona
…poor
Yau Fee
,he couldn't join BOTH the race due to misfortunate "poor-choosing of workable coin slot machine"…so had to "race sendiri"…TWICE =P
Movie time!!! Watched
Mission Impossible 3
…not bad…if compared to the previous ones,I would prefer MI:3>MI:1>MI:2…the plot is in a way almost like MI:1,watch it to find out what I meant…some scenes are super-fake in real life situations,but remember…its just a movie
; P Oh and keep a look-out for an "Easter Egg" of
Malaysian Airlines
advertising in a particular scene…corny yet maybe effective =P
And the last event was…
BOWLING
!!!(No pictures again) One of the oldest games being played since the
Stone Age
(evidence:
Fred Flintstone
plays bowling,Yaba-Daba-Doo =P ) It had been a very long time since I lifted those 3-holed balls which are too heavy to be kicked(you could kick it,but it is not advisable to do so)…so everyone is on the same level…no experts or professionals…last time maybe,but now it isn't…it boils down to maybe 5% skill and 95% luck…Only manage to get 1 lane…for like 7 PLAYERS?!!
Yau Fee
and
Eddie
were both good…ehem*ehem*…"last time"…as they continuously tried to spin the ball but to no avail,the
gutter
welcomes them with open arms…and the girls proved that speed and strength does not matter in bowling by performing the elegantly "slow yet accurate throw" which knocks down the
pins
ala'
Dominoes
style…earning a
XStrikeX
once in a while…simply marvelous~I cant really spin the ball,so I usually go for straight line speed…haha,learnt from
F1
=P Alas,the highest score inevitability goes to…
ME
…haha,lucky-nya…scored around
100
to
130
something I think…but no
XStrikesX
though <=( Only played 1 round as time is scarce,anyone for 2nd rounds next time? <=P After that,it was time to part…they went to
Asia Cafe
in
Subang Jaya
(near
Taylors College
) to makan…and as for me,I went back home of course after a day of splendour…(Ok,now you can return back to the present now…Bzzzzttt =P )
(So sorry for not updating soon enough as I was patiently waiting for pictures to arrive in my hands and also was stuck in
Semenyih
(internet-less) for quite a number of days before I am OFFICIALLY back at home…so you would see a few more of these "past entries" coming soon =P And to those who are still going through their studies/examinations/industrial-training,I didn't intend to offend you…rest assured it'll be done soon enough…GAMBATEH!!! >=D )