A week in Nottingham University...
Ladies and gentlemen…The
Cheese
is
BACK
in da house!!! =D After enduring approximately 1 week of staying in
Semenyih
and going thru the "hoo-haa"s in University…all I can say for now,its good to be back…Forget about all the assignments,lectures,accommodation problems for a slight moment…pretend that it didn't happened…until the following
Monday
,then only start worrying =P
Reporting my status and the reconnaissance done by me as an undercover student for some sort of top secret government project…(wait a second,I think I've just only blown my cover D'Oh =P Oh never mind…)
Academic:So far so good…my timetable quite "free" if I compare it to the other Engineering courses…the lecturers for the modules that I am taking were OK…some of them have the skill/ability to "read notes straight from the slides shown on screen" as though they assumed that we do not know how to read English…About 1/3 of the modules are "back to basics" lessons for me,"deja vu" moments in A-levels…anyway I'll take these opportunity to re-cap back what I learnt due to "forget-ness" syndrome after roughly 4 months of not opening any sort of subject books/notes…Already have 1 assignment that needs to be done and handed up on
11th October
,some sort of technical report+proposal letter…not sure how to do it,but anyway will try…still got time =P
Accomodation:Hmmm…where do we start…well I stay in
Taman Tasik Semenyih
,which is off-campus under the supervision of a company named
Pioneer
(approved by the University)which make sure that our living spaces are in OK condition…I live in the
Double Room
,upstairs…which means that I have to share the room with another unknown person and the toilet would have to be used equally by 3 people,me,the unknown roommate and my housemate in the
Single Room
,so far my unknown roommate is
M.I.A
(Missing in Action),so I get to hog the whole room for myself,including the fella's cupboard,desk and bed,MWAHAHA!!! >=P My room is quite small but "live-able"…thank goodness I am not claustrophobic…obviously cheaper than living in the University hostel,but it has its downside…For now,everything seems to be in a "semi-chaotic" situation…the pantries in the hostel are not ready yet…some rooms don't have curtains yet,including ours…On the first day when I arrived at the house,checked everything was in working condition…went out and came back after dinner,as I entered the house,the sound of "water falling from the sky" was input-ed by my ears to my brain,understood that it was raining…so I felt lucky that I came back just in time…after walking a few rounds within the house,I noticed the porch area shows no sign of rain at all,but the "rain" sound was still being heard…investigative measures must be undertaken and as I approached the back door,opened it and…found a
DEAD BODY
!!! No lah =P found out that water was gushing out from a pipe beneath the roof(I think it is used to drain water from the roof when it rains)…even more odd that
ONLY
our house has this "phenomena" as I observed the other houses…it seems the water from the tank beneath the roof of the house is overflowing because the "black ball thingy"(If you don't know what this "alien" object is,please go to your toilet and open the compartment where water is collected in your toilet bowl…)is stuck at a position,so water keeps on flowing in…Now,we hafta go outside the house to open/close the main pipe in order to control our water source and to minimise water bill too…
Location:
Semenyih
is a small town in
Selangor
…never heard of it before? Well neither did I…until now…situated somewhere near
Kajang
…my campus is in the middle of an oil palm plantation,so technically it is in the middle of nowhere…nearest town is roughly 3km outside of campus and the place that I live in is roughly 1km away from campus…very troublesome if one does not have a car…*ehem*ehem*
Transportation:Seeing that I don't have a car or I am unlucky enough to car-pool with others,relying on the transport provided by the University is the only choice…obviously there is
ALWAYS
a catch…In the morning,I had to take the van which only operates from 8am till 9am,overslept and miss it,you're on your own then…coming back also using the same method,between 5pm till 6pm…So some days,class starts at 11am…still have to wake up early…I walked before a few times,but then decided to stop temporarily since I heard that a friend got
mugged
by 2 strangers while walking back around 4pm…Apart from the van,there is the bus too…but as you all know,that free bus services cannot be trusted 100%…it only operates during certain times and have the tendency to be late,DUH!!! The only time I use the bus is to get back home,via the
KTM
at Kajang,the last stop of the bus…it stops at a few places like the nearest small town,
Semenyih
and
Medan Satay
,
Kajang
(Not bad this place…at least it is a
MUCH-MUCH
bigger town compared to
Semenyih
…and it even has a
SHOPPING MALL
!!! =P Hehe,I feel and sound so "ulu")
Food:The only place to eat is either at the cafetaria in the campus or a small little run-downed
Mamak
stall near my place of living…Unless one has a car,then he/she can just happily go for a joy-ride to anywhere outside to eat…Campus food is quite pricey,not much variety and I am getting sick of eating there day after day…If I am lucky,I would be able to hitch a ride with a couple of friends to eat outside…so far,no luck yet =P The cafetaria is most of the time occupied with flies apart from hungry people,dunno how they clean the place,worst than those roadside stalls…Another
BIG
problem is that the cafetaria is
DAMN SMALL
…how the heck are they gonna cater over(estimated)300+ people which
ALL
of them have the
SAME LUNCH HOUR TIME
between 1pm till 2pm? So some lucky people have no class at 12pm can makan earlier to avoid the
LONG QUEUE
or maybe the lecturer would let the students off earlier…Hopefully the timetable would be re-scheduled a bit to solve this problem before some group of "smart" people decided to go on a "hunger-strike"…hehe,means more food for those who don't go for this "strike" =P
Entertainment:We are already located in the middle of nowhere…what to do,eh? Surprise-surprise we have a Sports Complex…Heh,only 1 basketball court,1 tennis court,2 squash courts,2 badminton courts,a football field,a gymnasium(with a few table tennis) and a 25m swimming pool(in the making)…Sounds fun?Well not for the over 500+ students(or maybe more)…Usually in the evening it is used cuz not so hot and lessons probably ended already,the football field and basketball court(singular for each)is always fully densed with people…Oh I forgot to mention that we have
ONLY
1 foosball table and 1 snooker/pool table(not sure whether it is snooker or pool)…there is a
BIG TV
in the Student Lounge and Astro…not bad,eh? Well satellite dish…Check…Astro decoder…Check…Smartcard to be used in order to watch Astro…errr…hmmm,where izzit arrr? Speaking of TV,I thought at first those living in the hostel would have one each…hehe,apparently not…thank goodness my off-campus house have one…so far we only could watch a blue screen everytime we switched the channel…cuz there is
NO ANTENNA
…anyway I don't plan on watching television,nothing to watch…most probably I'll bring my
PS2
over there =P Oh,I've managed to "unlock" some sort of weird game programmed into the TV…so there is a "small" glimmer of hope for entertainment…really sucky games though =P One word to say it all…
BORING
!!!
There are many more "issues" to be covered in my report like the library,internet services,etc…but I think it is already too "lengthy" =P Feel very outdated since I haven't really been reading the newspapers,especially
The Star
,since I set foot upon this deserted barren-laden wasteland away from civilization,cut from all connections to the world =P There is going to be a new revolution next week,the
Iron Chef Cheese
is going to
COOK
his own meal(apart from
Maggi Mee
)after years of not holding up his blade of cookery and emblazing the frying pan with the spirits of the undying flame…Hehe,actually I seldom cook unless I don't have a choice…since I am getting sick of Campus food(Got cook before you know,using firewood when I was a
Scout
in secondary school,Don't pray-pray… =P )
Anyways,hope you enjoyed me making you feel bored and wasting your time,Haha…till then,keep in touch in the "virtual world" Adios…for now…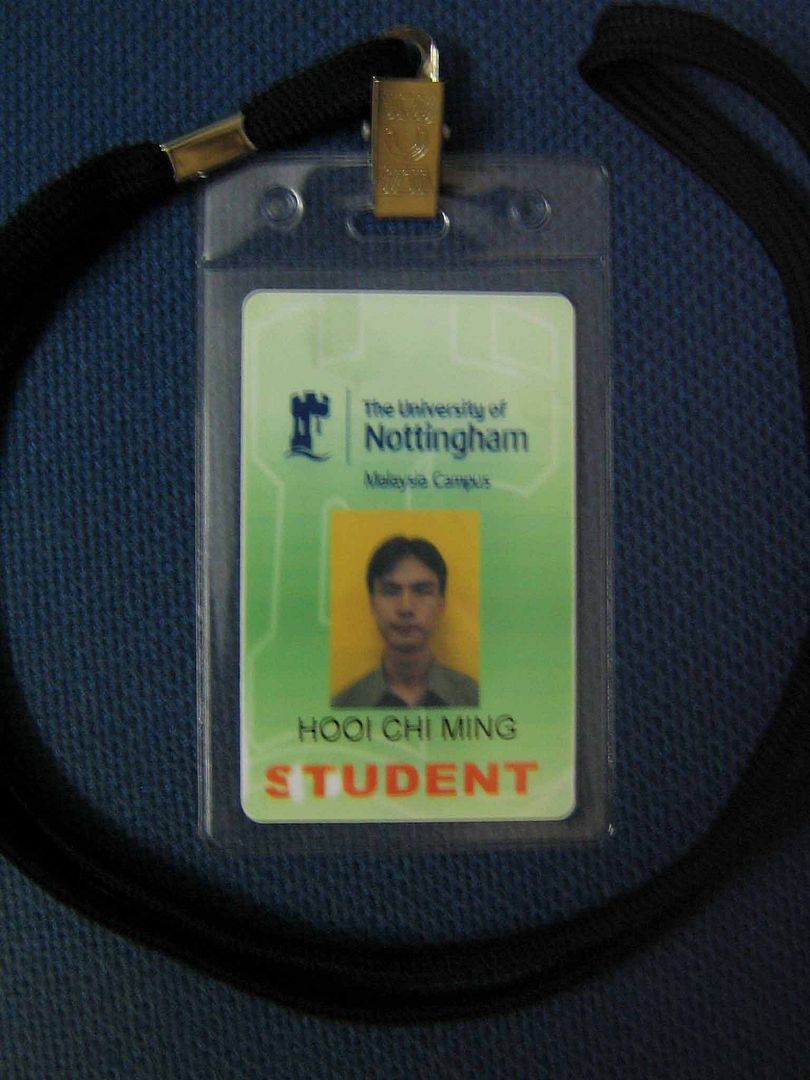 This is one of the Student ID that I stole during my early infiltration into the University…in order to maintain my secret identity for "undercover" sort of work…Ironically,the fella looks just like me =P