A Perak we will go: Which zoo opens at night?!!
Welcome to another episode of "The
Perak
Trip that doesn't end in 1 Post" =P Unfortunately/Fortunately,this is
Part 3
only…so from where we left off…after getting BBQ-ed under the sun in
Pangkor Island
…went back to
Wilson
's place for a shower…then had dinner outside…cuz we were on the way to…
Taiping Zoo
!!! =_="
Douglas
wanted to go there…so everyone just went along
Some old-school
KFC
advertisement song being played,which goes…
"Let's go to the zoo,where there's lots of things to do…etc…"
For the record…nope there wasn't a
KFC
outlet there =P
Taiping Zoo
entrance…
With a night safari as well…no-no,not those real "safari" that you see on
National Geographic
…these animals are kept in captivity and there's some sort of tram(like a mini train) which brings you around…RM 3 per ride if not mistaken,cheh!
So off we go…take out camera…going to snap pictures…BUT WAIT!!! At the ticketing booth,there was a sign which says that cameras are not allowed…wait let me rephrase that…cameras with FLASH are not allowed =_=" Also camcorders are strictly not allowed…unless pay surcharges lah =_=" In modern times such as this century,show me a camera which DOESN'T come equipped with FLASH?!! But anyways,the security guard/staff said it's ok to bring in and use…the catch,no flash can be used…(on a side note,in this modern age,digital cameras are mostly able to take videos as well too…lols) Hmmm…should've taken a picture of the sign…
Well that aside…and off we go…please bear with blurred shots…I've only uploaded a few good ones…or close to good ones…or just suka-suka upload whichever I want,lols
Going to watch(or read) the next latest
Harry Potter
soon?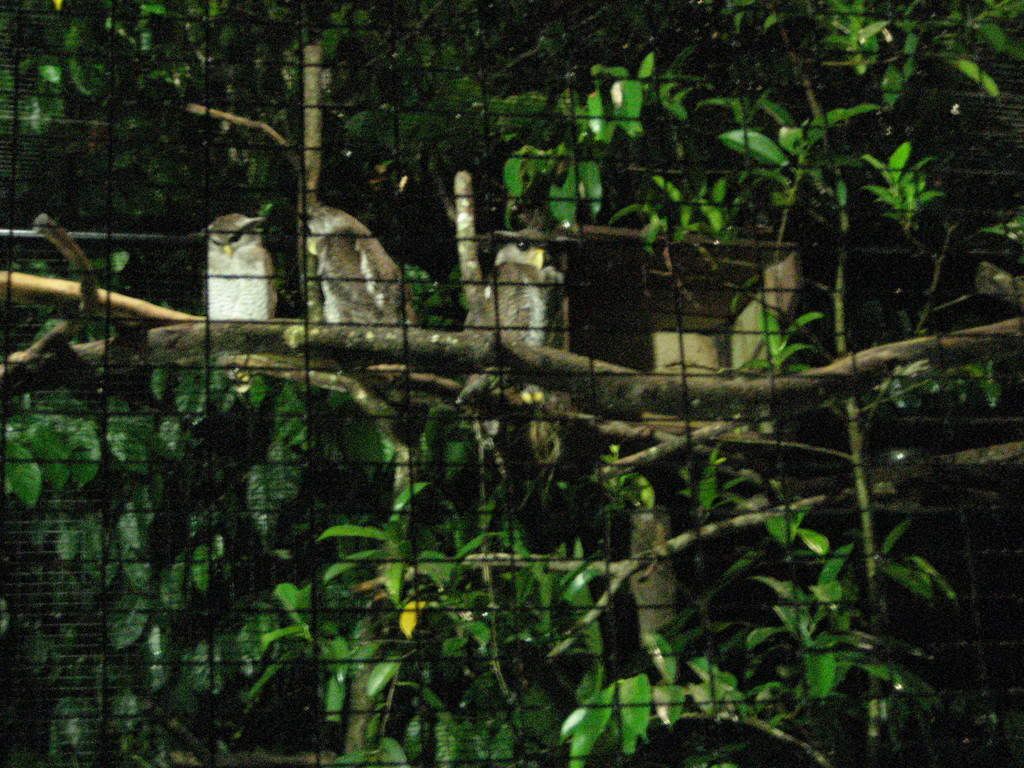 Get yourselves one of these owls…
Extra work: Dip your owl in
white
paint =P or any of your favourite colours
Super big python that can help you by squeezing your body into a bodyline figure that you've always dreamt of…or been "dying" to achieve…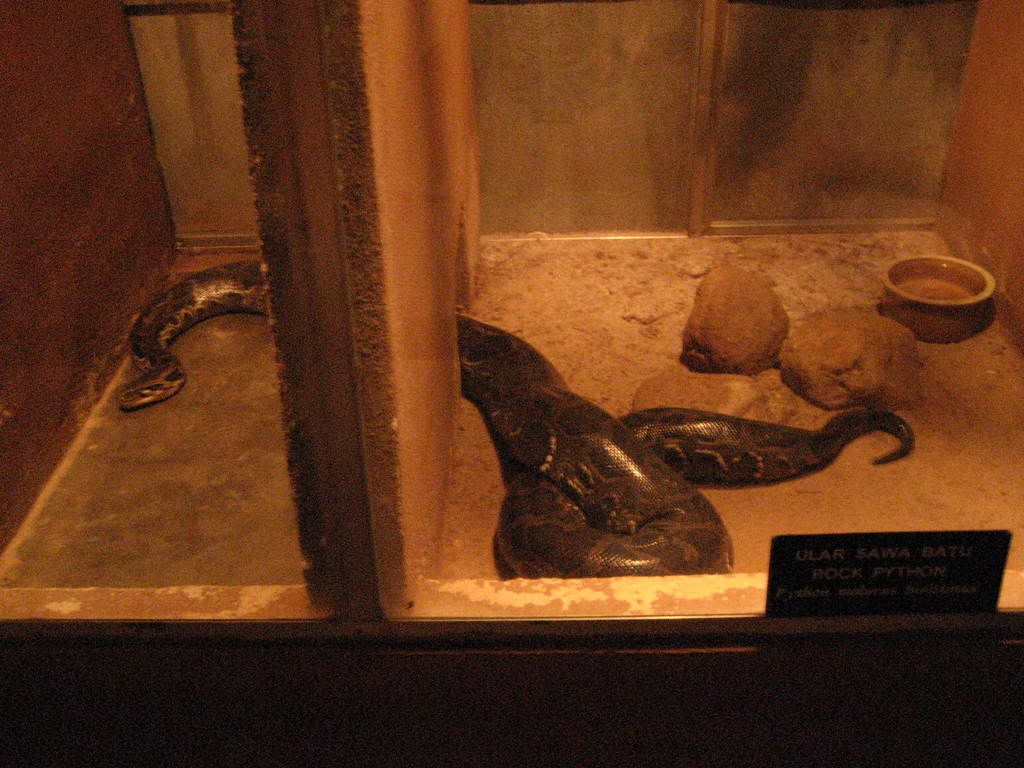 Don't bring it on a plane though =_=" yes-yes,me being lame…
Eh? A zoo has Koi fishes for display? Either it's for Feng Shui or running out of animals to be shown to the public…lols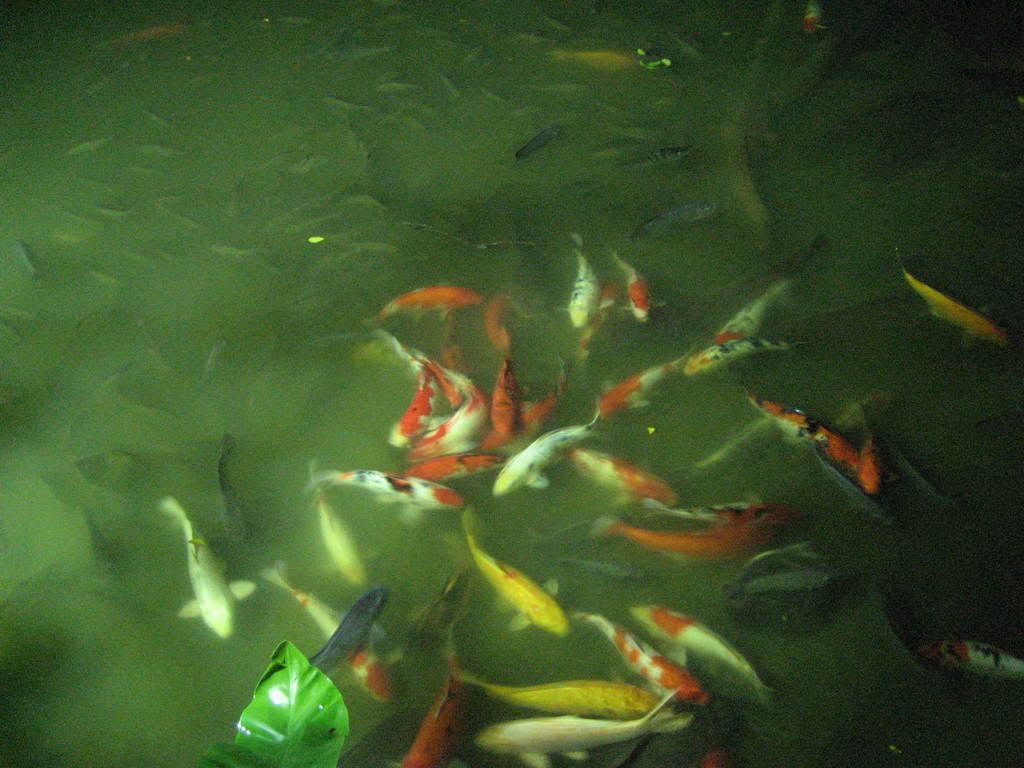 If these Koi fishes were vicious piranhas…be afraid…be very afraid…
Not forgetting,perhaps one of the most important living organism in the zoo…
Humans…(running out of pictures to be uploaded =P )
Look in this picture…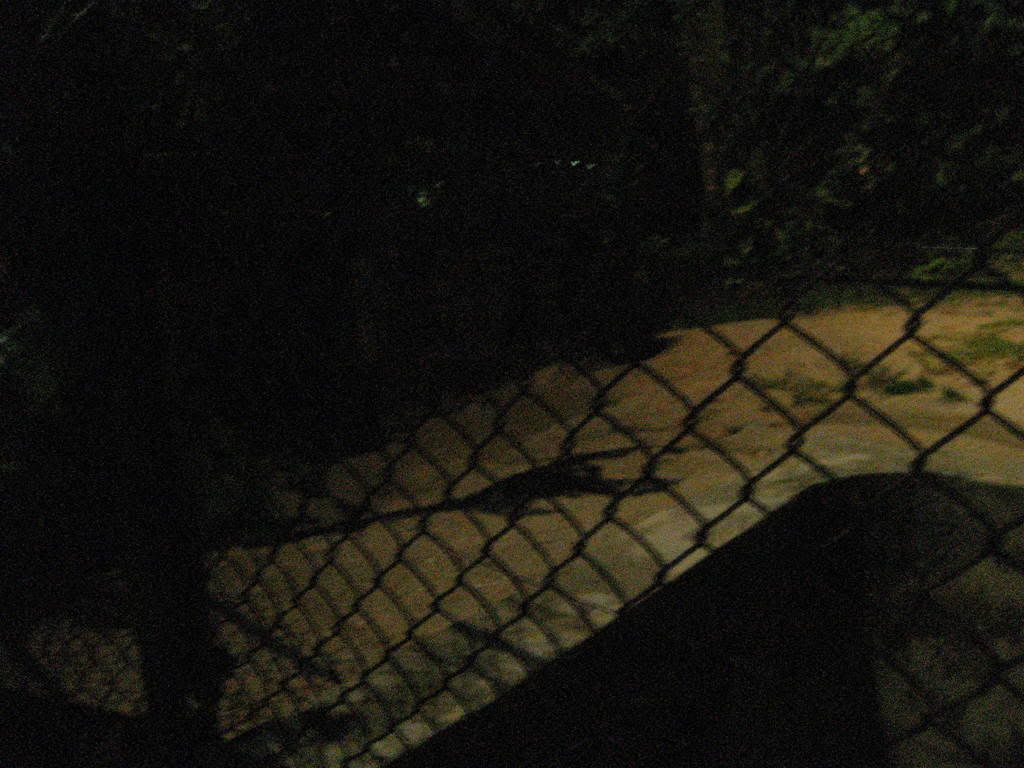 …and guess what animal this is?
The answer…
It's
Sunny
the
Malaysian Sun Bear
!!! The closest shot of
Sunny
that I can show ya'll…isn't Beruang Madu = Honey Bear? So Sun Bear = Beruang Matahari?!! Hmmm…gotta ask
Sunny
to clarify this though…
Aha!!! Caught in the act!!! Between a giraffe and an ostrich(I think)…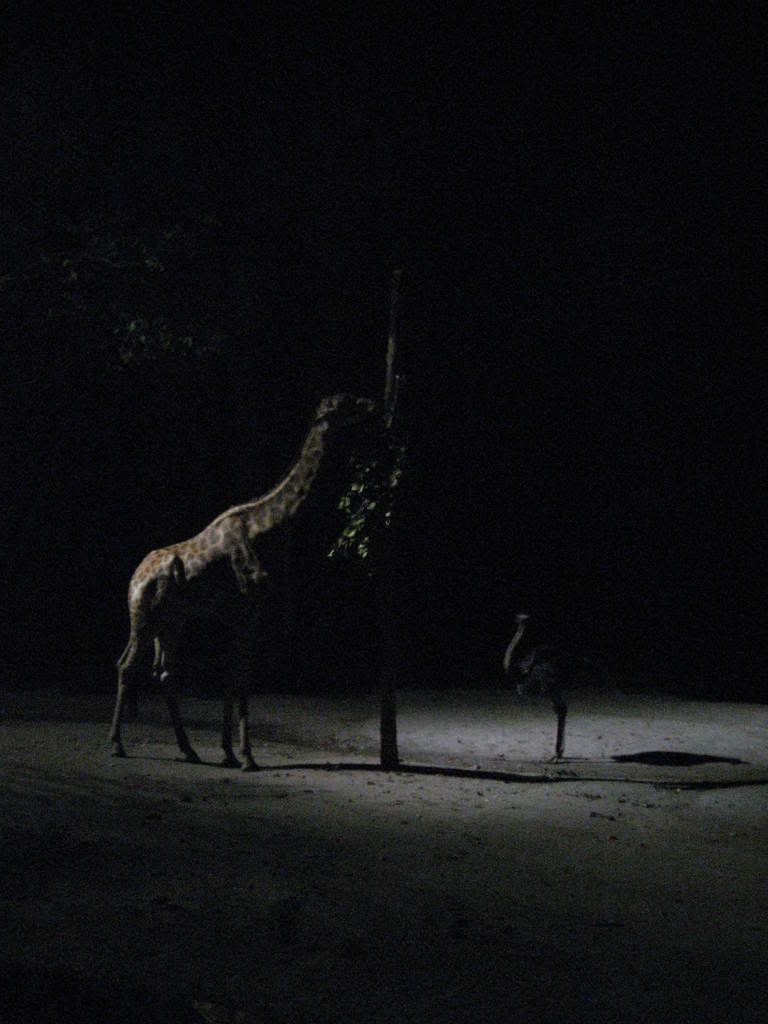 "
Forbidden Love
"…I liked this picture though,haha…
Romeo&Juliet
in the zoo? =P
And now,ladies and gentlemen…let me show you how a professional photographer takes pictures at night…
Douglas
,please demonstrate…(in case you're wondering,the following pictures are from him)…well,at least his pictures are much-much better than mine…
No need to think so hard to know what animal this is…
Not a clear picture…but it'll do…1 rhinoceros
Here's 2 zebras…
Got a bit of lighting from the spotlight…so clearer and better than mine
And here's 3 "ostriches"…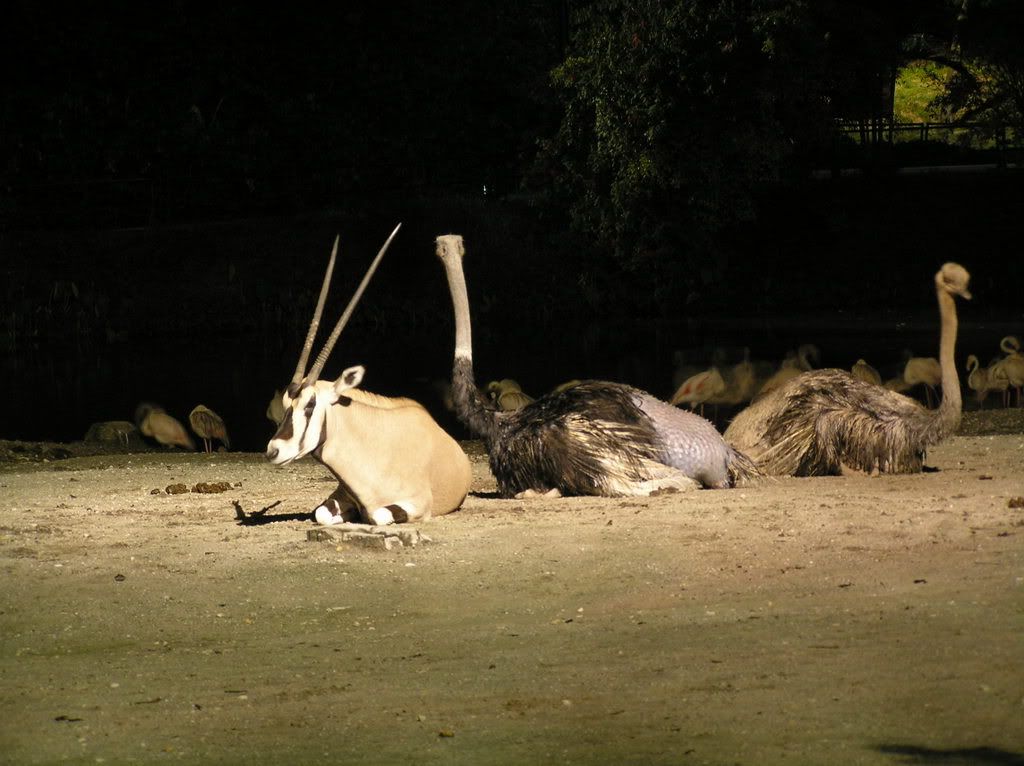 Spot the odd one out…
Ok…another guess what animal is this?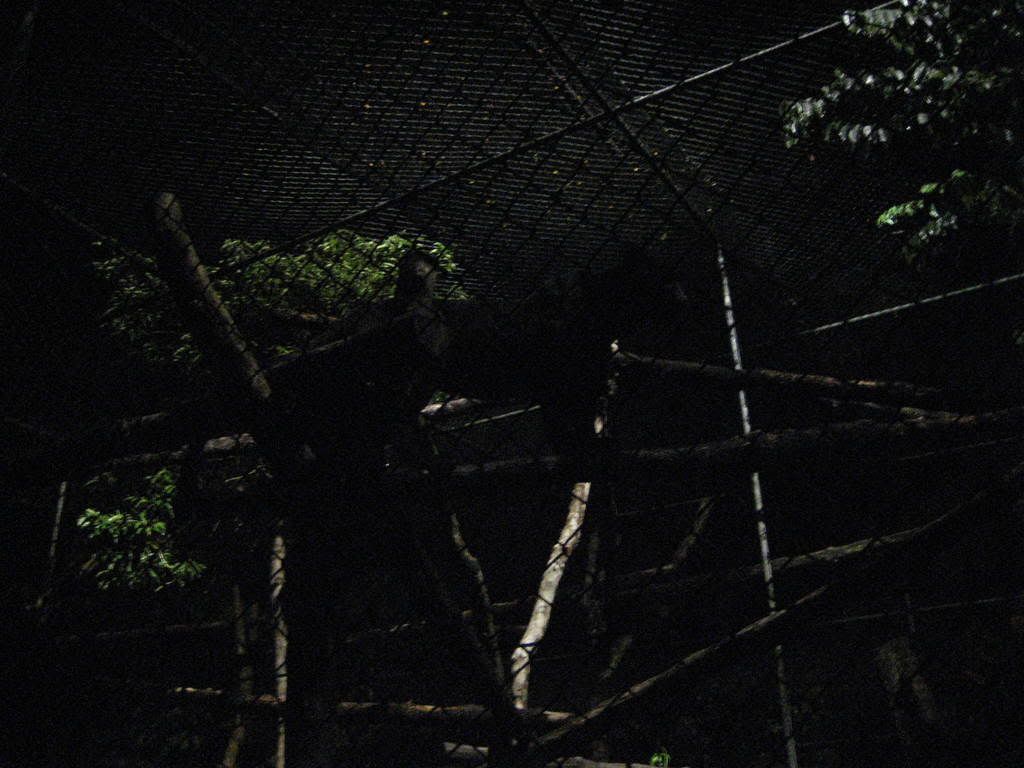 Picture taken by me…
Accidentally forgot to switch off the flash…"Ooopss" =P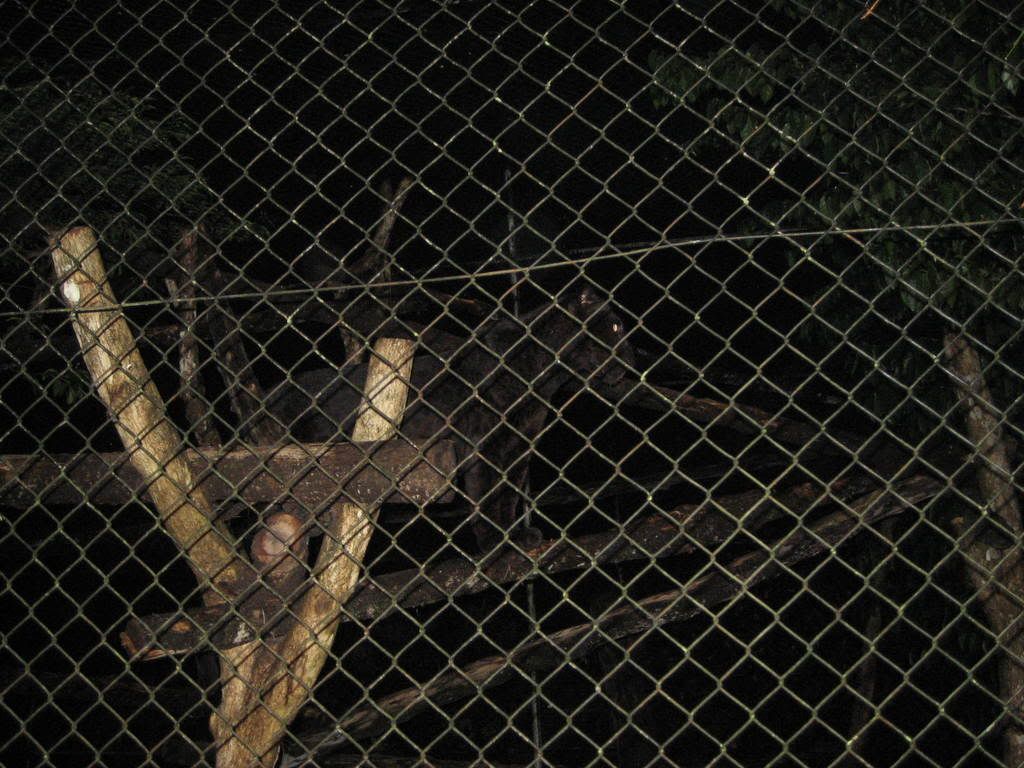 But then the panther don't mind though…hehe
And here's how to snap a picture without using a flash…the "
Douglas
Way" to do so…
The panther must be smiling…cuz he/she looked so "bergaya" in this picture =P
Last but not least…another animal to be added to the collection(perhaps the clearest picture of it all)
Meow-meow cat…I forgot to switch off the flash,thus making its eyes so "ganas" looking…lols…when I switched it off to take another shot at the cat…~Jeng-Jeng-Jeng~…no battery =_=" Mostly used up in
Pangkor Island
during the daytime and with all the fancy-fancy functions for night shots switched on…drain more battery power,haha
So that's about it…only certain animals are being displayed at night cuz they are active during the night…yes-yes…very "active" at night,particularly the lions though…could hear loud moanings…ehem-ehem…but then at night,cant really see some of the animals cuz its quite dark and only certain areas only has spotlights(for animals to sleep with the lights on? Hmmm…) Imagine yourself walking alone in the darkness,then got some loud violent animal noises followed by a something being broken open…as you walk a few more steps…SUDDENLY…a figure approaches from the side and moves towards you…please don't try to be
Tarzan
and just run awayyyyyy…lols =_="
Oh yeah,the entrance fee is doubled at night…so RM5 x 2 = RM10…together with "cant see some animals"(hiding/sleeping/mating/etc nightly activities…) and also no usage of flash from cameras(if I were the animal and somebody kept bursting lights on my face as though I am a superstar,while I am trying to sleep…I'll probably get pissed,lols) So if you don't wanna yamcha at night and got nothing else better to do in
Taiping
…drop by a visit to the zoo =P
Tip from Douglas: For night shots…bring a TRIPOD!!! Super-super useful for stability…duh


Hmmm…ever wondered why updates had been slow recently? Well,I am kinda engrossed into this…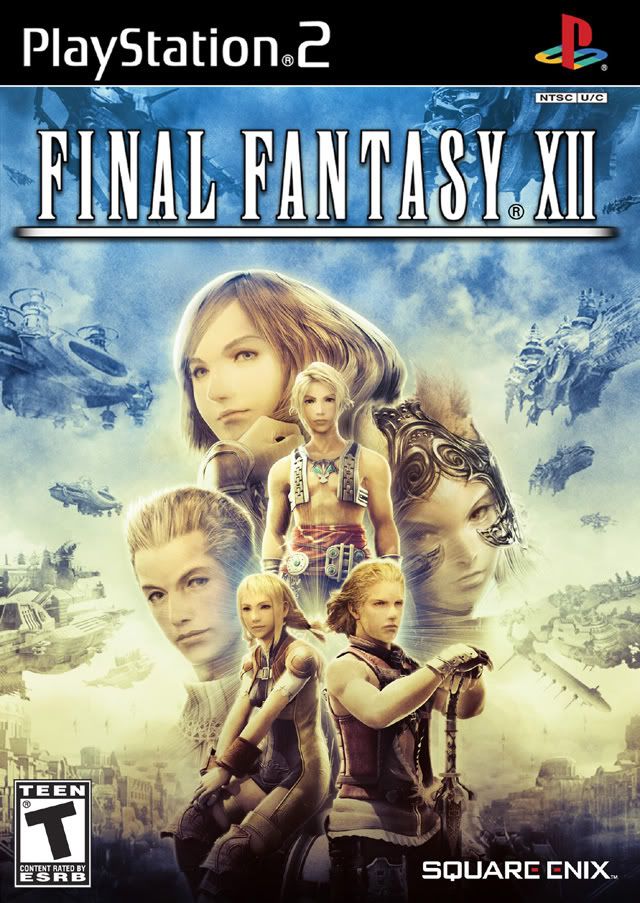 Final Fantasy XII
!!! Nice long holidays to be used up to play…haha…but worry not,I still do other things(besides updating blog =P ) as well or if wanna go out or something,still can-can wan…
But the game which I bought encountered some "problems" midway(the downside of pirated games or am I just being unlucky? This is so…"Potong stim")…so here I am updating my blog,lols…haha…and also another "Potong stim" situation…I only have the English drama,
Heroes
,up to episode 22 only!!! Argh…one episode less for the first season…aiyayaya…super "hanging" leh at the "kan-cheong" moments…so if anyone is able to provide me that last episode,please do so…or I suppose I could intrude someone's house with
ASTRO
in order to watch just that particular episode…lols
Anyways…never mind,I guess I can wait…my dad probably might get the DVD when its out though,hehe >=D
While surfing around on the internet…I stumble upon these…
WAH…
Final Fantasy
figurines(
Cloud
and
Sephiroth
on the image)…I want-I want…super-nice…but of course,super-expensive(the good quality ones of course)…I've always wanted to get my hands on one of these goodies…but I guess not now or anytime soon(Click picture to enlarge)
I don't mind these ones too…cute affordable fancy-fancy stuff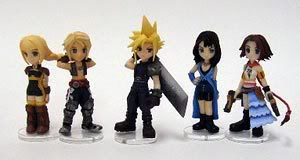 Can put on my table,in my "future car",in the toilet,on my head,etc…For more updates…pay a visit to
www.square-enix.co.jp/se-shop/blog
(Source:
www.adventchildren.net
)
This is all I have…hehe