Marching to the month of March...
Time passes in a blink of an eye…before you knew it or even have a brief moment to zip-up one's pants after answering Mother Nature's call…welcome to the month of March …but
Chinese New Year
mood is kinda still in the air,giving the "Hoo-Haa"s to some people…*ehem* gambling *ehem*…And today is the last day of it all…for this "
Ong
"
Red-Red
festive event(15th day,according to the Chinese calendar). It's also
Chap Goh Mei
…so if you have any leftover
Mandarin oranges
(rotting at the moment)…you can opt to throw em' into the river…disposing and also providing orange "fragrance" to the river…killing 2 birds with one stone in the process,eh? =P
Let's not deviate too far from the main plot of this post…hehe…Went to
The Curve
yesterday,to celebrate
Michelle
's birthday(well,call it a belated birthday lunch if you will)…Was there early,so I've decided to walk-walk around first…
Near the entrance…there was an event going on…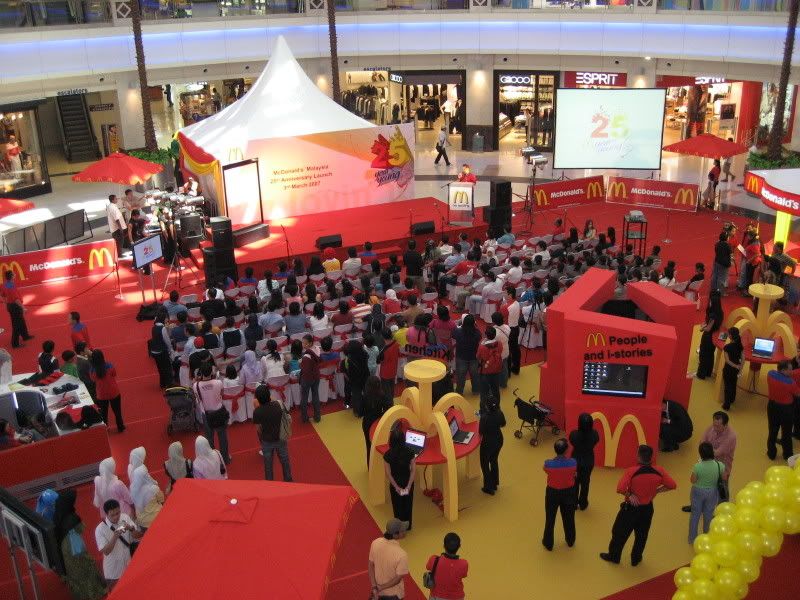 Mc
Donalds
was celebrating its 25th Anniversary Launch…I think there was free food…I think and I hoped =P
Some dance/exercise routine going on by participants from
Fitness First
…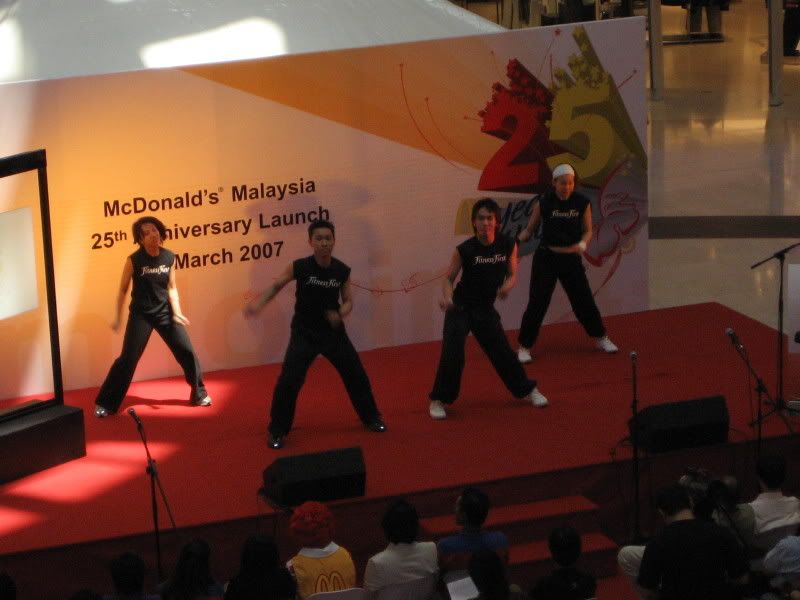 Might be a hidden message to the government regarding the banning of fast food advertisements…hehe…Exercise for a healthy lifestyle…at
Fitness First
,that is!!! Lols…promotions…promotions
Within the crowd…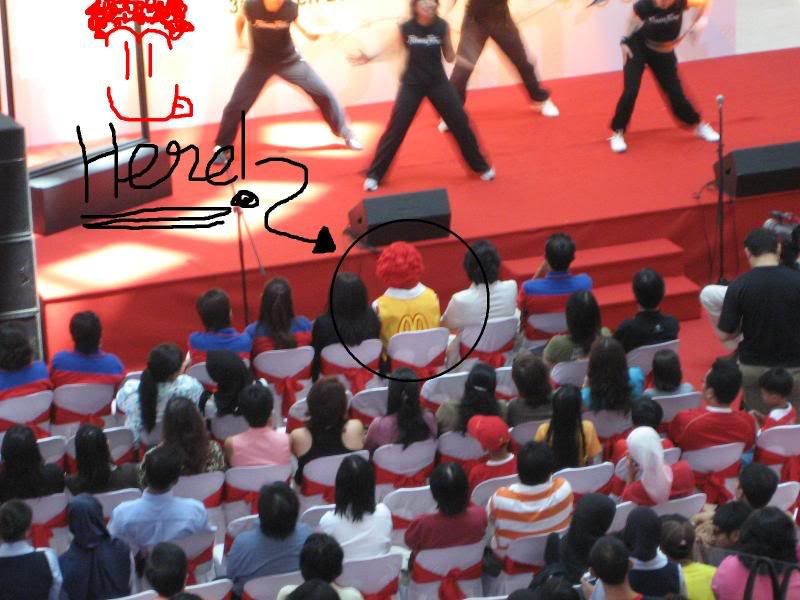 Can you spot the hidden
Ronald
McDonald
? =P
Once everyone arrived…time to pick a place to go have lunch…
So we came here…guess where is this place by looking at the meals served…quite simple,no?
Well…if it's a person's first time here…he/she probably wouldn't know…fortunately,it's my second time here…
Paddington House of Pancakes
=)
I ordered this…
Vienna
…mushrooms+cheese+herbs+sausage filled with cheese…to view the first time I went there,click
here
(I think it was some sort of random post…about food =P )
It is very rare to see some of em'(some busy like a bumblebee and some already started working!!!)…anyways,group picture time…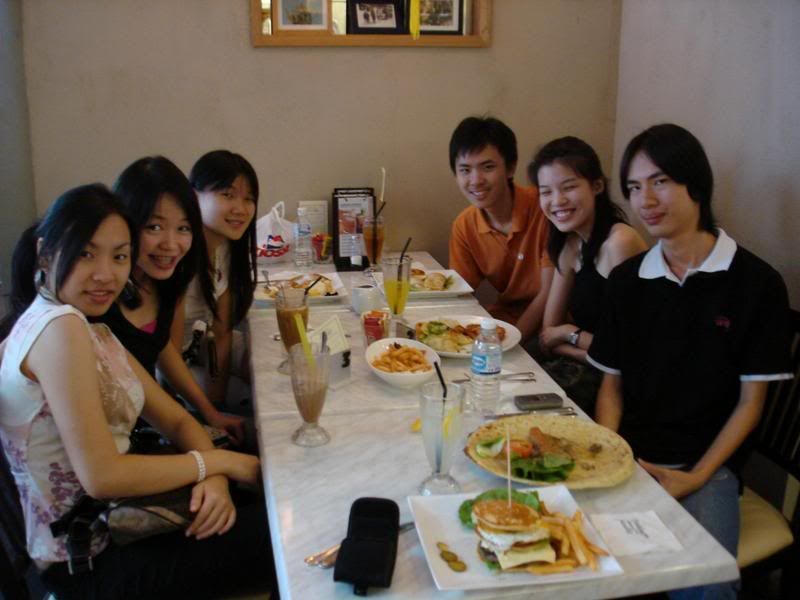 From Left to Right:
Camellia
,
Liying
(rare!),
Pui Yen
,
Jien Eu
&
Michelle
(both working!) and
ME
…not forgetting our photographer,
Craig
…Thanks for some of your photos ; )
A birthday without a cake…is like a car without wheels/tires…here's the cake then…
Small and simple…
O

r

e

o

Cake
!!!
Everybody goes…"Aaawww…" for the couple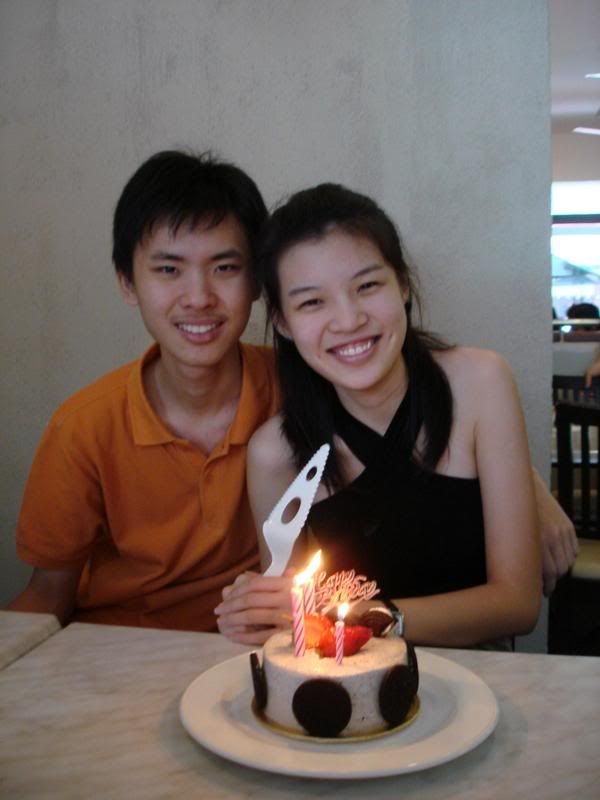 Jien Eu
and
Michelle
…Pop Quiz: Do they look alike? Or perhaps related together like brother and sister? Secret government project? Hmmm…
While waiting for
Camellia
…choosing a photo album in
Popular
Bookstore
(
I
k
a
n
o
)…
I saw a duck and a penguin…having an "intimate" moment… =_="
(sign reads,
Don't Disturb
…so do as it says! >=P )
So that's how these little offspring of theirs were put on display…