The Land of the Lions…Singa-pore =_=" (Part 1: The Tourist Post)
Aiyaya…why did I ran to
Singapore
(refer to previous post)…now got caught and I am back home =_=" Ehem-ehem…why did I went to
Singapore
? Not to find lions(singa) =_=" but just sort of a "saja" only vacation…hehe...I've never actually been to
Singapore
before(unless you count when I was too young to even know what a "singa" is =_=" ),so can say so that this is a trip to a "new country"…lols,very kesedihan tak terhingga no? =P But bring kawan along ler…reduce the kesedihan…haha
Anyways,this trip was during the previous week,3 days and 2 nights…took the
KTM
train from
KL Sentral
…departed on
Tuesday
night(
10th July
)
I see humans…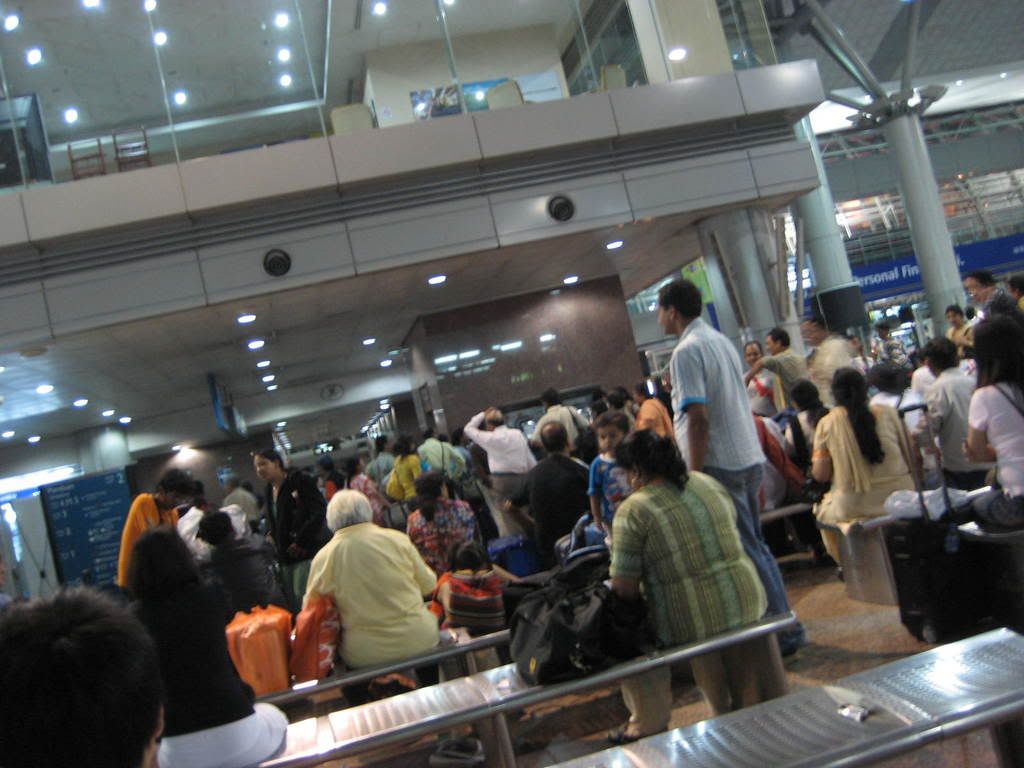 Once we boarded the train…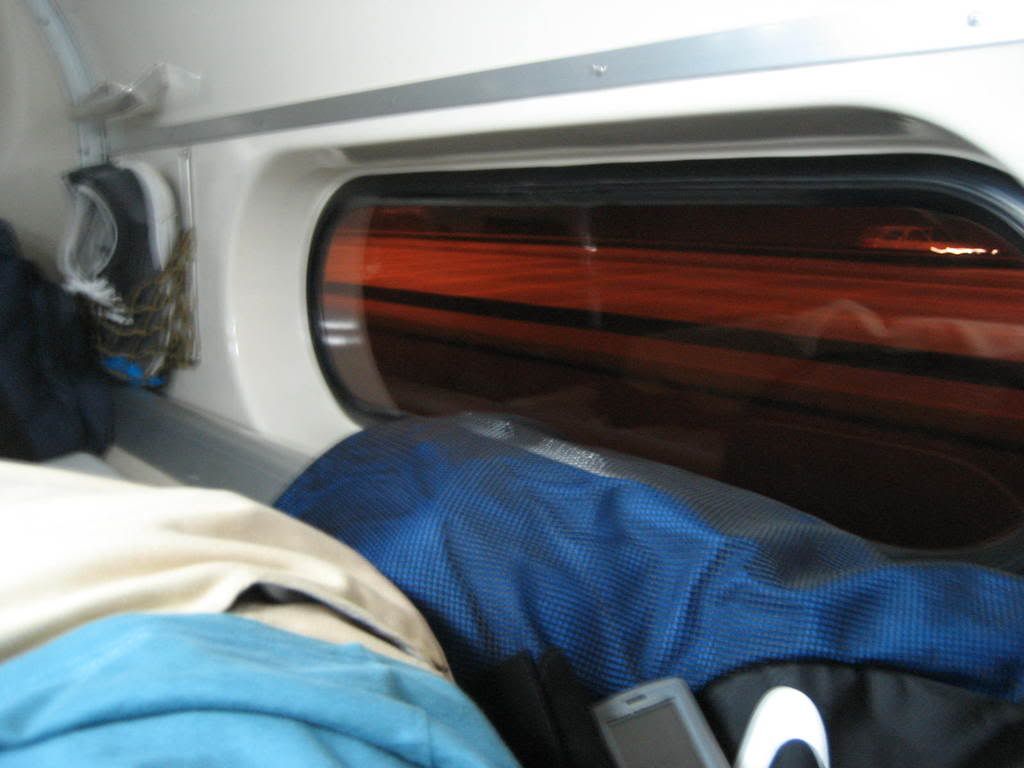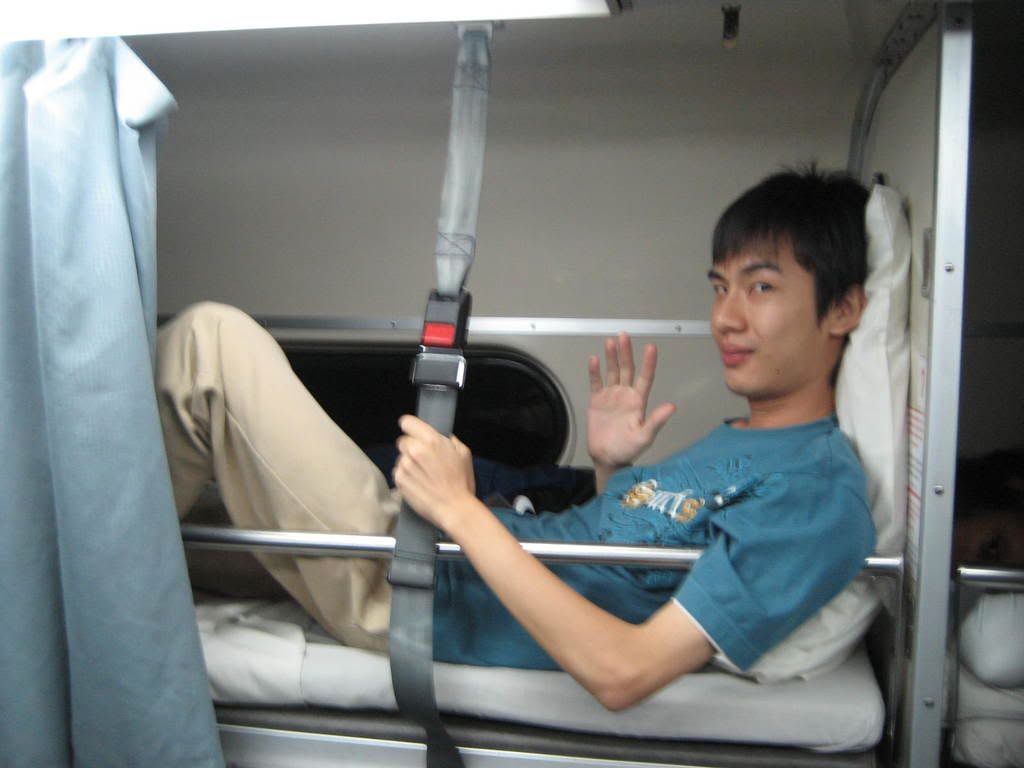 My NB2D moments…"Nothing Better 2 Do"
=_="
Didn't really slept well…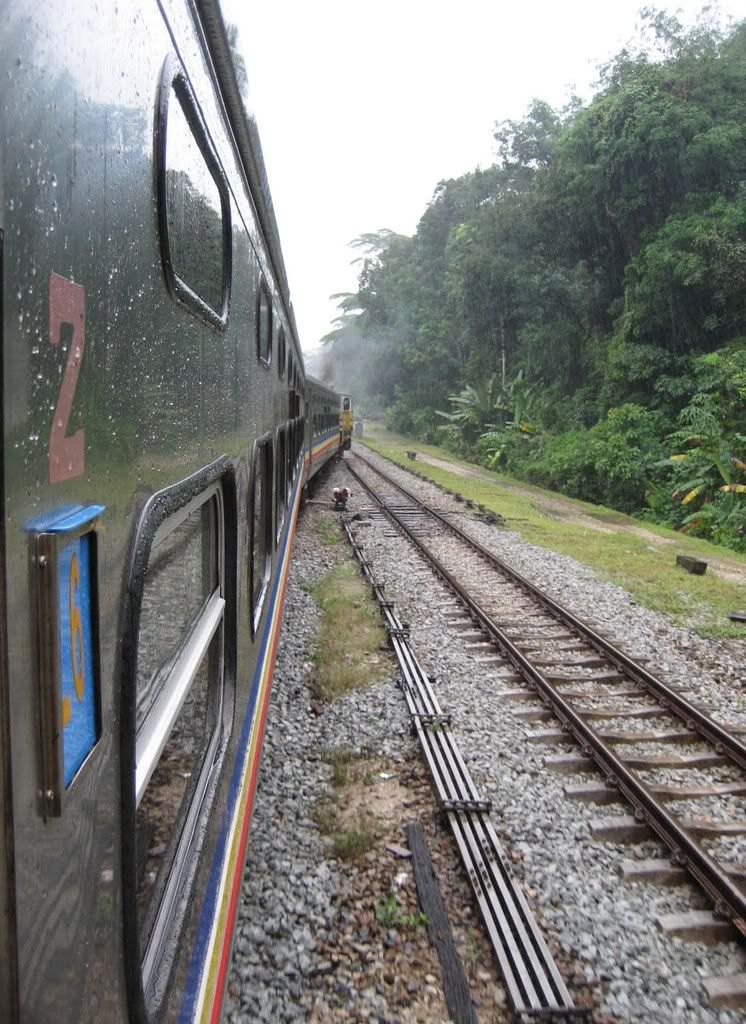 And the next morning…it was raining when we arrived =_="
Thankfully,the rain subsided upon reaching our designated stop…haha
Before we jalan-jalan cari makan…must jalan-jalan cari tempat tinggal first…ended up here,
Backpacker Cozy Corner
Guesthouse
in
Bugis
Not expecting to live in some high class hotel of sorts…this place is quite ok as the saying goes "You get what you paid for" and all we needed is a place to sleep for the following nights as most of the time we'll be out…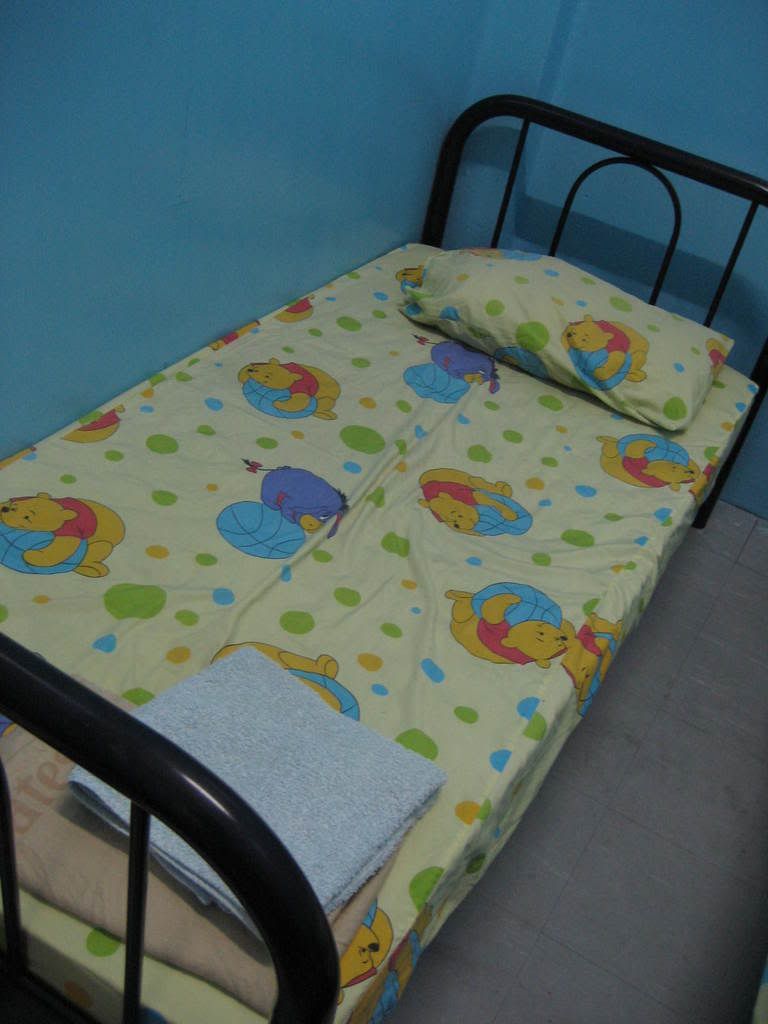 Winnie the Pooh
bedsheets will surely make someone smile when they wake up the following day…oh,our room doesn't have any windows…can say it's kinda like a storeroom…lols =_="
And now…the "tourist" journey begins…the following places are mostly all those tourist spot that the tour would most likely bring you to…I wont be dwelling about shopping malls cuz…there's so many of them!!! Crazy…indeed a shopping heaven for the ladies and guys alike…well,you can just ask
Uncle Google
right? Hehe…
Walking-walking…Jalan-jalan…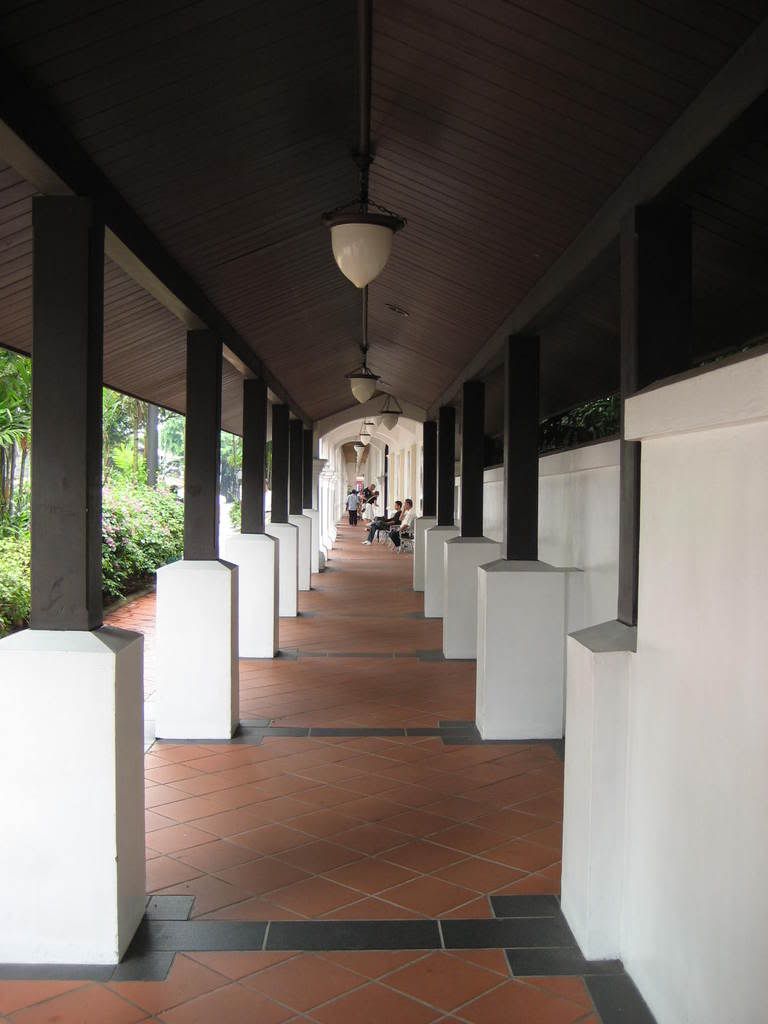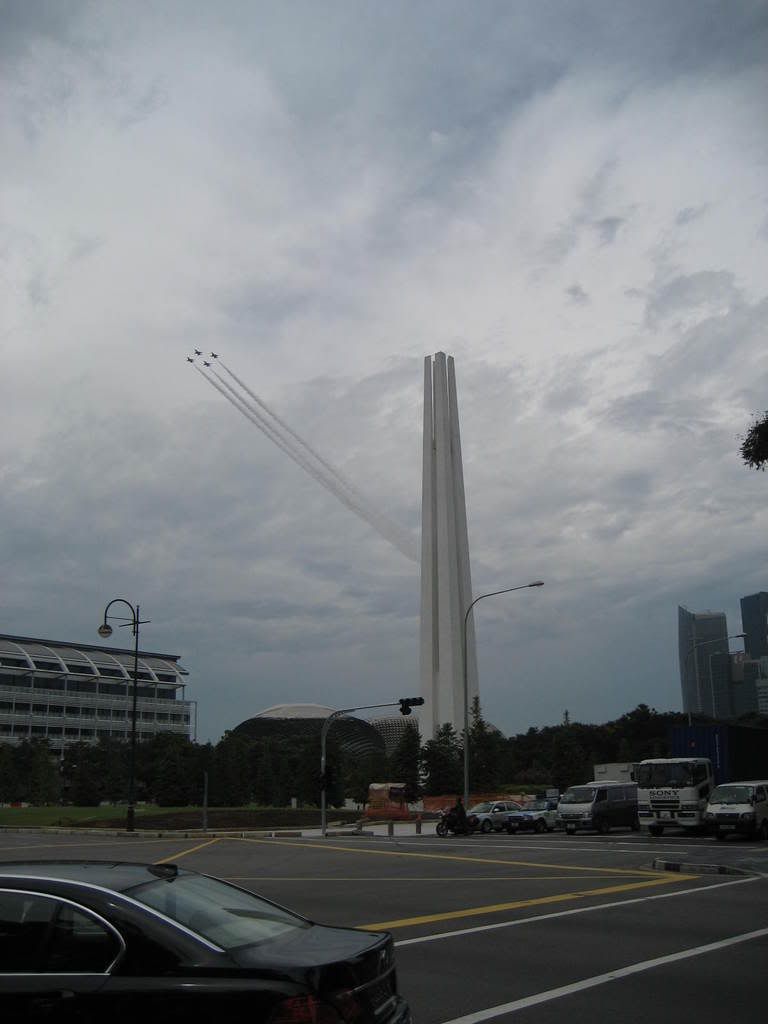 Some random monument…with tiny little jet planes which flew by…

One of the famous hotels…Raffles Hotel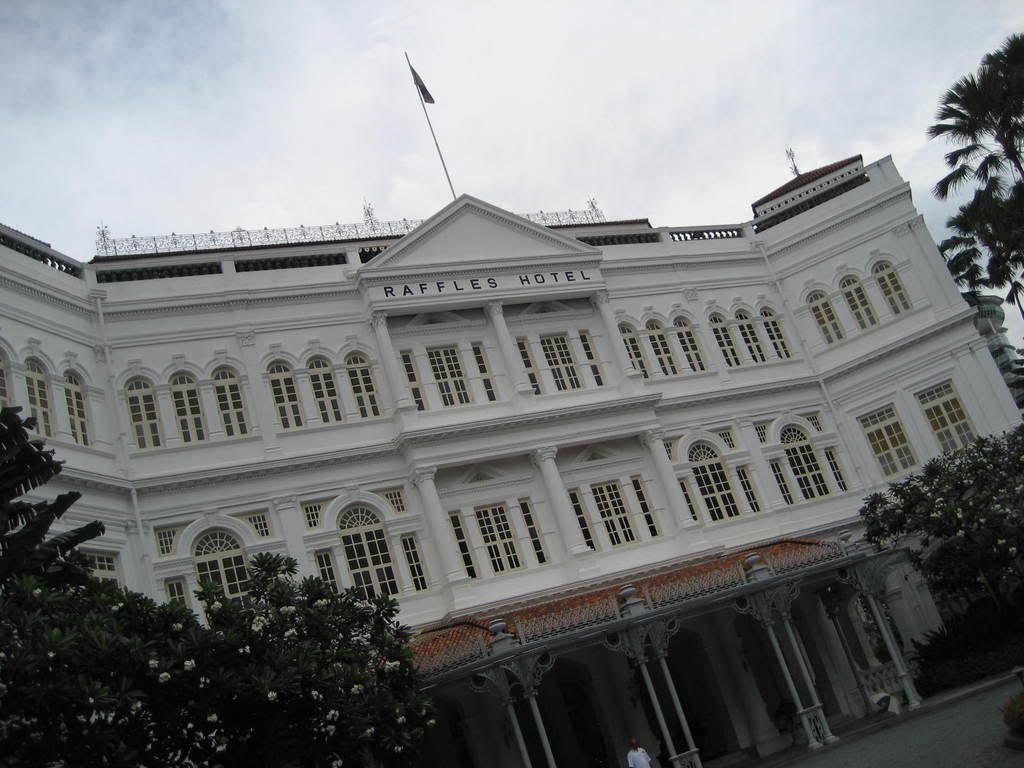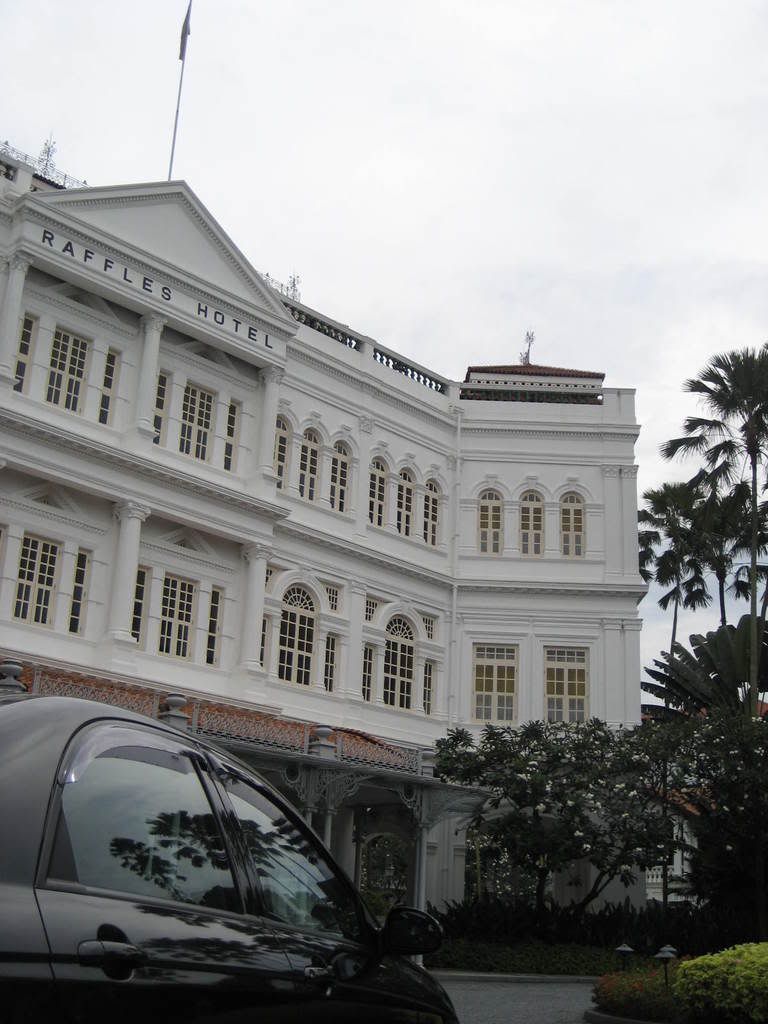 Famous hotel = Expensive hotel…There are shops inside too,which sells "famous = expensive" goods(
LV
,
Rolex
,etc…) and here is where the cocktail
Singapore Sling
was invented from…
Note: Fancy nice car not included with hotel stay…
Who needs a fancy nice car when you've got one of these rides…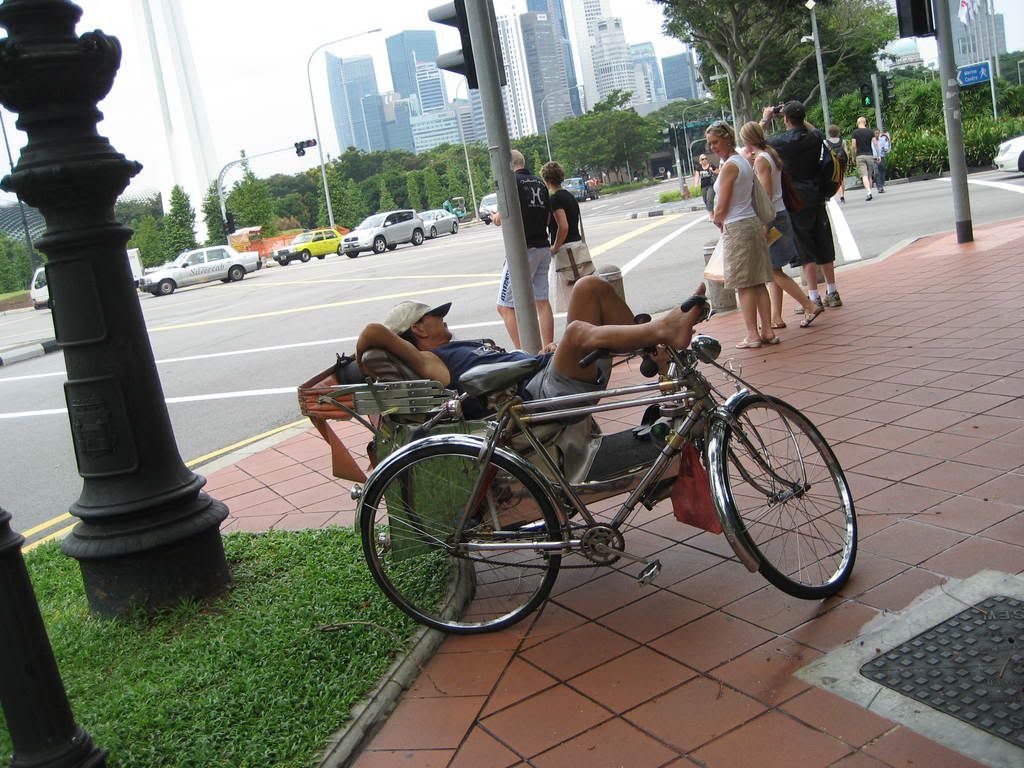 Makes you feel like a "towkay" and is environmental friendly too…currently this vehicle's "engine" is switched off though…
Random fountain in one of the shopping malls…
Speaking of fountains…Singaporeans sure love their fountains cuz almost all the shopping malls or popular places have their very own fancy fountain…Feng Shui?
Son&Daughter: Daddy-Daddy…build a swimming pool in our new house!!! Puh-lease…
Dad: Hmmm…nope,we shall build a fountain!!! You kids still can swim in it too =)
Son&Daughter: …Yay? =_="

The biggest of it all…The Fountain of Wealth at City Hall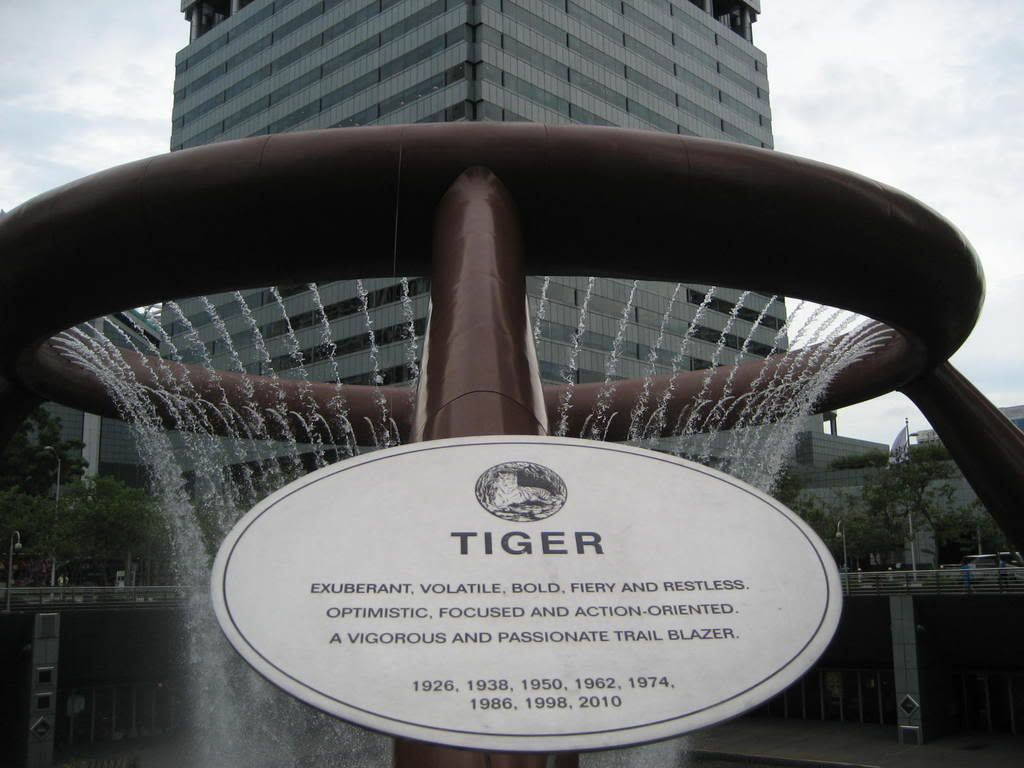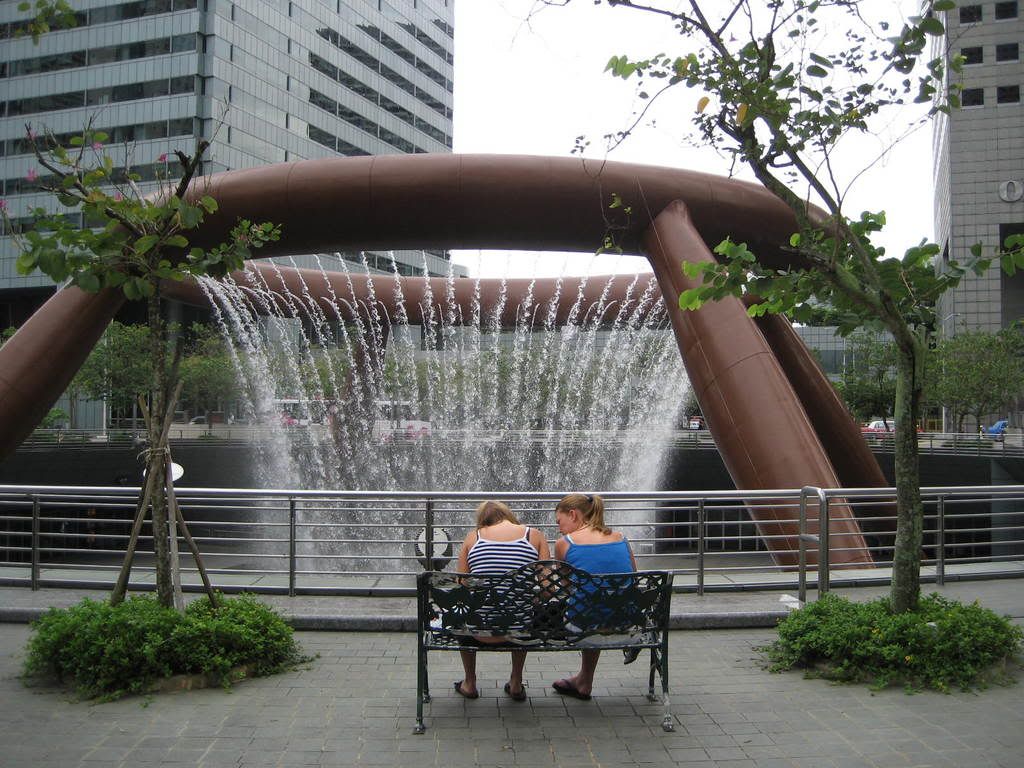 Around the fountain,there are Chinese zodiac animals inscriptions…yes
Cheese
is a
Harimau
…no he is not a pervert cuz no female model,so have to make do with what he can? =_="
There are even instructions on how to obtain wealth from the fountain…
Take note it's the small lil' fountain(seen from the first
Fountain of Wealth
picture),not the overall big structured one…unless your arms are able to stretch that far
Where can you find a "durian" which does not emit smell? The theatres on the bay…
Esplanade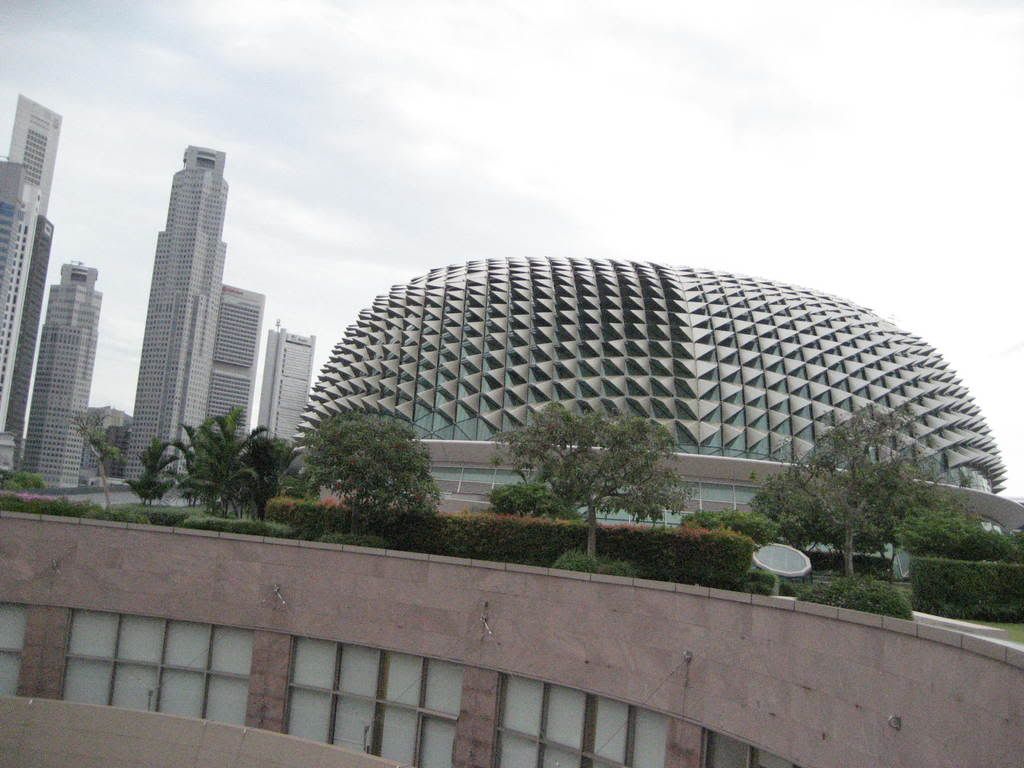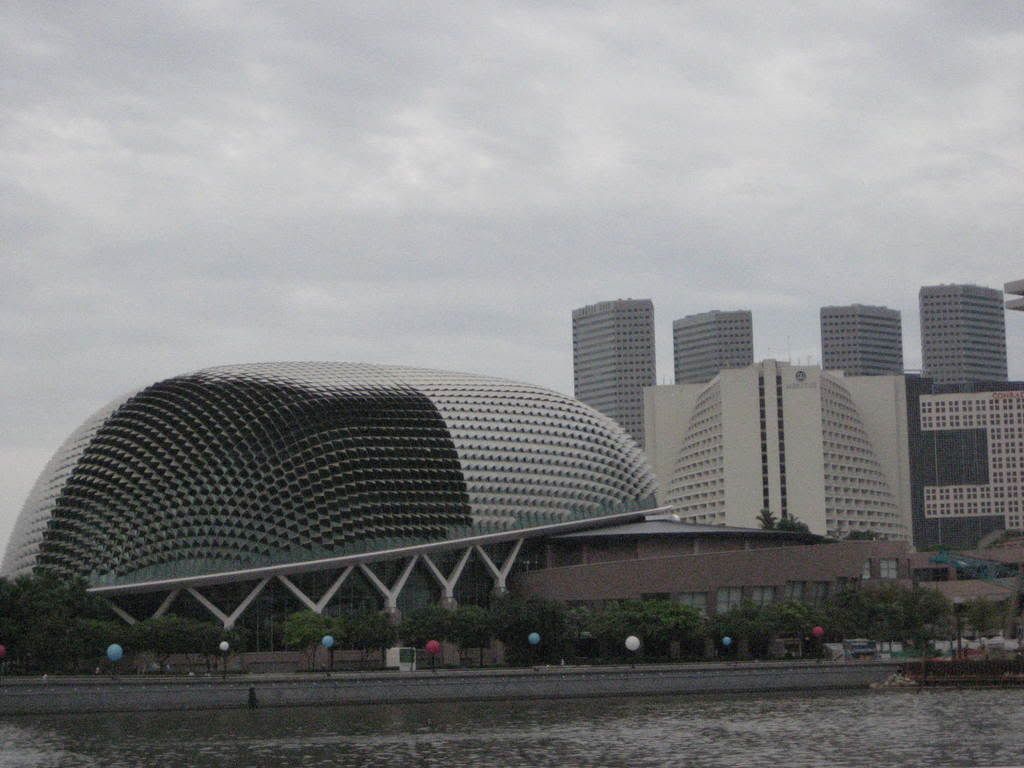 If the
Two Towers
(
Lord of the Rings
) would look like these…it wouldn't be that scary looking,right? Behold…the
Two Spiky Domes
…
Dua Kubah Berduri
!!! =_="
Ok…ermmm…moving on…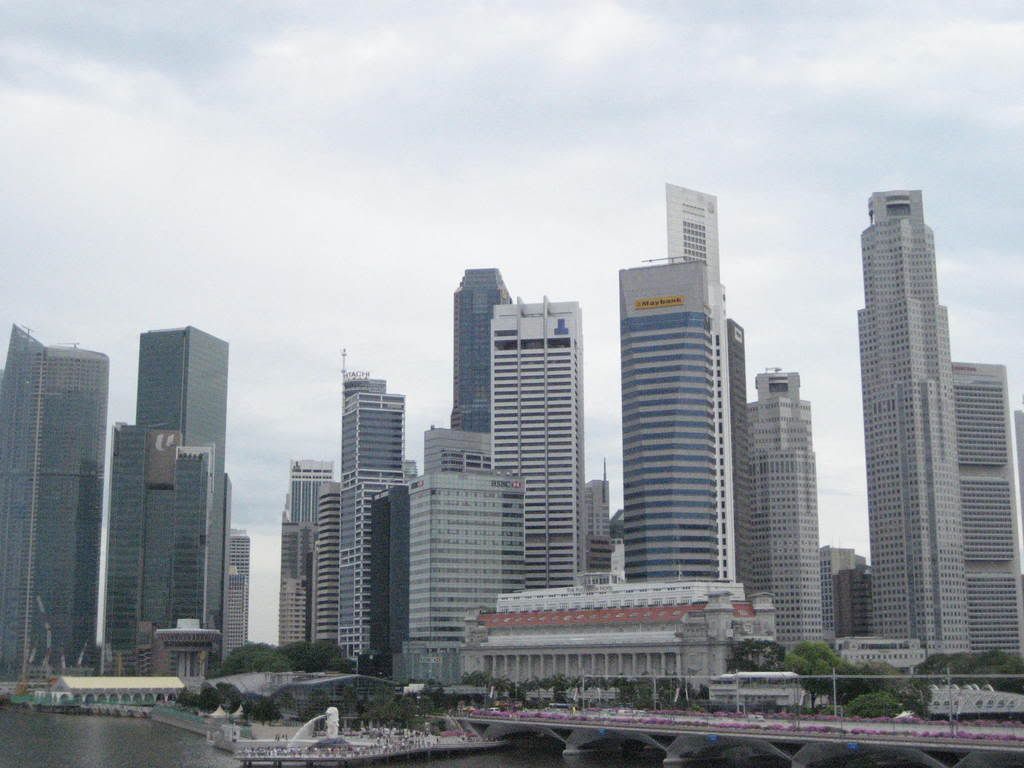 Hehe…guess where we're heading next from this picture…
Tersangat amat famous landmark/symbol of
Singapore
,none other than…the
Merlion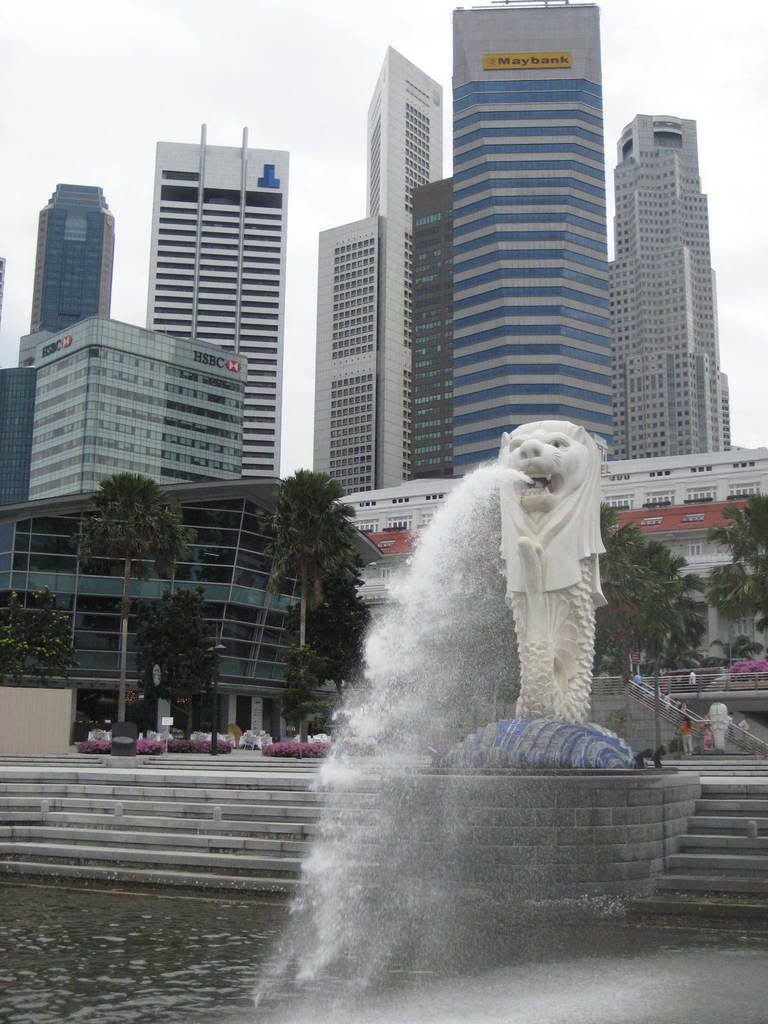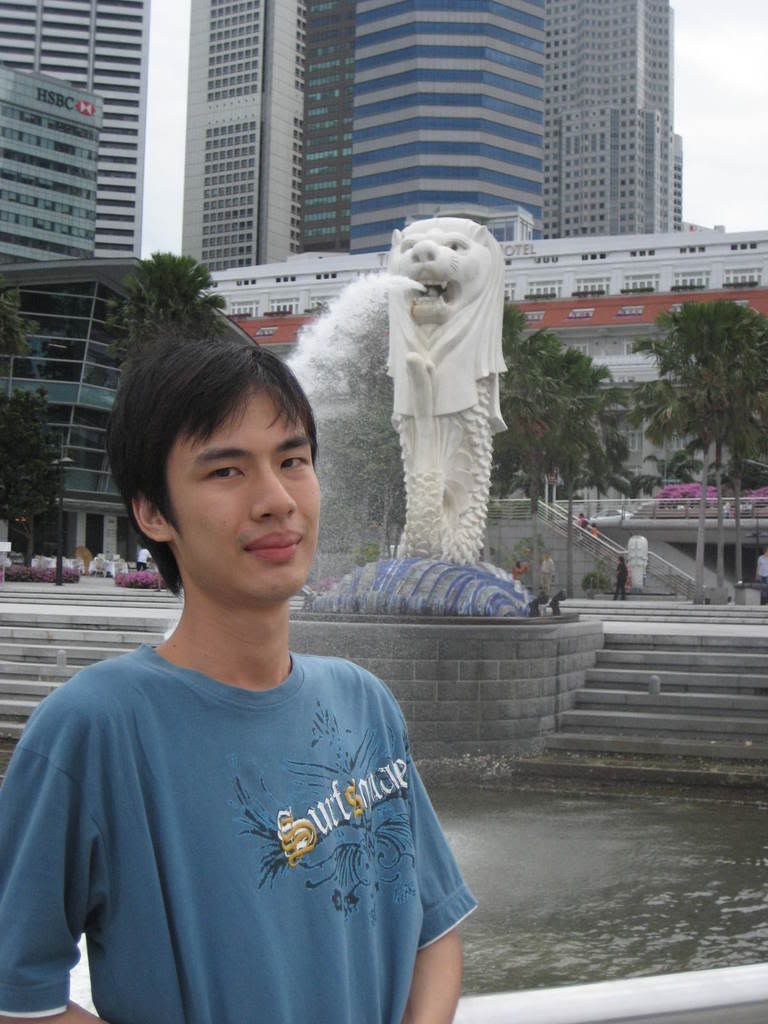 Being spat/puked by the
Merlion
…
Yet,another "famous hotel" along the way…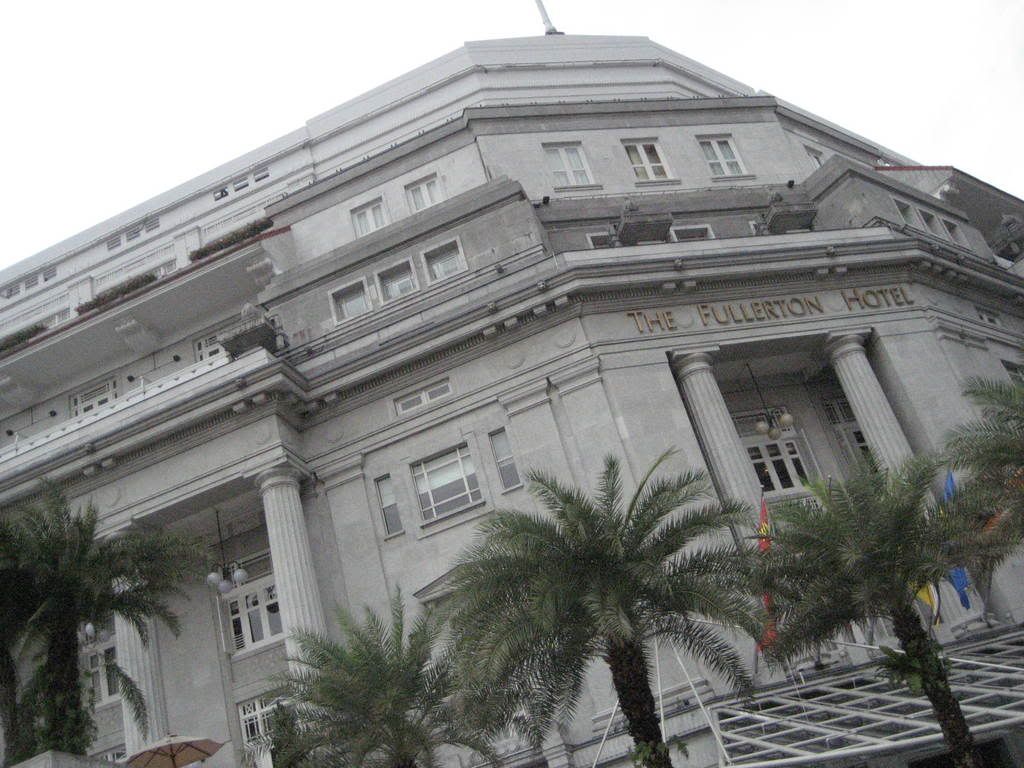 The
Fullerton Hotel
And of course,the founder himself(in statue form of course)…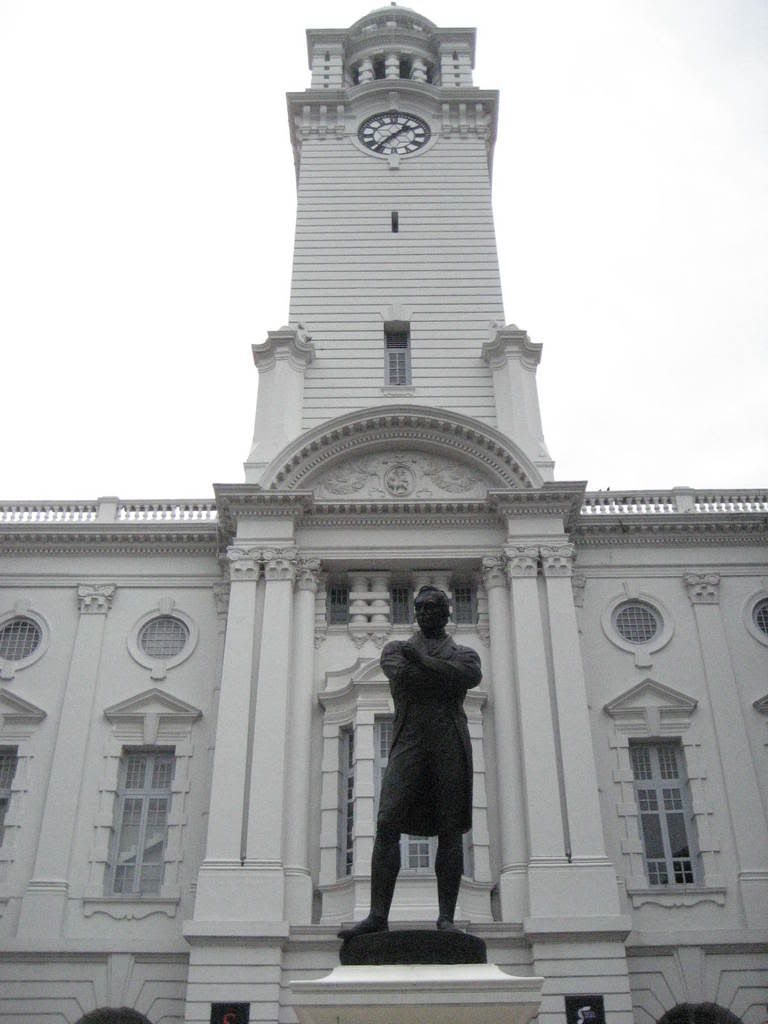 Sir Stamford Raffles
berposing…luckily there isn't any birds around,eh?
Random statues along the river…