Malaysian Las Vegas…
After the hot and scorching journey to "
Egypt
"…the next adventure that
Indiana
Cheese
went to was…errmmm…somewhere cool and high atop the mountainous highlands…could it be
The Alps
?
The Himalayas
in
Nepal
?
Brokeback Mountain
?!! =_="
Seems like
Indiana
Cheese
isn't that adventurous after all and turned into
Cheese

Bond
…instead he went to
Genting Highlands
a.k.a
Las Vegas of Malaysia
?
Since
Cheese

Bond
is very kiasu and doesn't want to drive his
BMW
/
Audi
/
Mercedes
/whatever
Bond
car that he is using for this mission…spending for fuel…
He opted to take the cable car…
This also blends him within the crowd…environmental-friendly as well(partially though)…if the cable car falls due to sabotage from the bad guys,he can use his "Made in
China
tuxedo that turns into a parachute" =_="
Once he has checked-in the hotel…went to the outdoor theme park with other fellow agents…others were doing some top secret mission elsewhere…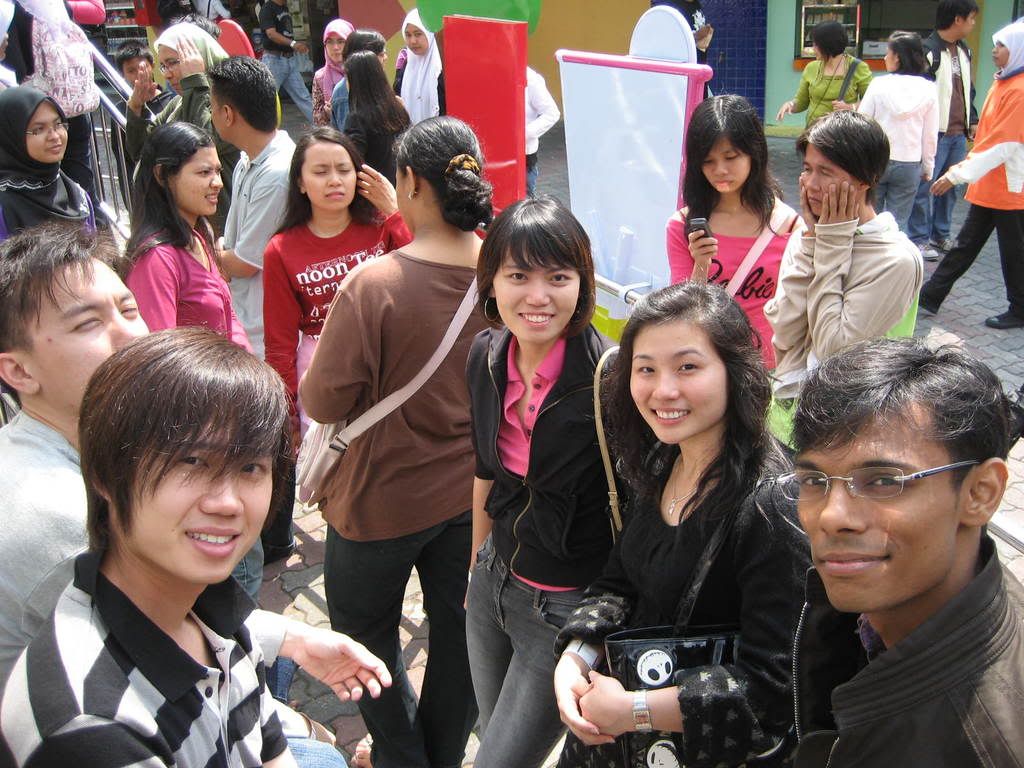 What else is there to do…besides,the last time he remembered vaguely of coming to
Genting Highlands
was when he was still in primary school...or so he thinks
Waiting for the…
Potong stim roller coaster…
Before…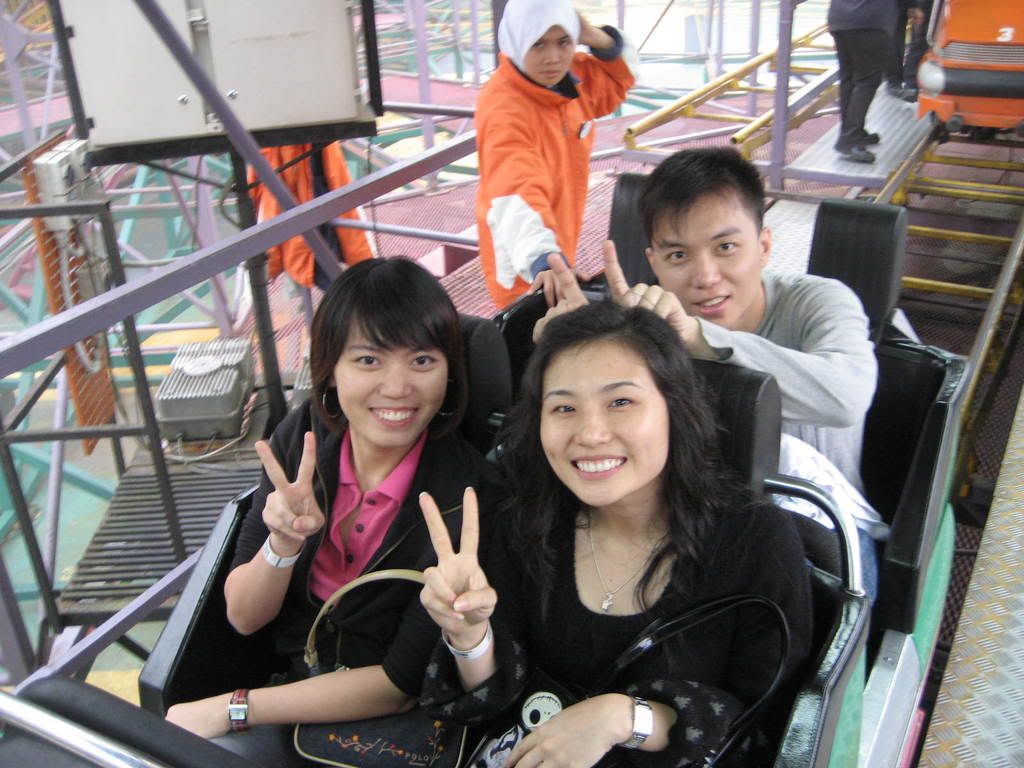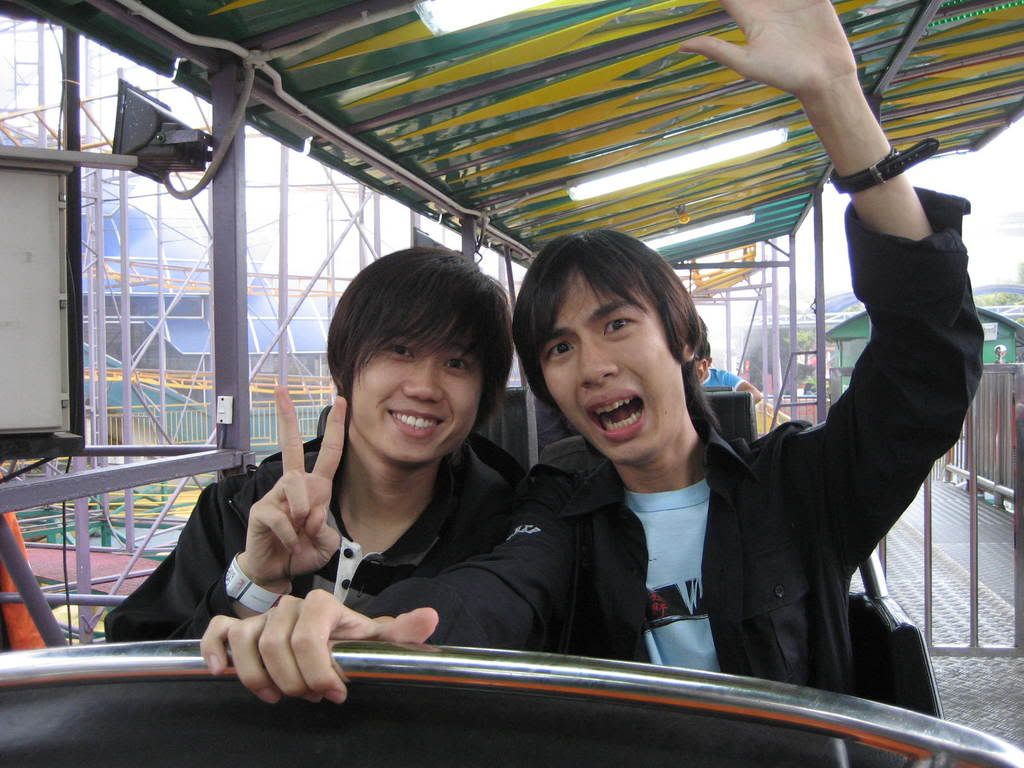 Need to practice how to scream…or shiok sendiri scream due to potong stim-ness rides…
The only exciting one was the
Space Shot
…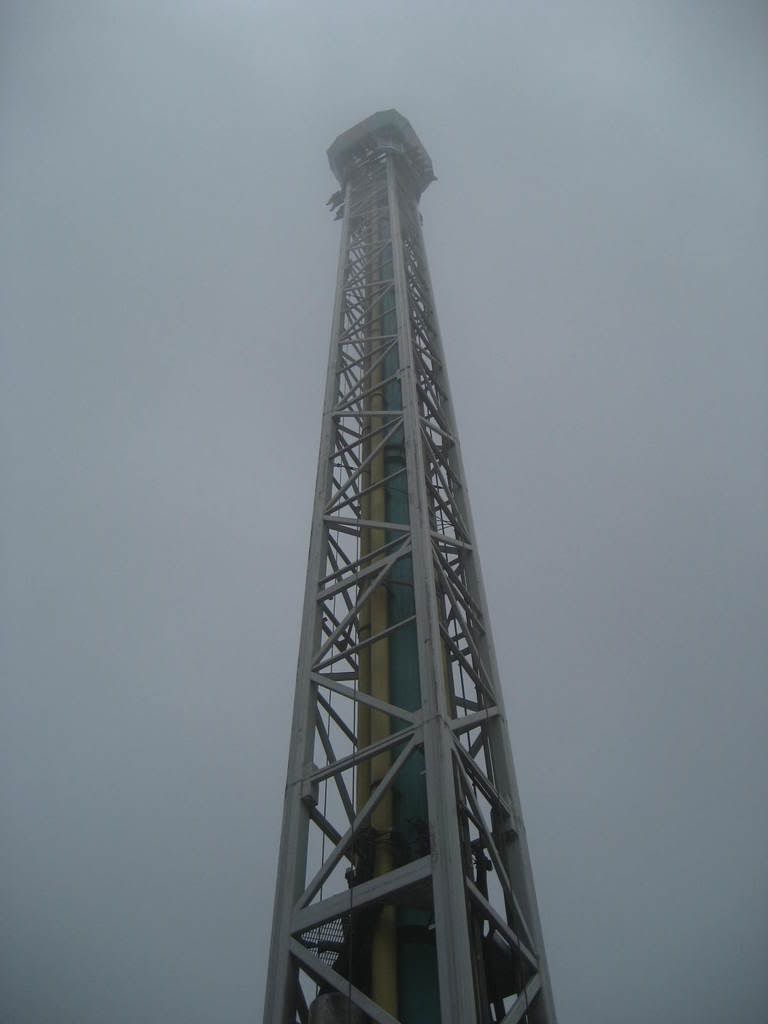 But after it drops the first time,subsequent heights later of ascending and dropping again were once again labeled as potong stim =_="
Introducing,a train ride that is even slower than
KTM
…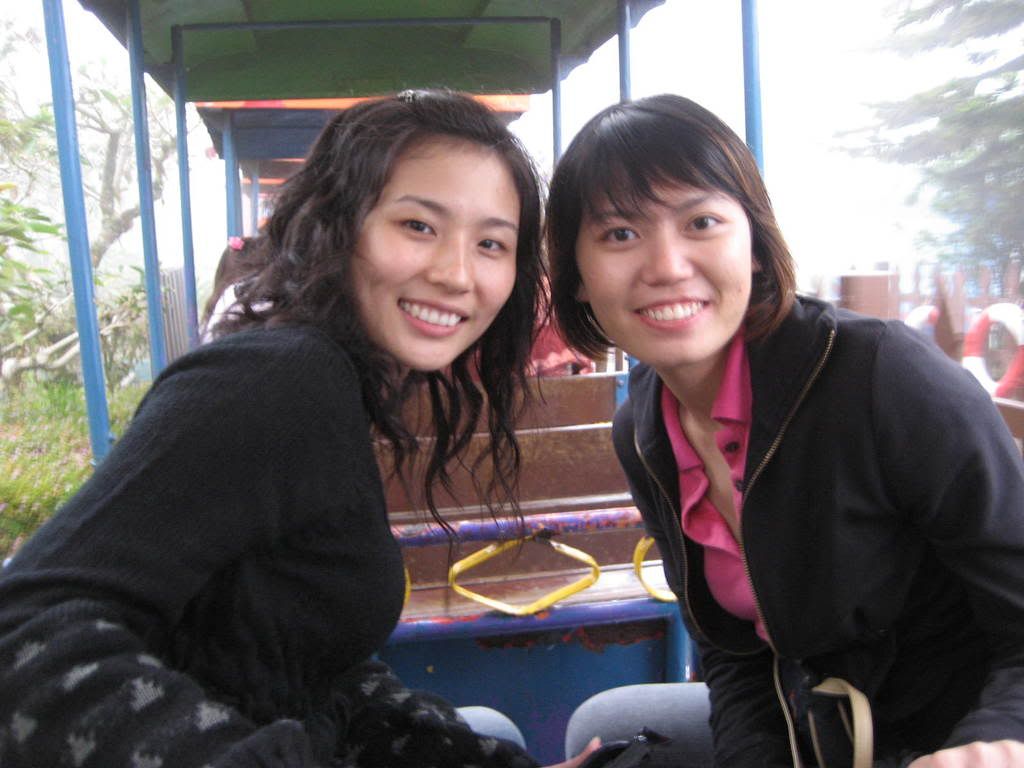 Makes a person feel like getting off the train to push it faster…
So,
Cheese

Bond
quickly hijacks an
Antique Car
…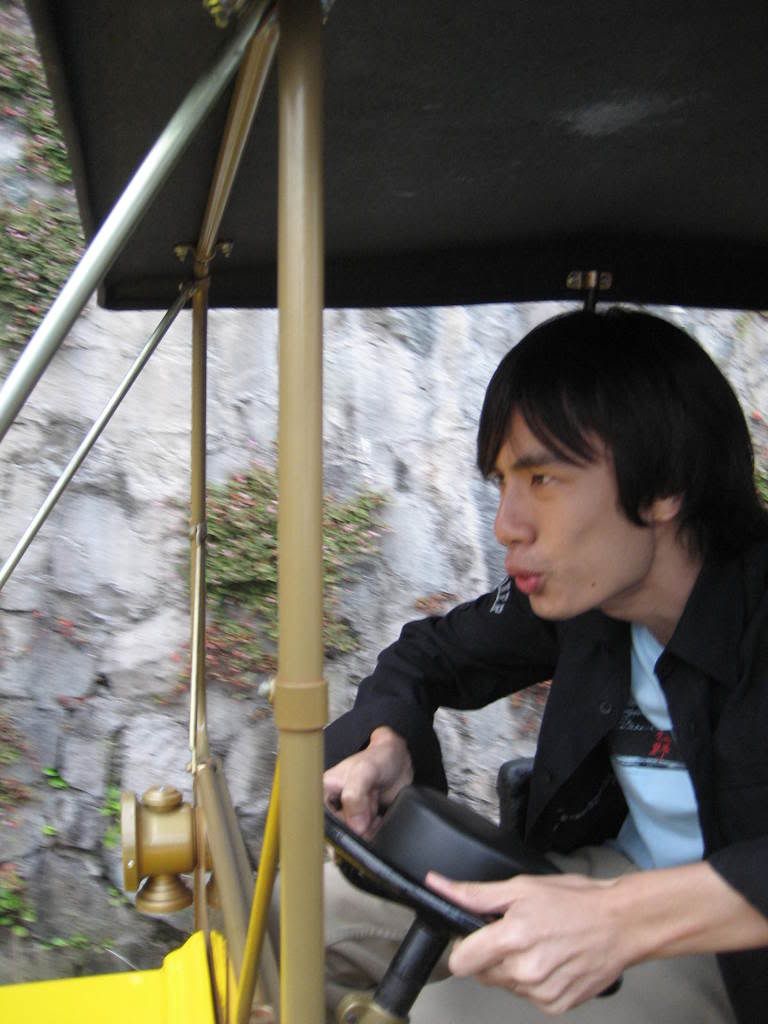 Too fast too furious? =_="
Every hero/heroine eventually needs to fill his/her stomach…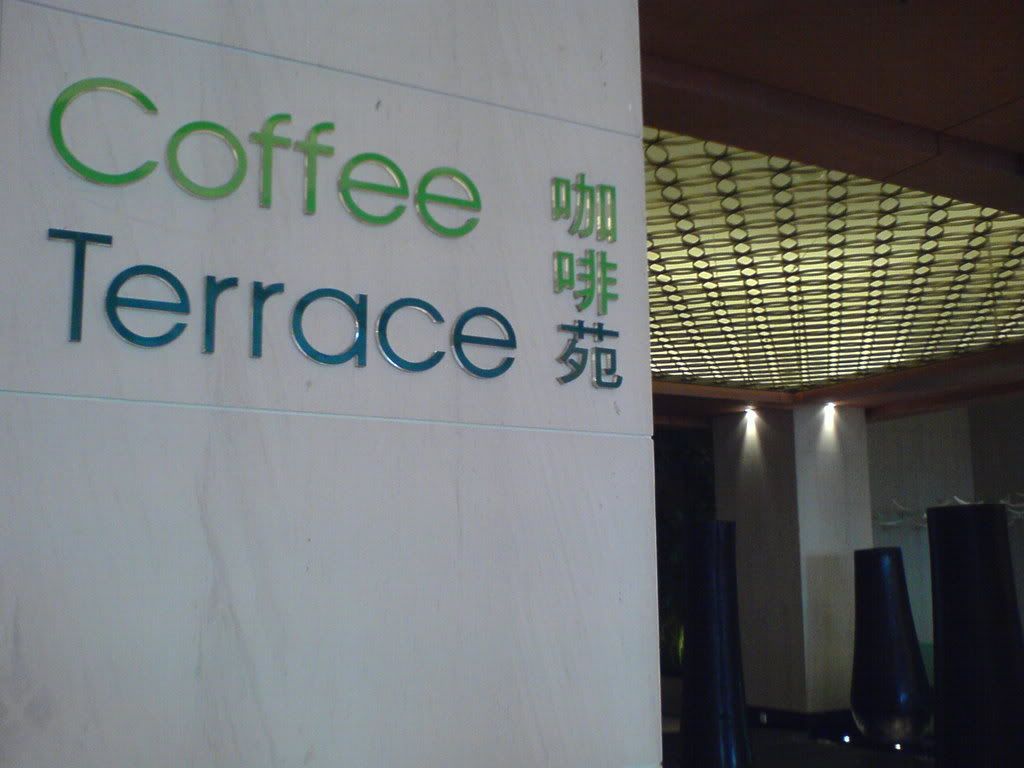 Dinner buffet at
Coffee
Terrace
…
Inside looks…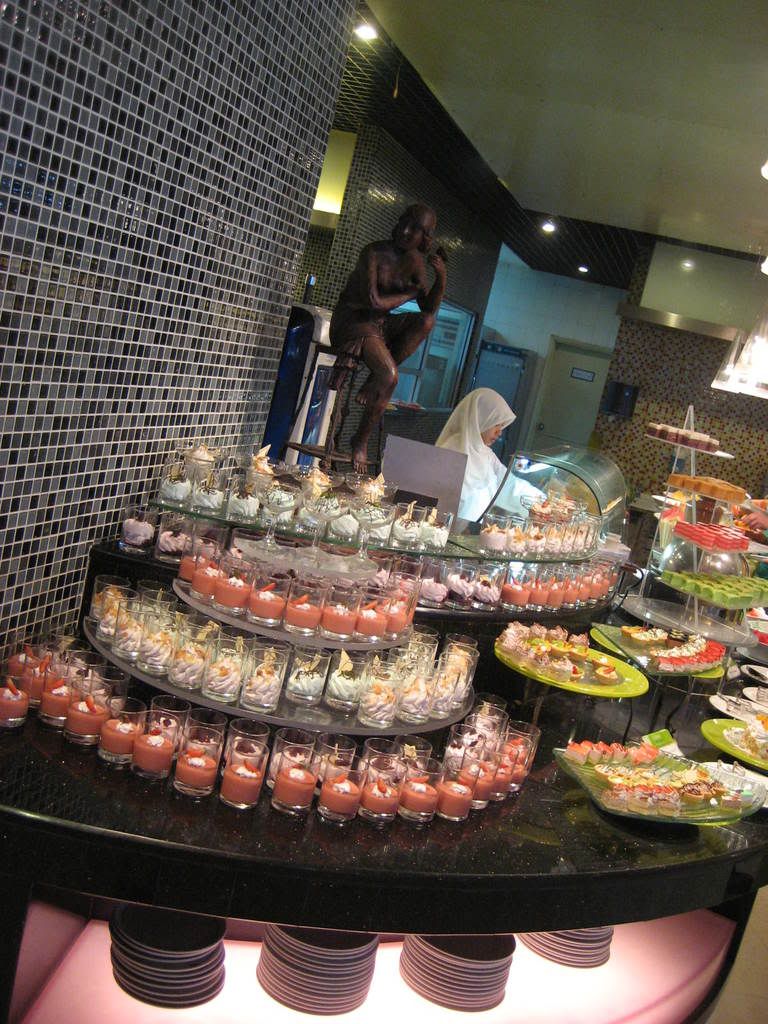 Cororful desserts section…
Starter and dessert…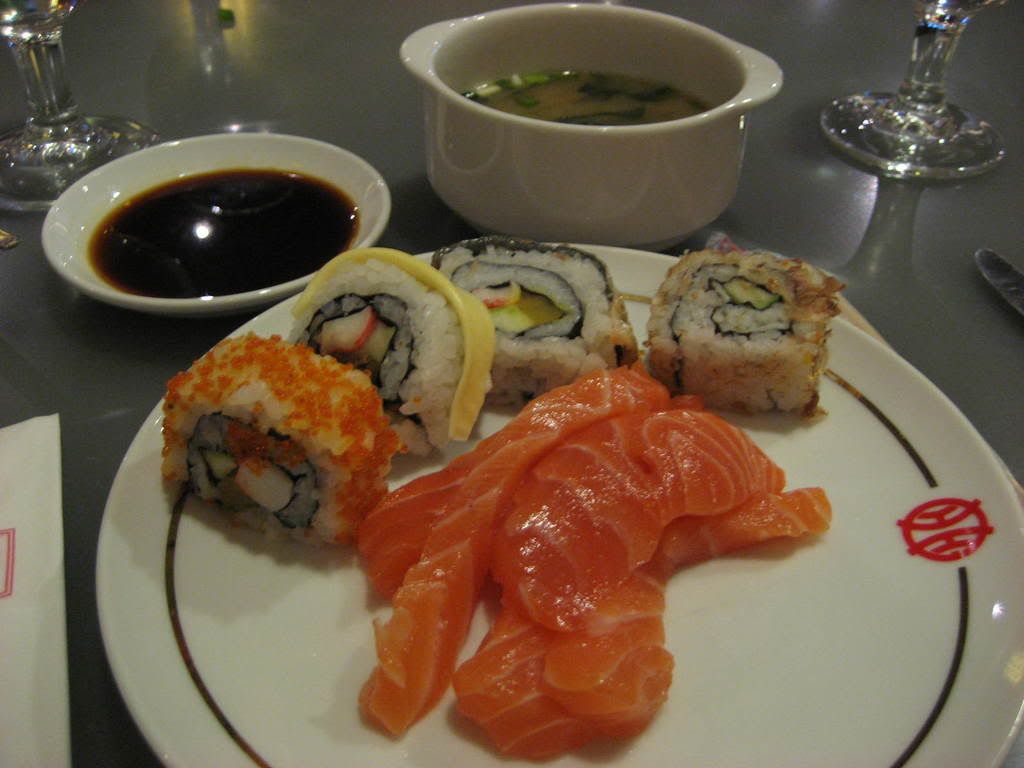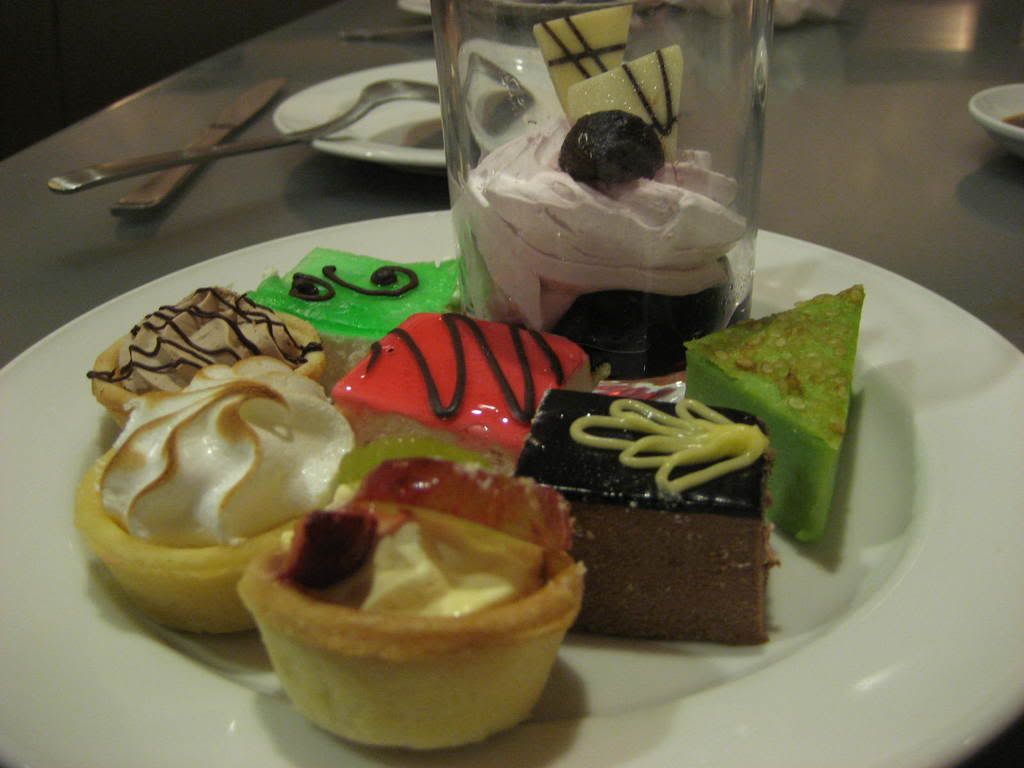 If mix sushi or sashimi with ice cream,I wonder how it'll taste like…Hmmm…
Yumcha at
Starbucks
…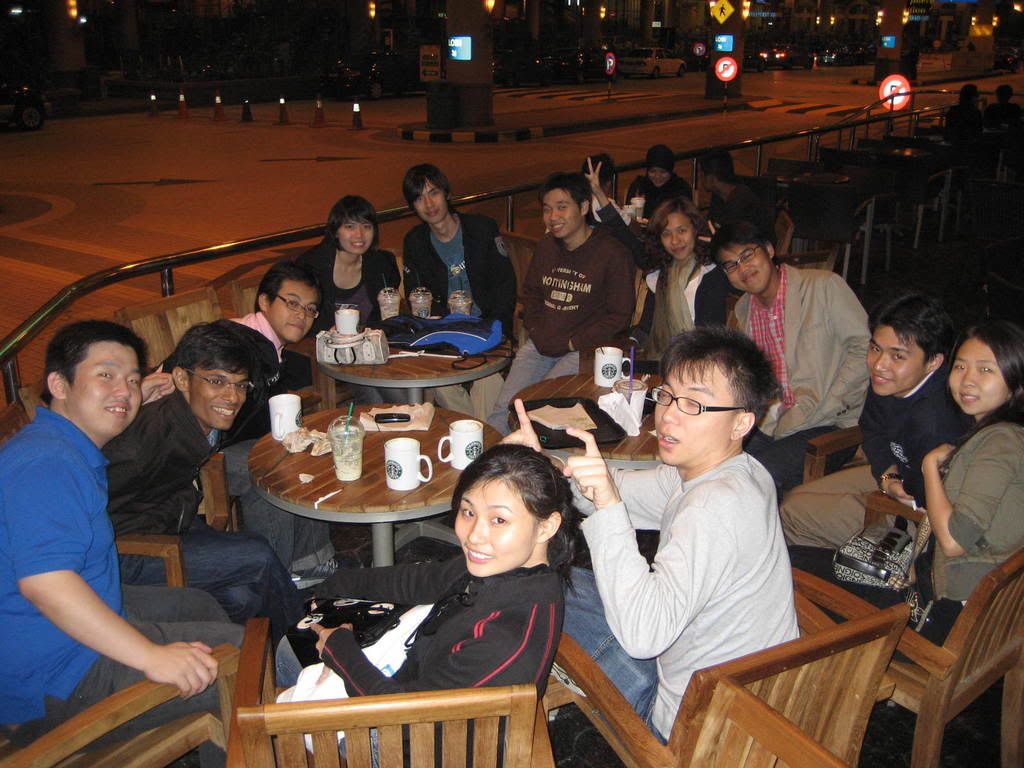 Just for the sake of curiosity…is there
Mamak
in
Genting Highlands
?
Taking group pictures…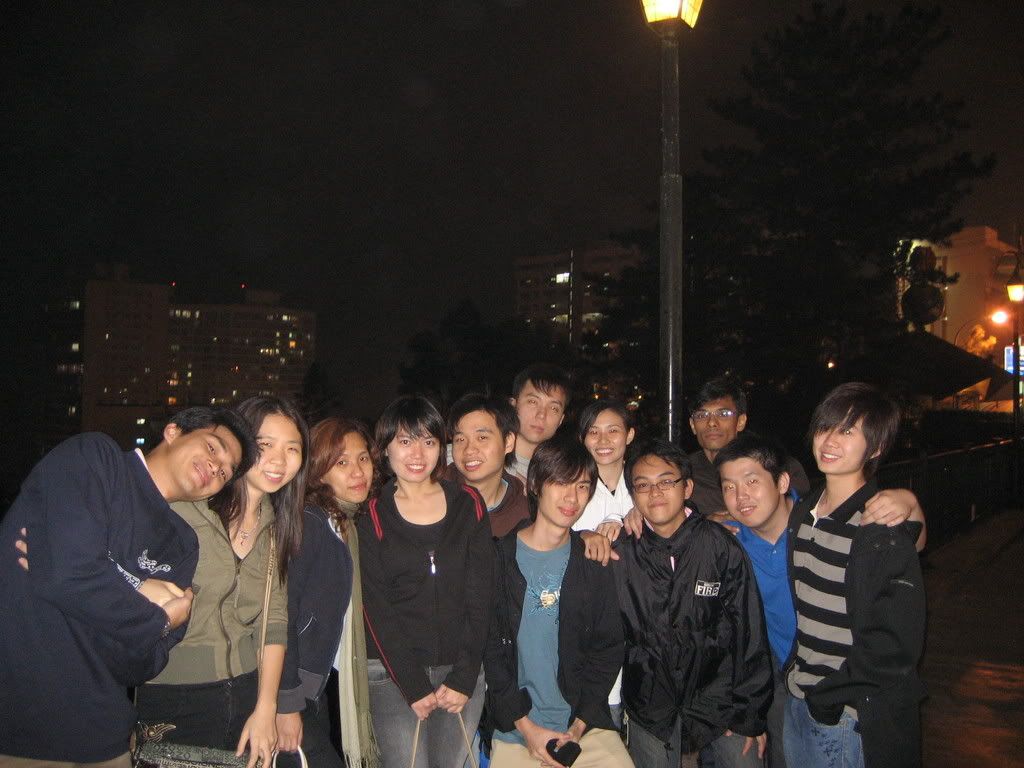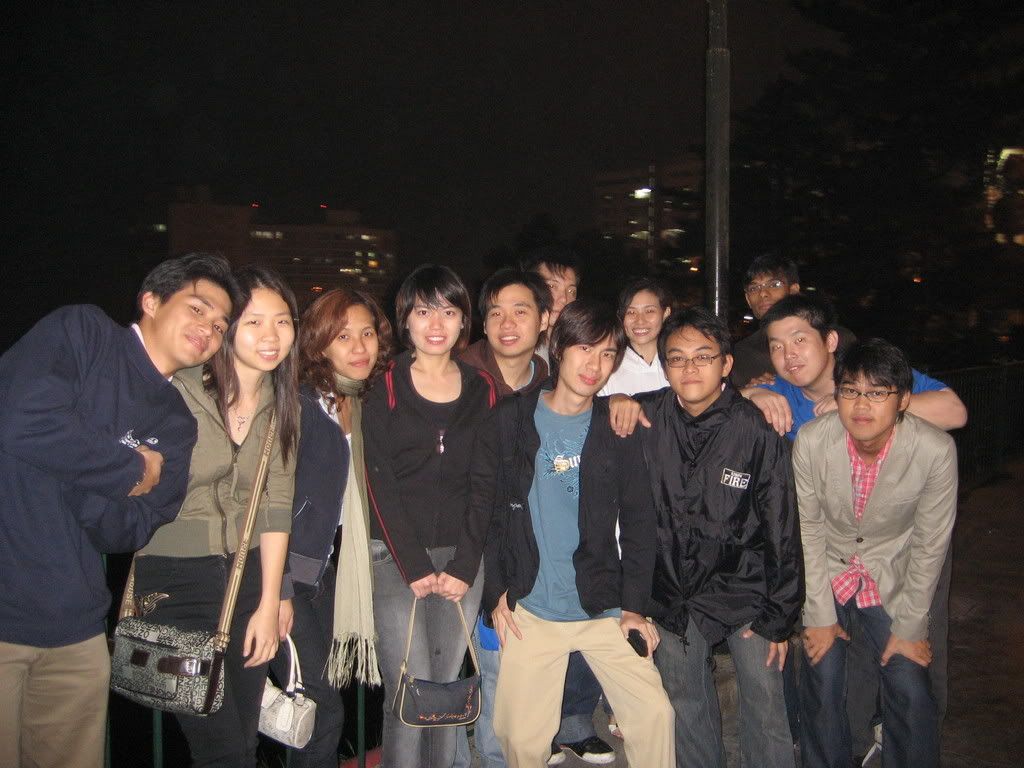 Couldn't decide which one to upload…based on decisions such as the
Red

Eye
effect,"I cant see my face" and "I think I look 'yeng' in this picture but not the other one"…so uploaded both lor…haha =P
To show that we went to
Genting Highlands
…but didn't took any group picture in
Genting Highlands
itself to signify this trip…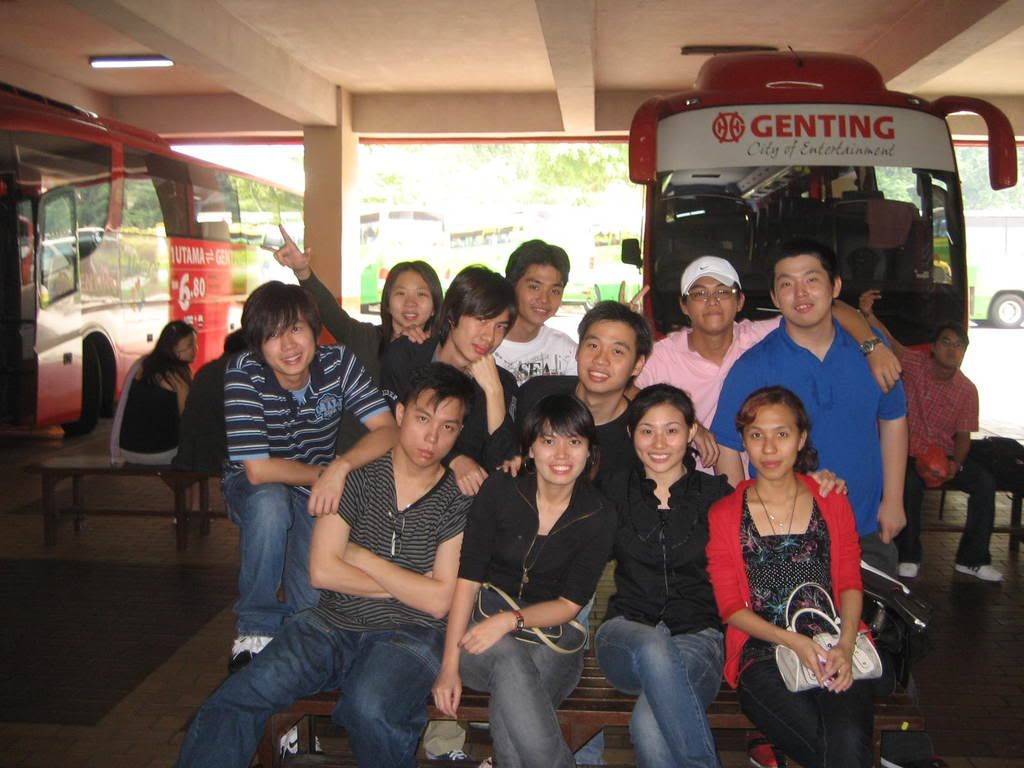 Took a group picture with the buses at the midway bus stop instead,haha =_="
Let's do a roll call for coursemates…
From Left to Right,
Back:
Zi Hao
,
Venny
,
Cheese

Bond
,
Aldo
,
Kah Peng
,
Melwynn
and
Wendy
Front:
Yi Yang
,
Ying Yie
,
Su Yin
and
Siau Hwee
It has been a very long time since I've been to
Genting Highlands
…lotsa stuff has changed ever since…duh…it seems that the main attraction now is more towards the casinos as compared to the kiddy rides and all…not much things to do in
Genting Highlands
,thank goodness it was only a 2 days and 1 night stay…overpricing of almost everything doesn't really help much either,unless you're there to gamble then I guess it's alright =_="
Haha…reached maturity age for lawatan sambil belajar to
Genting Highlands
casino…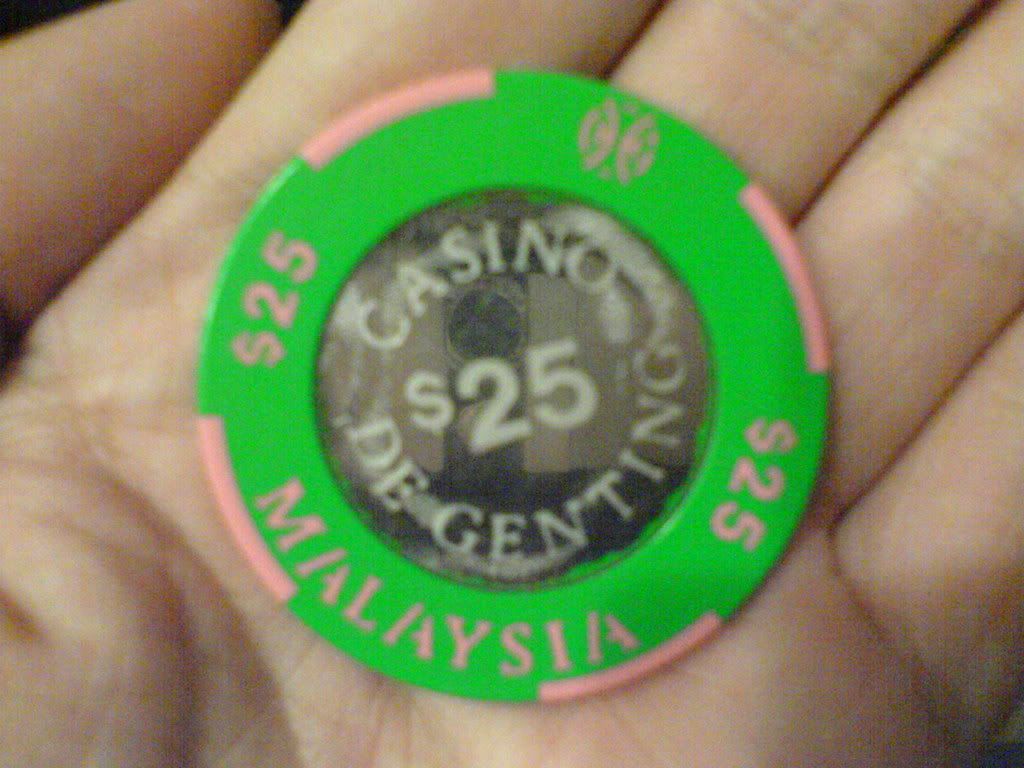 But didn't really gamble…hence the "lawatan sambil belajar" part…Sakit hati leh,lowest minimum bet is
RM10
(sorry,my gambling standards is up to
Chinese New Year
only),well if ya wanna win big,ya gotta "invest" big too(or play those Jackpot slot machines…which is kinda mundane and boring to me)…"Pai seh" also cuz when you see others place large amount of casino chips on the betting table and seeing yourself place 1 or 2 pieces of it only…feels like gambling on a low budget,haha
Maybe will return to the casino one day…when I am a rich tycoon/businessman or someone like…
God of Gamblers
…who likes to eat
chocolates
!!! =D