Not at home this weekend…
Good day…I am now updating my blog in the
University's Computer Lab
(ignore the uneven spacings)…cuz I've decided not to go back home for this weekend(perhaps the next few weeks as well?!! Hmmm…)…good thing that this place isn't too packed with people in the morning…hence faster network connection(especially to upload pictures!!!) and not so many "kaypo-kaypo" people around to see what I am doing…lols…
Why am I not going back for this weekend? Well…last minute decision to stay back and finish up some coursework(luckily brought along extra clothings,hehe)…being bombarded with courseworks(at this moment,currently only 3 out of 5 given) when 2 more lecture weeks remained,followed by 1 week "study break" and EXAMS!!!(which means that once again,I wont be coming back for quite some time,hence no updates = / )
It ain't so bad…staying here(Semenyih) throughout the weekends…dunno why I tend to focus more on doing my courseworks(as compared at home…distractions-distractions) and also wake up earlier too(slightly earlier as compared at home…but of course,cannot be compared to my housemates…I am more of an owl rather than a cockerel..lols)
And also…we've decided to head to Midvalley for "makan-makan mahal"…once in a while its ok ler…hehe =P
YES!!! My camera lives again!!! MWAHAHAHA >=D After being put to sleep for quite a long-long time…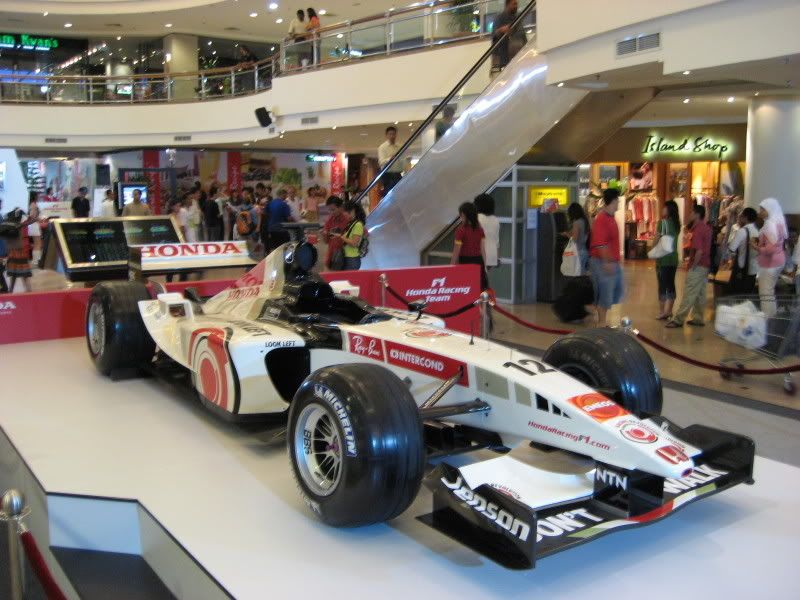 Honda

F1

Racing

Team
...I used to support
Jenson

Button
(cant remember which Grand Prix it was though) and a bit of
Takuma

Sato
(when he was still racing for
BAR

Honda
by then…crazy fella,haha)…now no more…just watch
Formula 1
only and the occasional support here and there…hehe
Where did we all go to "makan-makan mahal"?
Chilis
is the place…it'll always be a miracle to eat at this place…especially during dinner time,which consisted a large group of people(11 in total),where not everyone is there…yet…
Once a seat is obatained…open the menu and order…don't wait anymore…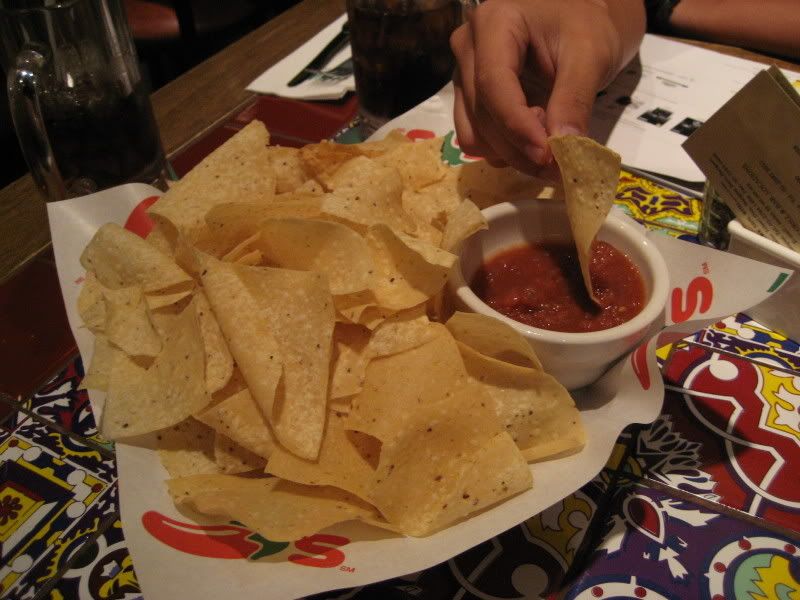 Eddie ordered this as a starter…
Bottomless Chips
!!! =D I was wondering how much we are able to eat this(sadly,we only had 1 serving only…the bowl which was sent to be refilled didn't return)…it costs approximately
RM10
(excluding tax) and of course,unlimited in supply ler(unless the restaurant runs out)…one day must try and set a record =P
Here's Eddie…according to him,the chips are not the authentic Nacho chips that he had during his stint in the US…cuz the ones served here are the cheapskate thin chips…the good ones are the thick ones of course…plus salsa and hot melted cheese dippings = shiok-ness!!!
This picture doesn't really display his unsatisfactory…hehe…but oh well,RM10 is worth at least something…right?
I ordered this…cant remember the exact name of the dish…its Chicken Fajita by the way…
This is probably the second or third time I had dined in
Chilis
…if I recalled correctly…and I think I ordered
Fajitas
most of the time too =_="
Condiments to be eaten together…
MAKAN…
=D No need to elaborate so much on this picture kua…
Had to be seated in 2 separate tables…at least not too far from each another…could share-share food…haha
Left to Right:
Hui Jiun
,
Pin Pin
,
Qianhui
,shy-shy couples(
Wee Kiat
and
Shen-Ann
),
Su-Lyn
and
Shino
…I think I've gotten Wee Kiat's girlfriend name correct…kua…
And now the other table…TTS5 housemates…with bottomless chips,bottomless drinks…too bad the main dish isn't bottomless…lols
Left to Right:
Eddie
,
Douglas
,
Wee Kiat
,
Wilson
and
ME
And now…to further utilise the camera…
=_="
And another one…
I appeared in 2 pictures only…lols…notice both right-sided hair-parting =P
That's all for now…wanna go and have lunch…then watch Formula 1…of course not watch the race in the Sepang circuit ler…hehe…watch through TV only =P Well,maybe in the future would wanna go and watch it LIVE…hehe